Solana Beach parents protest full-day kindergarten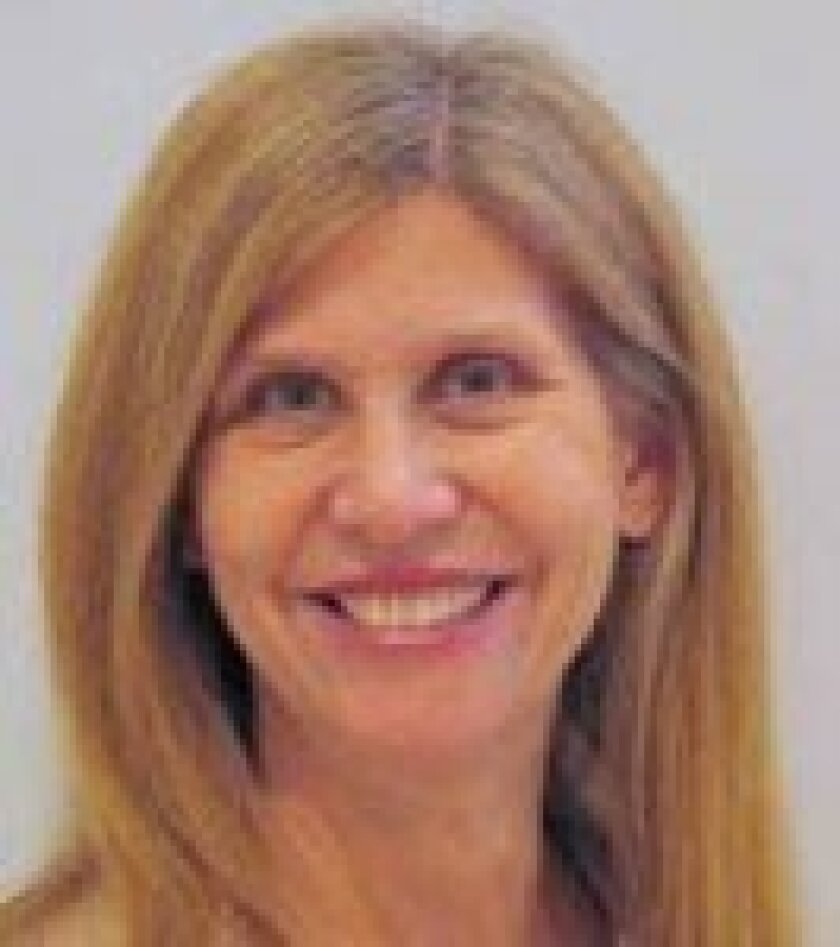 By Marsha Sutton
At first I thought I had taken a wrong turn and landed by mistake at a Del Mar school board meeting, given the crowd of people outside the door.
It was an overflow crowd at the usually quiet Solana Beach School District's board meeting on April 25, with more than 100 people trying to squeeze into the boardroom.
Parents came to protest the district's proposed shift to full-day kindergarten this fall for the Global Education program based at Skyline School in Solana Beach.
Global Education, created about 30 years ago, is a unique educational program for students in grades kindergarten through sixth that incorporates individualized instruction with a theme-based, multi-age approach.
Skyline principal Lisa Denham called it an alternative program based on the needs of the whole child. She said the program adheres to state standards, but subjects like reading and math are typically small-group, individualized instruction rather than whole-group instruction.
Classes don't conform to traditional grade levels. Denham said a combination grades 1 and 2 class at other schools might be a grouping of 6-, 7- and 8-year-olds in Global Ed.
Students are grouped by ability, development and age, and teachers work with students "where they're at," she said.
Most unique is how social studies is taught in Global Ed. For grades 4-6, students are required by the state to learn California history, American history and ancient civilization.
In Global Ed, Denham said the entire student body, grades K-6, will study one of the three themes each year and do activities all together at the end of each unit. Themes rotate year to year, and at the end of three years the cycle starts over.
Skyline houses the K-6 Global Education program and a traditional grades 4-6 education. The Global Ed program enrolls about 185 students, with only 27 spots open in kindergarten each year. Very few students leave the program, and younger siblings are guaranteed enrollment, Denham said, so there is always a long waitlist to get in.
Denham said the program is different than most others, has deep roots in the community, utilizes excellent teachers, and heavily involves parents.
It's that parent component that has many upset.
Global Ed parent Sara Appleton-Knapp said parents were "blind-sided" by a letter sent in March from SBSD superintendent Nancy Lynch to incoming kindergarten parents, saying that this fall Global Ed kindergarten would shift from a modified day, ending at 1:15 p.m., to a full day ending at 3 p.m.
"There wasn't parent input," Appleton-Knapp said. "In a program where the parents are so involved, to not ask the parents what they think about it, it doesn't seem like they're doing their due diligence."
When Appleton-Knapp heard about the letter, she contacted other Global Ed parents and it snowballed, resulting in over 100 people packing the April 25 school board meeting.
Under Public Comment, 14 speakers asked the board for data on the decision, reasons why parents weren't consulted, whether teachers were on board with the change, and how 5-year-olds will cope with a longer day.
Speakers were not just parents of incoming kindergartners. They were parents of older children in the program, parents with children now in high school and college who participated in the program, and even grandparents who praised the program for their children who now have children of their own.
Chris Antonelli, who has three children in middle and high school, said, "Global Ed gave them a love of learning. I think you have it backwards. Instead of making Global Ed look like everything else, you should make other schools more like Global Ed."
Solana Beach City Council member David Zito, whose three children participated in Global Ed, opposed the decision, as did Scott Billington who said taking zero input from parents represents "a communication breakdown."
Bobbie Hilton, a former teacher of Global Ed., said young children need time for play. "Global Ed gives kids time to come into their own academically," she said. "If parents want full-day kindergarten, other Solana Beach schools are providing that."
Sixth-grader Siena Fischel said, "I feel sad you are changing it. I really liked how we got out early."
Appleton-Knapp requested a data analysis to explain why the shift was being made. She asked if the district was "solving a problem that doesn't exist."
Teachers did site visits
Several speakers said the teachers should have been consulted, but Lynch and Denham said teachers were involved and aware.
"We had three meetings with the teachers," Lynch said.
She said she shared with the teachers extensive research indicating that full-day kindergarten provides better academic preparation for young students.
After doing their own research and visiting other schools that offer full-day kindergarten, the teachers "found from research that it's good for all kids [and] came up with a beautiful plan of what they were going to do in the afternoon," Lynch said. "They had total control over what that program would look like."
Appleton-Knapp disagreed that research unanimously supports the benefits of full-day kindergarten.
"A lot of the models about the advantages of full-day kindergarten don't necessarily apply to Global Ed because of the nature of the program," she said.
Appleton-Knapp, a cognitive psychologist who has one child in the Global Ed program and one who completed it and is now in middle school, said the program pulls educational principles from varied sources, including learning theories of Piaget and Montessori, and involves cross-age teaching and experiential learning.
She said the modified day for kindergartners is integral to the integrity of the entire program. "What has made the decision for modified day at Global Ed is based on the same principles that everything else is based on," she said.
One of the goals behind Global Education, Appleton-Knapp said, is to get kids to love learning. But she said that's unlikely to happen if their early experience is negative and "they burn out" after six hours at school.
She emphasized that the Global kindergarten program is a modified day, not a half day. "Half-day was not long enough and full day was too long, so we're in between."
She agreed that some kids do well with a full day of kindergarten but others don't, and those parents who want full-day K have other options in the district. "If [parents] believe in the theory behind Global Ed, then they probably are going to believe in a modified-day kindergarten," she said.
Lynch said it was never a question that Global Ed. might end, as some parents seemed to fear. Rather, she said, it's a matter of equity.
All other Solana Beach kindergarten classes are full day, and to have one school not offer it deprives those children of an equal opportunity to be enriched by the additional five and a half weeks of instruction the extra afternoon time would provide, she said.
Another factor for Lynch was that the district's transitional kindergarten (TK) class is full day. "So we were going to have full-day transitional kindergartners applying to go into a modified-day kindergarten," she said.
Although districts are now required to offer TK for children turning 5 in the fall months, it is an optional program, Appleton-Knapp pointed out. "So if a parent chooses that for their child, Global Ed is probably not a good fit for that child," she said.
Parent involvement is paramount
A common theme from speakers was that parents were not involved, or even informed beforehand, of the decision.
Appleton-Knapp said it was fundamentally wrong not to discuss the issue with parents. A key component of Global Education, she said, is that "parent involvement is paramount."
"It really shows they don't understand the nature of the program if they don't ask the parents before making such a big change," she said.
Lynch admitted that parents were not consulted in advance, saying, "There are decisions that the district needs to make that are in the best interest of all kids."
"We involve parents in so many of our decisions," she said, but adding instructional minutes to make a kindergarten program consistent with the rest of the district and to benefit all students is not one of them.
Lynch said it's technically an administrative decision and nothing the school board would normally vote on because "it's a continuation of something they've already voted on," having approved full-day kindergarten in the district years ago.
Whether this change will be implemented this fall as planned or be subject to a vote by the school board is uncertain at this point, Lynch said.
"It's up to the board," she said. "I don't know what the board will do, but typically this is an administrative decision based on consistency in our district."
Not all parents oppose the change. "Some are for it and some against," Denham said.
"There are parents who have contacted us to say thank you and we support this," Lynch said.
Denham said change can be unsettling. "This program is rooted in tradition, and change is hard and it's a change to the program," she said.
Change is hard for the teachers too, she said, noting that the district gave teachers opportunities to meet, talk about their concerns, and "think about what they can do and what this program might look like," she said.
Lynch said her impression from the last meeting with Global teachers was that they were on board with the decision to shift to full-day K. "They had come up with a great plan, they had done their own research, they confirmed the same things that we found," she said.
"Change can be difficult [when] it's always been a certain way," agreed Lynch, "even if it's providing a little bit more, [because] that might mean what else might change."
But Lynch stressed that the intent was to add to the program, not take anything away from it. "We have kids who are English language learners and kids from lower socio-economic levels," she said. "Especially for those students, full day is really meaningful."
Research shows, she said, that all children benefit from full-day kindergarten when comparisons are made between half-day and full-day programs.
Later in the board meeting, Solana Beach California Teachers Association President Tarri Baldwin, after finishing her report, was asked by SBSD board member Debra Schade if any teachers had contacted her about the kindergarten issue at Skyline.
Baldwin, who teaches at Solana Highlands School in Carmel Valley, said she knew the Global Ed teachers were doing site visits to observe full-day kindergarten at other schools but has not heard from any teachers about the issue.
Appleton-Knapp said one of the primary reasons parents have so much passion for the program is the dedication of the teachers who she said are "hugely committed."
"We as parents experience the program with them," she said. "We have this really close connection with not only the teachers but with other parents. There's this strong village atmosphere that's created just by the nature of the program."
Denham said the program is open to anyone in the district, and includes some students from Rancho Santa Fe and Carmel Valley. "But probably 95 percent are from here in Solana Beach," she said.
Next steps
Without the item formally on the agenda, board members were prohibited by the Brown Act from discussing the issue in public. So audience members at the April 25 meeting who had hoped for a discussion left disappointed.
Lynch said the district's bylaws allow anyone to submit an item for inclusion on a future agenda for discussion, and the board president and superintendent then meet to review the proposed agenda.
So a request can be made to place the matter on an upcoming school board agenda. But the May agenda is packed, Lynch said, so it's doubtful it would be added.
Parents have other ideas.
Appleton-Knapp said parents are requesting that the decision be postponed for one year and that a task force be created of parents, administrators and teachers, "to determine if the decision is warranted, and if it is warranted based on the findings of the task force, then to figure out the proper implementation."
"If they collected longitudinal data and showed there was an education deficiency for these kids, then yes, as a parent I'd want to look into ways to make sure that didn't happen," she said.
The purpose of the task force would be to examine the research and study the success of local students. If the data support full-day kindergarten, Appleton-Knapp said the next steps of the task force would be "to figure out what this whole day would look like."
She questioned if the teachers had enough time between now and the fall to create an appropriate experience for that extra time.
"There needs to be enough time to plan it out so it meets the standards of the rest of the program," she said.
Lynch, for her part, plans to focus on better communication. "Maybe it wasn't communicated in the way that I thought it had been," she said.
"What we'll do is work [on] getting out that this is OK, we've actually planned something pretty good and special, and it's alright," Lynch said.
Marsha Sutton can be reached at SuttComm@san.rr.com.
---