Solana Beach psychiatrist's groundbreaking book finds commonalities in global religions
By Diane Welch
Most everyone has had some sort of spiritual journey, many finding a path that becomes true for them, according to Edward A. Siegel, M.D. However, this notion raised two major questions for the Solana Beach-based psychiatrist. How did man, from his earliest epoch to modern-day, arrive with the concept of an ultimate creator, despite the limitations of the brain to understand how something was created from nothing? And how did that evolve into thousands of faith-based traditions?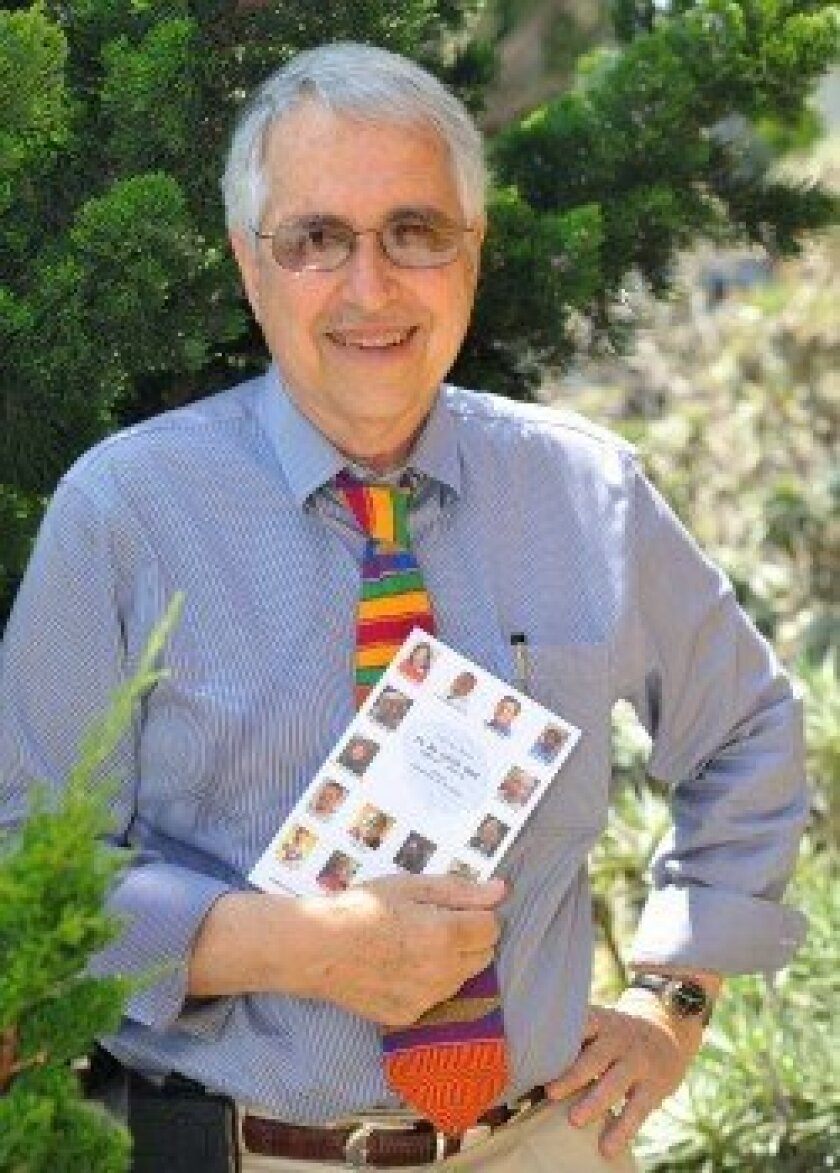 Siegel pondered these questions and asked friends about their religious opinions and experiences. It became obvious that despite the brain's limitations, major religions — without exception — embrace the concept of an ultimate creator. Then on delving deeper into their varied belief-systems, Siegel observed distinct commonalities. What started as a curious notion to explore these variations has now been crafted into a ground-breaking book: "A Spiritual Odyssey to be with God (12000 BC-2012 AD) Despite Limitations of the Brain," an anthology that presents the most personal retellings of the common themes of religion contributed by 14 co-authors, many of them highly distinguished in their respective fields. Excerpts from the writings of His Holiness, the Dalai Lama, provide an eloquent epilogue.
The anthology's concept emerged when Siegel, an independent world-traveler, was on an extended trip that took 40 days and 40 nights. "I thought, 'Gee that sounds a little biblical. I wonder if I'll have a revelation?'" he recalled. Then 37 days into his trip he spontaneously composed a dense 81-word sentence, which he calls his "laconic synthesis." This sentence states that all major religions provide a sense of belonging and identity, the expression of awe and faith, they teach us about gratitude and contrition, they offer opportunities to learn right from wrong, to have hope, and to help us celebrate life's major events.
Among the book's co-authors are the internationally-known entertainer and inspirational speaker Ben Vereen; India's treasured Hindu Kathak dancer Purnima Jha; and the former President of Parliament for Benin, West Africa, the Hon. Kolawole Idji. Others include an Episcopal priest, a Libyan Muslim, a rabbi, Catholic and Presbyterian deacons, a Hindu psychiatrist, a Buddhist city engineer, and more. Each share an essential aspect of his or her religion, an aspect common to all religions.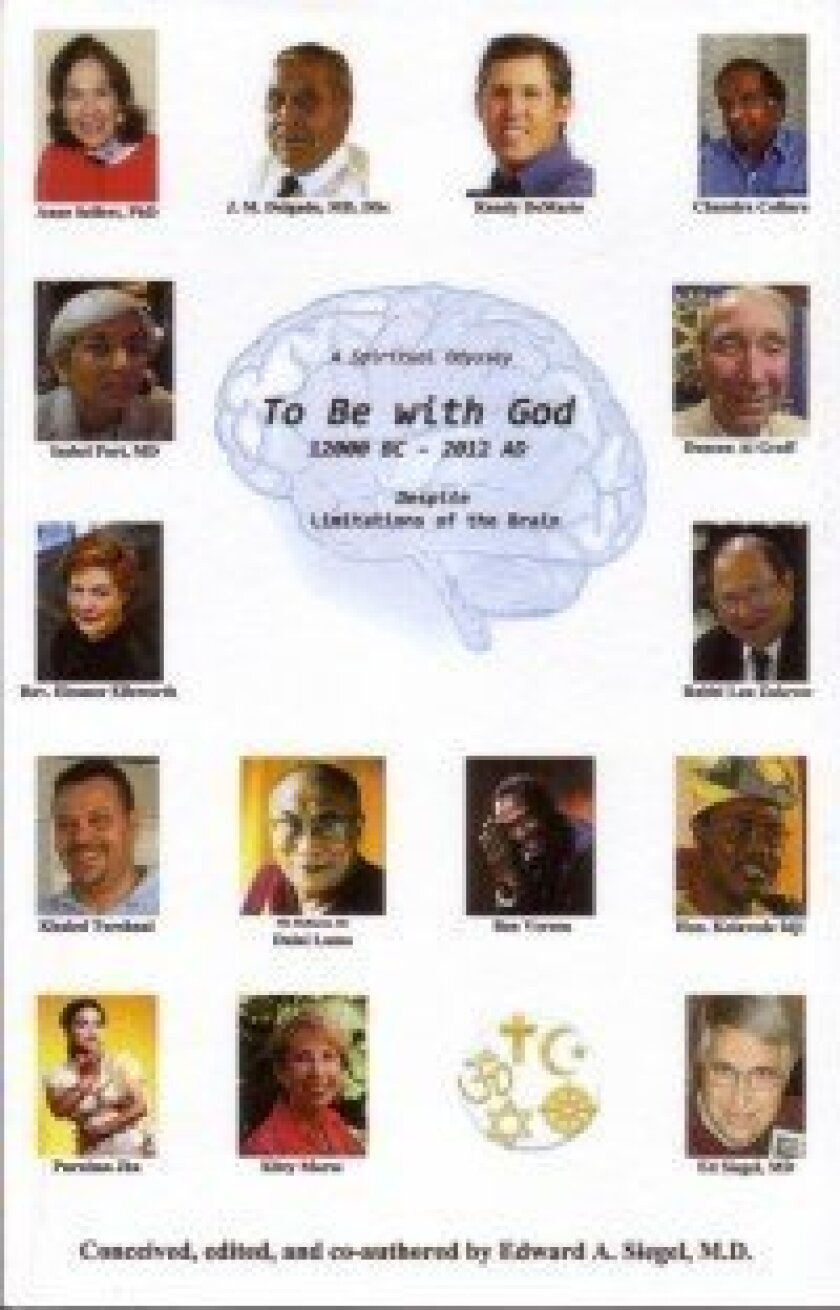 Former Solana Beach resident, Anne Siefert, Ph.D., contributed a chapter on religious confusion. She was brought up Catholic and Mormon, attended a predominantly Jewish school on Long Island, then married a Methodist. In her adulthood she discovered an inner spirituality though meditation and, most recently, through the weekly Solana Beach community sing-alongs led by Siegel. "At the Community Sing I felt in touch with my soul," she wrote.
In preparation to craft her chapter, Siefert had to access her religious history, long since pushed into the recesses of memory. She found the process "painful, yet cathartic." In reading the completed book, however, Siefert was delighted with how each author presented interesting religious perspectives, and then later described their own pathway to spiritual growth, she said. "The book itself is like a patchwork quilt. With each different religion, the reader almost walks in the shoes of the author as it is lived, learned, accepted or rejected."
Albert Einstein once stated that, "there is an order in the universe that is beyond comprehension," leading him to famously state that "God does not play dice," noted Siegel. Accordingly, the book includes a chapter on the limitations of our human brain by the pioneering neuroscientist Jose Manuel Delgado, M.D., Ph.D.
Siegel's contributions include his own spiritual odyssey, from growing up in the small college town of Ft. Collins, Colorado, to his travels as an adult to more than 80 countries which broadened his knowledge of faiths and religions on a global scale.
He notes that although each religion is comprised of elements that are considered different at their very core there are striking similarities. Siegel concludes that major religions are more alike than different. In summation he states, "In a sense we're all in the same boat as we try to do what humans have wanted to do since 12000 BC...to comprehend and have a relationship with the ultimate Creator, power and force."
Visit
to learn more about Dr. Ed Siegel and to purchase his book "A Spiritual Odyssey to be with God (12000 BC-2012 AD) Despite Limitations of the Brain" [CreateSpace, US, 2012]
---