Solana Beach resident leads winning ultra division team in long-distance Ragnar Relay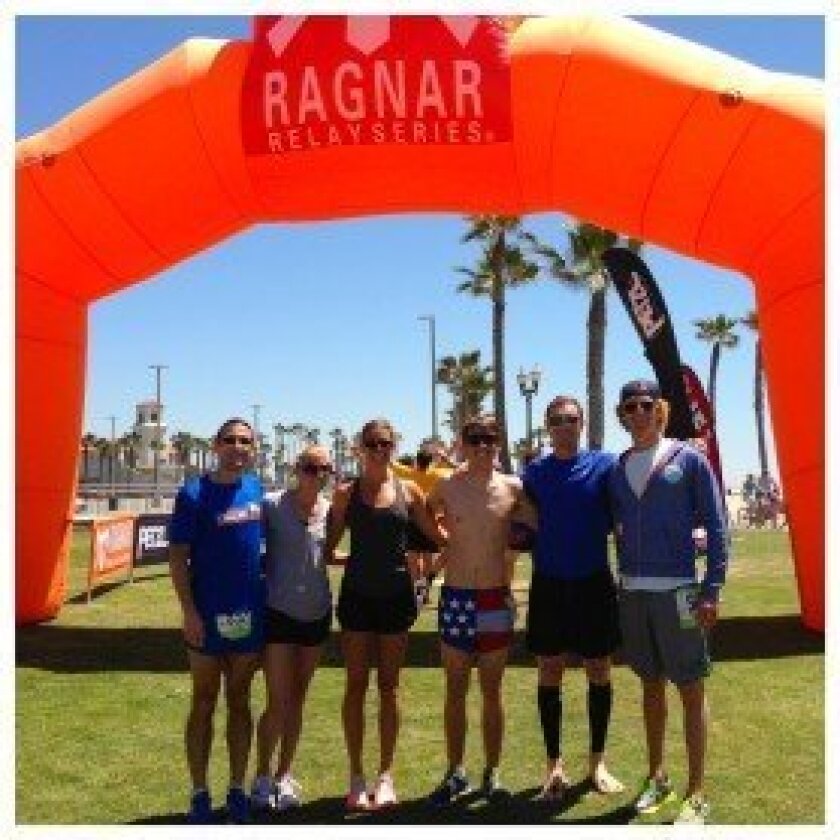 By Karen Billing
For the second year in a row, Solana Beach resident Andy Hemmerich took part in the 192-mile Ragnar Relay from Huntington Beach to San Diego, running through the night, fighting delirium and exhaustion to raise funds for the Monarch School for homeless and at-risk youth.
The runners took off from Huntington Beach at 1 p.m. on Friday, April 19, and finished on Saturday, April 20, at 2:19 p.m.
While the average number of runners on a team is 12, Hemmerich competed with a team of six, deemed an ultra team, and for the second year in a row they won the ultra division, finishing in 25 hours and 19 minutes.
"We didn't take it easy," Hemmerich said.
Hemmerich's team represented his tutoring business Hammer Prep in Sorrento Valley and included Del Mar resident Jordan Meltzer, Chuck McKeown, Caela Timinsky, Liz Johnson and Alec Fillmore.
Last year Hemmerich's team was part of 10 teams racing to benefit Monarch School, known as the Qualcomm 200 Miles for Monarch. This year the number of participating teams swelled to 25 and they raised more than $350,000 for the Monarch School.
"It was a really, really good year," Hemmerich said of the effort.
At the launch party earlier this year for the fundraiser, San Diego Padres' Will Venable attended with his student mentor at Monarch, Jackie. She was so emotional and touched that so many strangers were willing to raise money for her school that she recruited and organized her own team of Monarch students to run Ragnar as well.
Hemmerich's wife Katya Meyers, a professional triathlete, offered to help coach the Monarch team and they were able to secure a sponsorship from Asics who outfitted the team with new gear to run in.
"They're good kids, they all have really positive attitudes and they will tell you straight up that they are determined to break the cycle of homelessness," Hemmerich said. "They say 'We've chosen education and we're going to break the cycle.' It's neat to be a part of that."
Hemmerich grew up in Del Mar and graduated from Torrey Pines High School in 1996. He played soccer for Stanford and graduated with a degree in economics before launching a pro-soccer career that included stops in Major League Soccer with the San Jose Earthquakes and abroad with a New Zealand team.
He founded his tutoring company Hammer Prep in 2002 after the conclusion of his soccer career. He said education has always been an important cause for him to support, especially the kids at Monarch.
"The return on education is infinite, you can't really define how far education can take you," Hemmerich said. "The reality is you're taking students at Monarch that face adversity to the highest degree and allowing them the opportunity to be educated and reach a higher level of education. In the 2012 class, all of the students went on to higher education. If you can use education to keep kids out of trouble, to go on to higher levels of education and become productive members of society, it's huge. And the bottom line is it feels good to help them."
Running Ragnar was not without its drama. Hemmerich's team had a last minute shake-up as 24 hours before the race, one of their runners broke his foot in a rock climbing accident. The hunt was on to find someone who could leave on Friday morning and be willing to run 35 miles.
They were able to get Liz Johnson. Johnson, who had just run the Boston Marathon the previous Monday.
"She agreed to run with us, which was amazing," Hemmerich said.
Everyone on their team did six legs of the 36-leg race. Hemmerich was slated to run 30 miles of the 192-mile race but ended up doing three miles more as he got lost on the course.
He left from Anaheim Stadium and was running along the canal. Someone must have moved the sign that told runners to cross the canal and he ended up running on the wrong side of the canal for several miles.
When he realized his mistake, he had no idea where he was, had no cell phone and he did not know the phone number for anyone on the van. Not to mention he was in the middle of a race, wilting in 100-degree heat.
He ended up finding a Subway restaurant in a strip mall and walked in shirtless and sweaty asking to use someone's phone. He was able to connect with his wife to inform his team he was lost. His 4.3-mile leg had become a nearly 7-mile leg and the team had lost about an hour off their time.
"It was very frustrating," Hemmerich said. "We got back in the van and said, 'Let's just run harder then.' Throughout the day and night everyone ran really, really hard and we ended up winning again."
The team had a few cases of getting lost and execution mishaps ("When you haven't slept all night you're not making the best decisions," he notes) but still managed to finish in the top 10 overall.
"In terms of how our runners felt, we all felt much fresher this year," Hemmerich said, noting they ran 7:30-minute miles. "We were running really hard."
Hemmerich's longest leg was a 6.7-mile run through the Temecula area in the middle of the night. He ran with a headlamp and vest with blinking lights.
He said it's not as scary running in the dark as it may seem because there are so many other teams out on the course (nearly 600 total). The hardest part about running in the dark is trusting your footing, he said.
An additional challenge to the race is that toward the end, the team's van is "disgusting." He said the van starts out with everyone's gear neatly packed and organized but by the later legs it looks like a laundry basket with stuff scattered everywhere and things difficult to find.
Even with fatigue setting in and hamstrings screaming, Hemmerich said he found a way to push his limits, especially when remembering the cause he was running for.
"You're able to have a conversation with yourself and say, 'What I'm facing here, I'm creating this pain.' What they face, they don't create. It's placed on them."
As Hemmerich had been running 40 miles a week in preparation for the race, now that it's over he has a little more free time.
His next big goal is with his men's soccer team, the San Diego County Soccer League's Nomads. The team will travel to Seattle in June to play in the Over 30 Regionals, with the goal to win and go on to compete at the nationals in San Antonio in July.
Hemmerich also already has his eye on next year's race — the Qualcomm group's goal is to have 100 teams racing and raise $1 million for the school.
People can still donate to Monarch at https://www.active.com/donate/monarch2013/hammer2013. If interested in getting involved with next year's race, e-mail andy.hemmerich@gmail.com.
---