Solana Beach resident's efforts recognized with 78th Assembly District honors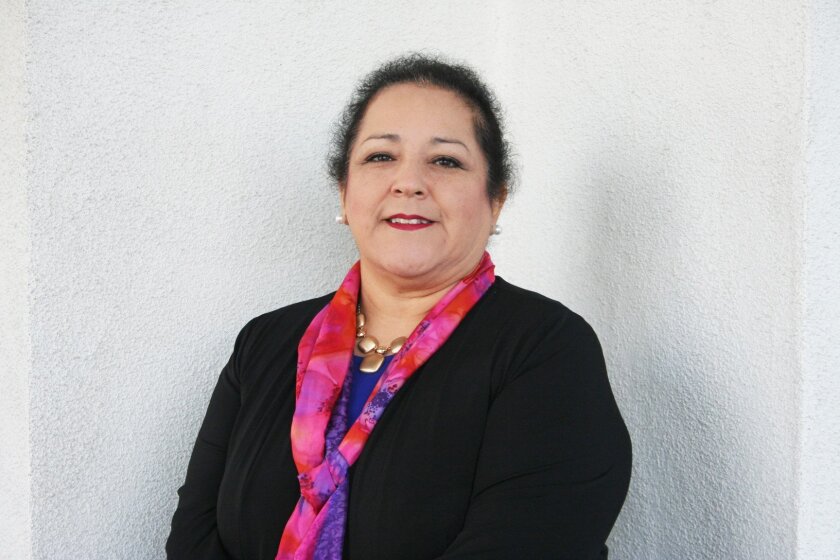 From fostering change in her community, to championing college for local youth, Lisa Montes has worked to better her hometown and the greater San Diego region for decades.
Recently named one of the 78th Assembly District's 2015 "Women of the Year" honorees by Assembly Speaker Toni Atkins (D-San Diego), Montes' community service will be celebrated during an awards ceremony March 13 at the Catamaran Resort Hotel and Spa in San Diego.
"I'm deeply rooted in my community and very proud of my ancestors for instilling in me the importance of giving back," Montes said.
Montes has lived in Solana Beach's Eden Gardens community, also known as La Colonia de Eden Gardens, all her life. She owns the property her grandparents purchased in 1931, just a few years after they relocated to the area in 1926.
With strong roots in the community, Montes has always been one to give back to her hometown.
In 2010, Montes and other concerned community members founded La Colonia de Eden Gardens Foundation to suppress escalating drug and gang violence, as well as encourage local youth to make positive choices and improve resources for residents.
"From the very beginning, my ancestors, my relatives, when they founded Eden Gardens, they always worked toward making the community a better community," Montes said. "They were always involved in the community, whether it was helping raise money for scholarships for Latino students or it was helping sponsor sports teams for youth to keep them engaged and out of trouble.
"That was ingrained in me when I was a child. For me, it was a natural thing to get involved."
Having been a part of the foundation from the start, Montes now serves as vice chair of the board.
Since its establishment, the foundation has held community forums and created a community garden. It also launched a youth leadership camp.
In July, 50 youth ages 12-17 gathered at the Whispering Winds Catholic Conference Center in Julian for the second annual camp. Organized by the foundation and funded by numerous local supporters, the camp offered four days and three nights of fun and educational activities for only $30 per camper — with a fee waiver for those who opted for volunteer work.
Of its many outreach projects, Montes is proudest of the foundation's work with youth.
After the inaugural camp in 2013, local teens launched a group called La Colonia Changers, in an effort to make positive changes in Eden Gardens. Last spring, the group held a town hall forum on underage drinking to discuss why it is a problem, how it affects the community and what the public can do about it.
The group has also worked on a project called Photo Voice, where they have captured pictures of positive and negative things around the community, documenting their thoughts about the images and how they affect Eden Gardens.
"It is amazing for us to see youth take on leadership roles in the community," Montes said. "That's neat to see because you know that the legacy, your work, is going to continue. The community will continue to be better because you guided these students, encouraged them and motivated them to be leaders."
Montes has become an advocate for youth, having worked at MiraCosta College in Oceanside for more than 20 years.
As a student services specialist in the Office of School Relations and Diversity Outreach, Montes plans community outreach events, organizes youth conferences and represents MiraCosta College at organizations such as the San Dieguito Alliance for Drug Free Youth.
Recently, she worked with faculty and staff to organize STEM (science, technology, engineering and math) activities for 187 fifth-graders from Valley Center Elementary School at the campus. This week, she is organizing music workshops for 120 students from El Camino and Oceanside high schools.
"We're trying to put them in the pipeline to go to college," she said.
Montes, who studied Spanish at San Diego State University, began her career at Palomar College. For 10 years, she worked at the San Marcos campus, first in the Extended Opportunity Programs and Services office and then in the financial aid office.
Montes began working at MiraCosta College in 1992 when the campus was looking to become a Hispanic-Serving Institution. Hispanic-Serving Institutions are colleges, or universities where total Hispanic enrollment constitutes a minimum of 25 percent of total enrollment.
With Montes' help, the college reached and surpassed that goal years ago.
"I tell people I have the best job on campus," Montes said. "It's that pride, that MiraCosta pride, and being able to share with potential students what we have to offer."
One way Montes reaches out to potential students and the greater public is through the college's Latino Film Series. Through the free series, the college hosts four film screenings every year.
Montes also serves as a board member of Encuentros Leadership, a nonprofit that encourages and supports Latino boys to achieve optimal performance in education.
Although Latino high school graduation rates are on the rise in California, graduation rates are still lower than those of their white counterparts.
In 2013, the graduation rate among Latinos was 75 percent, while the graduation rate for white students was 88 percent, according to figures from the California Department of Education.
Montes got involved with Encuentros Leadership 13 years ago to help change that and encourage students not only to graduate from high school, but to go on and complete college. She also works closely with GEAR UP, a federally funded program designed to increase the number of low-income students who are prepared to enter and succeed in postsecondary education.
Through her work, Montes has countless stories of students she's worked with who have gone on to succeed in college and in their careers.
When Richard Huizar was denied federal financial aid and had to decline his acceptance to San Diego State University, she helped bring him to MiraCosta, where he was an honors scholar and president of the Soccer Club. He worked 30 hours a week at three campus jobs, yet still graduated with a 3.9 grade point average and was selected to give the commencement address at his graduation ceremony.
At Montes' encouragement, Huizar, whose family roots stem back to Eden Gardens, applied and was accepted to Massachusetts Institute of Technology, one of the nation's top schools.
"There are many students I've had the privilege to work with and guide along the way," Montes said. "I love my job. The youth are our future."
For more about La Colonia de Eden Gardens Foundation, visit lceg.org.
For more about MiraCosta College, visit miracosta.edu.
---