Solana Beach says farewell to old council members, swears in Zahn, Zito and Heebner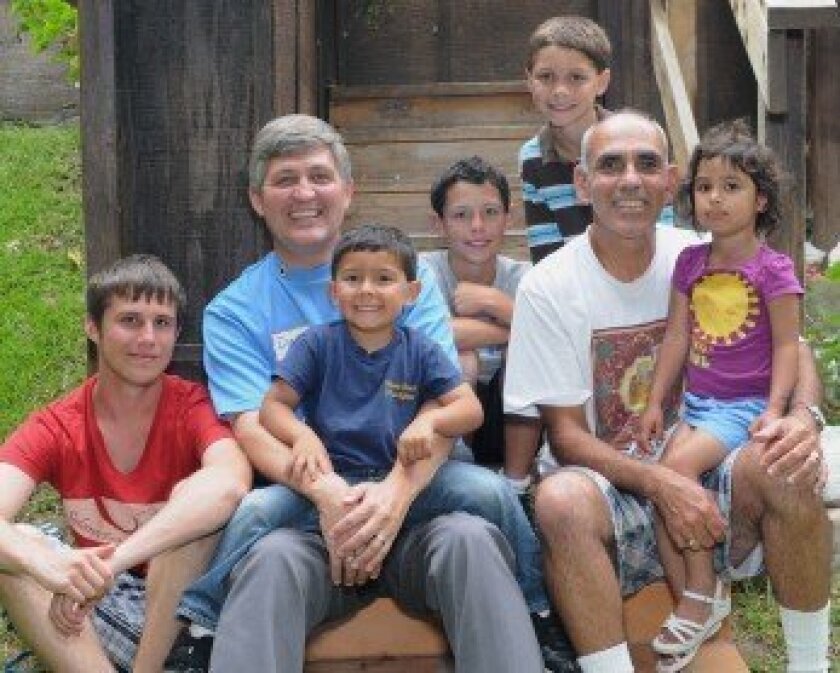 By Claire Harlin
In the eight years Dave Roberts served on the Solana Beach City Council, he attended a total of 387 meetings, said City Manager David Ott on Dec. 13 in a farewell to Roberts, who was elected last month as District 3 County Supervisor. Residents have watched him defend issues such as public health and public transit for years, and included among his loyal supporters are his five kids, ages 4 to 17, who tune in to his meetings on TV to say goodnight to their dad before bed.
Roberts thanked those who have supported him, but said his biggest thanks go to his family: Wally Oliver, his partner, who Roberts said has made it possible for him to serve; Robert, 17, a senior at Torrey Pines High School; Alex, 12, a 7th grader at Earl Warren Middle School; Julian, 8, a 3rd grader at Solana Vista Elementary; Joe, 5, a Solana Vista kindergartener; and Natalie, who just turned 4 last month.
"I want to thank you from the bottom of my heart for the last eight years, those of you who were born and those of you who were not, for giving me this opportunity to serve," said Roberts, joined by his entire family at the podium in front of the packed council chambers. "And to the community of Solana Beach and all the folks here tonight, it's because of you that we all serve week in and week out … We all do this because we love Solana Beach and we want to make it better for our families."
Roberts and outgoing mayor Joe Kellejian heard heartfelt comments from more than a dozen residents, and the entire room even rose to sing "For He's a Jolly Good Fellow" in unison, led by longtime resident and Community Sing-Along organizer Ed Siegel.
Mike Nichols took over as Mayor of Solana Beach for the next year, and Thomas M. Campbell will serve as Deputy Mayor. Sworn in to serve on the council for four years were David Zito, Peter Zahn and incumbent Lesa Heebner.
Heebner, a former kitchen designer and businesswoman, has served on the council since 2004 and has lived in Solana Beach for 34 years. Before her council involvement, she led a grassroots campaign to redesign the Coastal Rail Trail. She is the primary representative from Solana Beach on the SANDAG (San Diego Association of Governments) Board of Directors, and she serves on about 10 other city ad hoc and advisory committees.
Zito, a resident of 21 years, is a software architect for Hewlett-Packard and has four years of experience on the city's view assessment committee. He's volunteered for parks and recreation events for eight years and he leads trips at the YMCA as part of its father-daughter program.
Zahn, a five-year resident, is a business attorney and owner of Solana Beach-based Counsel Direct Law Offices. He has served as vice president of the Solana Beach Chamber of Commerce for four years, and he's the chair of the U.S. Green Chamber of Commerce. He has also chaired the annual Fiesta del Sol event.
---