Students to auction off artwork for Solana Beach Bash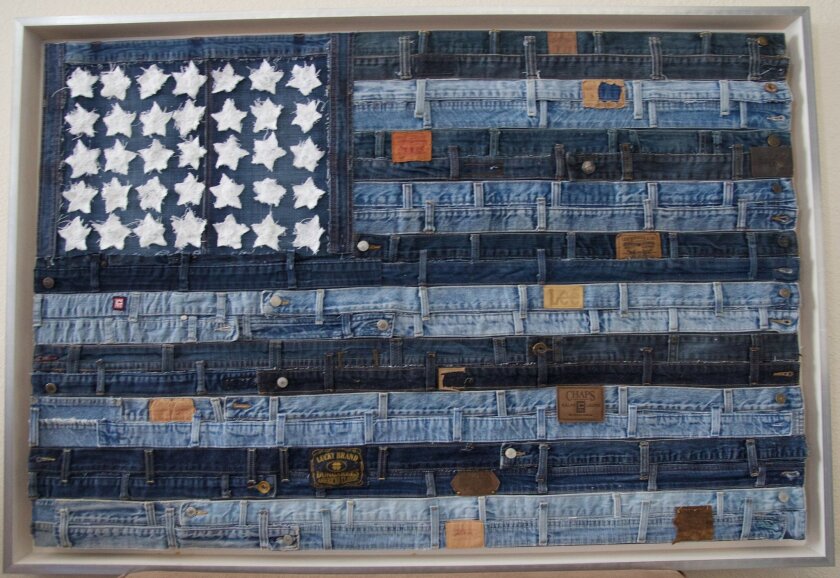 With support from local shops, student art available for auction at the Solana Beach Bash is off to a great start. One class project has already received a $1,000 bid.
"It was a fun project," said Lisa Marcolongo, a parent volunteer who helped a fifth- and sixth-grade class at Skyline School create an American flag. The 3-by-4-foot flag was crafted out of recycled denim.
"It turned out better than we imagined," she said. "It's beautiful."
Every class at Skyline and Solana Vista schools in the Solana Beach School District creates an art project that is auctioned off at the annual Solana Beach Bash.
Hosted by the Solana Beach Schools Foundation, the event raises funds to bridge the gap between school needs and state funding to enrich the education of students in the district. Proceeds from the Solana Beach Bash help fund Discovery Labs, which focus on science, technology, research, engineering, arts and math, or STREAM, and supplemental physical education at Skyline and Solana Vista schools.
"As part of STREAM, I was able to go to Qualcomm to meet engineers and others who develop new technology," said Marcolongo's son, Rocco, a sixth grader at Skyline. "It was a fun day trip. I wouldn't have been able to go if we didn't have a science and technology program that helps us create our own projects. Building things is the best part of STREAM. I also like PE."
As a parent volunteer, Marcolongo has helped with four art projects for the Solana Beach Bash over the years. There were three other moms who helped work on the "Democracy in Denim" project, which was inspired by the upcoming election. Two of the mothers are also married to retired military members.
"We like the flag," said Marcolongo, whose husband served in the U.S. Marines for 14 years. "We're always drawn to things that are patriotic."
St. James Thrift Shop in Solana Beach donated more than 50 pairs of jeans for the project. After the flag was assembled, Once Upon A Frame in Cedros Design District volunteered to frame it. The frame is a custom birch wood "floating" frame.
"This is truly the community coming together to support our local elementary schools," Marcolongo said. "A lot of the other businesses in Solana Beach also contributed either in-kind or monetarily to the artwork or the Beach Bash. A lot of the businesses really support our local schools and the students. I just can't thank them enough."
All the student artwork, including "Democracy in Denim," is available for auction online at www.solanabeachbash.com and at the Solana Beach Bash on May 7.
The public is also invited to the Solana Beach Bash Children's Art Walk from 4-8 p.m. on April 18 at Real Bar & Bistro, located at 124 Solana Hills Drive in Solana Beach. The Art Walk is free and open to the public. Food and drinks will be available for purchase.
"The whole community can come and look at the artwork and bid on it," Marcolongo said. "If you don't have a student at the school, or you're not able to make it to one of the open houses or to the Beach Bash, then come to this art display. It's open to the entire community."
The Solana Beach Bash will take place from 4-8 p.m. May 7 at the Belly Up, located at 143 South Cedros Ave. in Solana Beach. Atomic Groove is set to perform.
For more about the Solana Beach Bash or to purchase tickets, call 858-794-7180 or visit www.solanabeachbash.com.
---