Solana Beach Singalong in harmony with community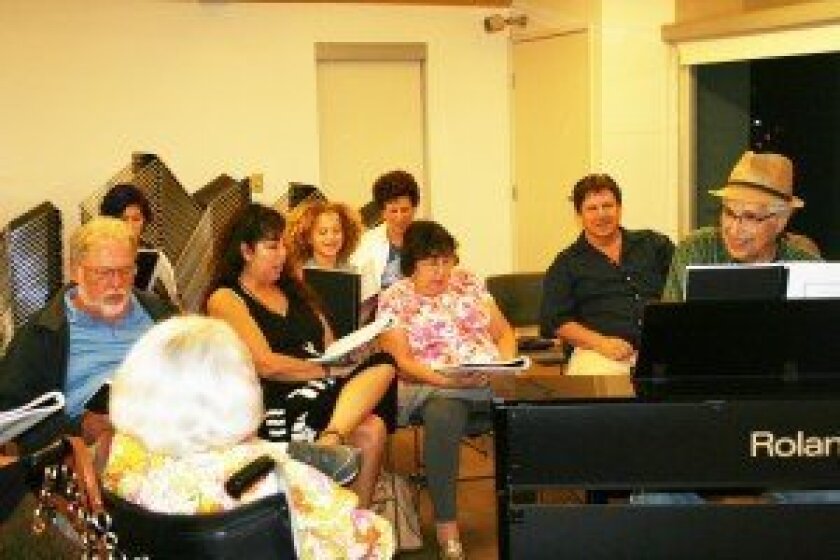 It didn't take long for Solana Beach residents to begin new traditions after the city became incorporated in 1986. In the next year, local psychiatrist and musician Dr. Ed Siegel established the weekly Solana Beach Community Singalong, which remains the city's longest-running ongoing event.
"There was an old beat-up upright piano in the community center," recalled Siegel. "We had just became a city, and I thought it would be a great way to give people a sense of community."
Led by Siegel, the Solana Beach Community Singalong kicked off its 28th season with a Thursday night get-together Aug. 28 at the Fletcher Cove Community Center, a celebration that continued well into the next week. On the next Thursday, Sept. 4, regular attendees and newcomers gathered to sing and celebrate with cake and other treats.
"When I look at pictures from 27 years ago, it seems like yesterday," Siegel said. "For me, all I have to do is show up and sit down."
During the special occasion, dozens of people trickled in and out of the roughly two-hour event, from 9-year-old Lexi Worms of Solana Beach to 100-year-old Selma Malk of La Jolla.
Malk, who has been a loyal member of the group for 25 years, sat in her wheelchair near Siegel at the piano. Her eyes lit up and she tapped her foot during spirituals and World War I-era songs. Lexi, a fourth-grader at Skyline Elementary School, proudly performed Disney favorites for the crowd. It was her first time attending the singalong.
"This was really fun," said Lexi after the event. "I want to come back and sing again."
Siegel, who has played the piano since childhood, established the weekly singalong in 1987 so people of all ages and backgrounds, like Lexi and Malk, could come together to sing. At the piano, he provides musical accompaniment and sings with the group in a repertoire contained in a songbook that he and regular attendees compiled over the years.
No reservations or dues are required, and everyone is welcome, he said.
"When I was a kid in a small town, we didn't have TV," Siegel said. "Everybody had pianos, and we would sing around the campfire at the city park. There was always a real community feeling. So I was hoping to start something like that here."
In the early days, Siegel said, the group had to make do with the old upright, which the city eventually replaced with a new one.
Over the years, the group updated its songbook to include songs that span generations, from spirituals to show tunes to popular hits.
A special song for the city of Solana Beach is also featured in the songbook. In 2006, Solana Beach adopted the city's official song, "Solana Beach, Our City Proud," a collaboration between Siegel and lyricist Lynn Salsberg.
Salsberg and her husband have regularly attended the Solana Beach Community Singalong since the early 1990s. The couple first discovered the group when they heard music coming from Fletcher Cove Community Center during an evening stroll down Pacific Avenue.
"We came in, and we've been coming ever since," Salsberg said.
"Lynn and her husband are as much a part of the singalong as I am," Siegel said. "They're supporters. They come in, they help set up the chairs, and they're enthusiastic about it."
The Solana Beach Community Singalong meets most Thursday nights. Doors open at 7:30 p.m.
The first singalong drew about 40 people, Siegel recalled. Since then, crowds have ranged from seven to 70 people of all ages, with the most popular singalongs around the Fourth of July and the holiday season, he said.
"We never know how many people are going to come," Siegel said. "We never know, and it doesn't matter — as long as there are just a few folks."
---