Solana Beach singer/student honored with Peacemaker award from Encinitas Rotary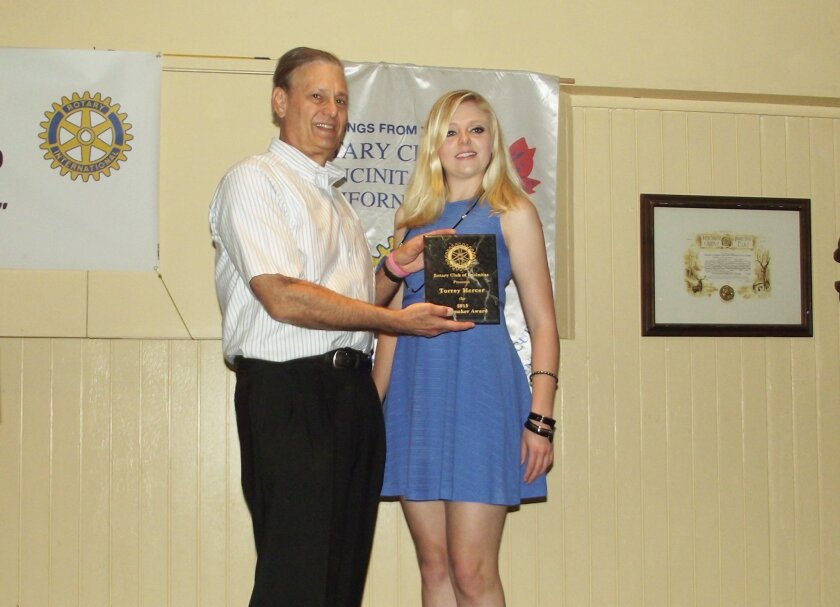 Torrey Mercer took the dais at the Rotary of Encinitas weekly meeting at the Elks Lodge on March 18 and belted out, "I Believe in Me," a song that was not only an expression of her creative musical talent but was also deep-rooted in her heart.
It followed her brief speech as Mercer accepted the Peacemaker of the Year Award from Rotarian Robert Blumberg.
A talented singer-songwriter and motivational speaker, Mercer — a senior at UC Irvine whose family lives in Solana Beach — received the prestigious award for the humanitarian work that she has undertaken to prevent bullying in schools.
Every year Rotary International observes Global Understanding and Peace Month. In coincidence with this annual marker an award is given to a community member who has made a difference in promoting peace.
The Encinitas Rotary Peace Committee — Julie Worley, Bill Wachtler, Kerry Witkin and Paul Pierce — singled out Mercer who is the youngest recipient to date for this award, said Blumberg.
With an entrepreneurial spirit, Mercer — who will graduate in June with a double degree in education and drama — founded "The Pledge Tour," which takes her message into grades K-12. Her school assemblies encourage students to pledge "to be kinder, more considerate individuals," Blumberg said.
"She speaks about bullying-related issues as they relate to low self-esteem, and other more serious problems that occur among youth," he explained.
Mercer has had first-hand experience with some of these issues. As a child prodigy in vocals, she had bullies in her peer group who would "shoot her down over and over again for wanting to pursue her dream of becoming a singer," said Blumberg.
She has turned that tough experience into energy that is focused on helping others to develop guiding principles built on kindness, respect and acceptance of each other's differences.
Mercer said it was a privilege to receive the award and that she was shocked, in a way. "I'm only 21, about to finish my undergraduate degrees. It's a huge honor to be here."
Illustrating the important nature of her work, Mercer commented on a recent teen tragedy. "I read in the paper that there were apparently two teen suicides, one from San Dieguito Academy and one from Carlsbad High School. If we can do anything to prevent these things from happening I think it is on us."
Her song "I Believe in Me" is dedicated to anyone who has ever been bullied or who has low self-esteem, and is aimed to prevent such tragedies.
This year, Mercer released "Be Your Own Hero," a song that encourages youth to recognize their own innate power and to use it for good.
"Something I like to teach kids is that these life skills — about not being a bully, not discriminating and not treating a person less for any reason — are things that all of us can carry though all of our lives," Mercer stressed.
"They are not just things that stay in middle or high school, they are things that influence who we are every single day, as we grow and change."
Mercer's prior accolades include winning the Indie Channel Award for Best Pop Song in 2013 for her piece "Looking Glass." The next year, she was named "Best Teen Artist" by the Artists in Music Awards and "Inspirational Artist of the Year" by Critic's Choice.
Through her ability to sing, Mercer adds a special aspect to her assemblies not often seen. "The kids really respond to the music component of what I do," she said. "It helps bring my message home."
Mercer's mission is to reach at least 100,000 students with "The Pledge Tour." Her ultimate goal is to create a school curriculum to train teachers in bullying prevention. "Not an easy task," Blumberg commented.
But it's one she is striving to achieve.
To learn more about Torrey Mercer and to see her music videos, visit www.TorreyMercer.com. For more about Encinitas Rotary, visit www.encinitasrotary.com.
---