Solana Beach replaces dead Torrey pine with 15-foot tree
With help from the Solana Beach Civic and Historical Society, Solana Beach recently replaced a dead Torrey pine on the city's Coastal Rail Trail.
A new Torrey pine was planted along the trail May 14, several yards away from where the beetle-damaged Torrey pine was cut down April 1.
Although the city planted four Torrey pine saplings nearby, the Solana Beach Civic and Historical Society contacted the city to discuss replacing the 40-foot-tall Torrey pine with a more mature tree, resident Jim Nelson explained.
"The tree was up about 40 feet and had a gorgeous crown," said Nelson, a member of the Civic and Historical Society. "We shed some tears when that tree died. We didn't want to wait 15 years for these saplings to get up to a decent size, so we felt strongly that we should do something."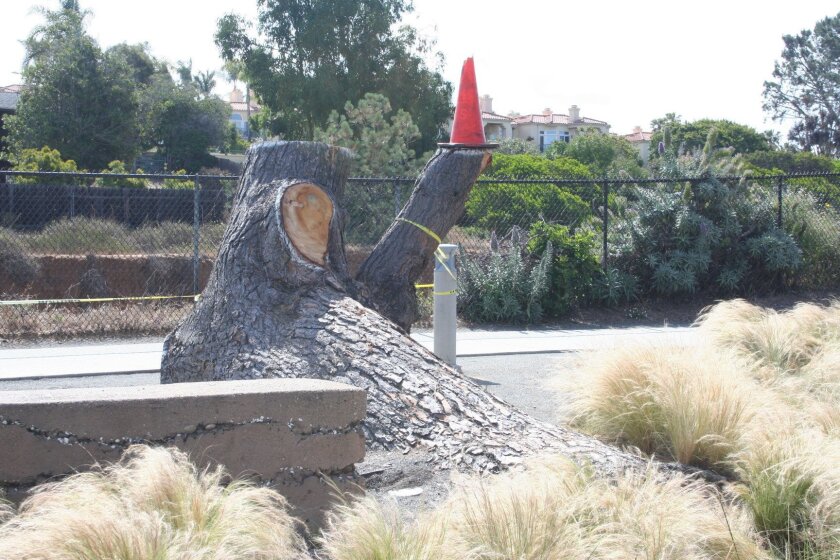 The city of Solana Beach and the Solana Beach Civic and Historical Society split the cost of the new Torrey pine, which totaled $3,709, Nelson said. The roughly 8-year-old tree stands 15 feet tall and weighed at least 3,000 pounds when it arrived in a 60-inch box. Mark Holland and his team from Big Trees of California planted the tree early in the morning.
The old tree's stump is also still on the trail.
Nelson said the city has received two proposals to transform the Torrey pine stump into public art, including a proposal by woodworking artist Tim Richards, an Encinitas resident who recently carved a Torrey pine stump in Del Mar into the "Sunset Seat," a wooden bench with an attached red-tailed hawk.
The Solana Beach Civic and Historical Society's Seaweeders Garden Club sponsored Richards' proposal, which Nelson said features a pelican.
---