Solana Beach volunteer and artist sends the love of at least 1,000 locals to Newtown, Conn.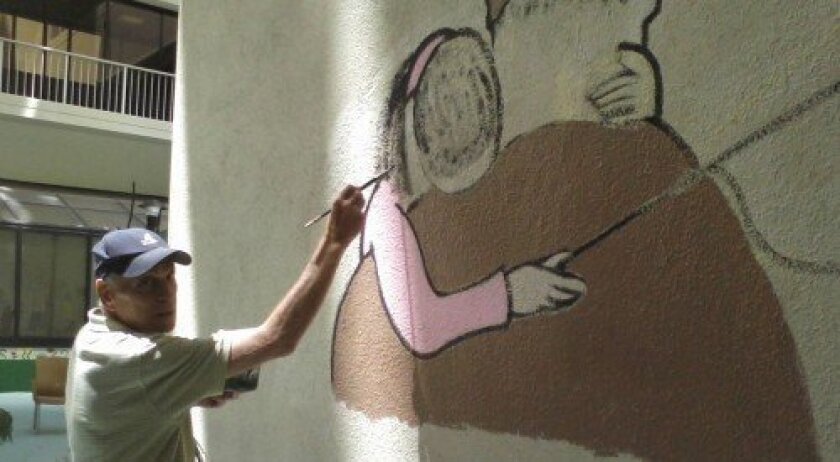 By Claire Harlin
Solana Beach resident Joel Harris's big heart is known around San Diego, as he has for years volunteered his time conducting free art classes for kids, special needs adults and wounded veterans almost every day of the week. So it's no wonder that his wounded heart after the Sandy Hook shooting led him to gather more than 1,000 signatures around the city on a 30-foot paper scroll. He asked Mayor Mike Nichols to offer the last signature before sending to the city of Newtown, Conn. in January.
"Rather than just hold it inside, it's important to be more active and do something to get it out," said Harris, who was named "Volunteer of the Year" in 2012 by the San Diego County Board of Supervisors. "I wanted to make a gigantic card, but then that just turned into a scroll and we kept adding and adding."
Harris began his effort with the 20 ASN (adults with special needs) students he teaches art to once a week at the Solana Beach Library, but then he decided not to stop there, and took the scroll to Earl Warren Middle School for the students to sign.
Harris then went to City Hall, where he spoke with city officials about his project, and before he even made it back to the library, he had received a message from Mayor Nichols praising the idea and letting him know the city could be sending out an eBlast to all residents, letting them know they could go to the Solana Beach Library to leave their signatures.
Harris didn't stop there. He took the scroll to the Hispanic congregation of the North Coast Fellowship in Solana Beach to let parishioners sign it during their Christmas service.
"Then I thought, 'Why not bring it to the Presbyterian Church?'" Harris said, "Then I took it to the fire station, I took it to Starbucks, I just kept going."
One of the most memorable experiences was watching a lady pace calmly for two hours at the library, formulating her thoughts before writing.
But Harris said he never read any of the messages, except for a select few that appeared in a YouTube video about the scroll (https://
www.youtube.com/watch?v=B6GUlDUwGxQ
).
"I didn't want to intrude on people's thoughts and feelings," he said. "It was so private and sacred; I felt it came from their hearts and minds."
And where did Harris get all that paper and supplies? From the studio of the late Thomas P. Emery, a well known local sculptor, whose daughter donated his supplies to Harris, a fellow Optimist Club member, when Emery passed away.
A former NASA artist charged with making illustrations of the Earth to be used as visual aids on Apollo missions, Harris is passionate about sharing his love of art with others and using it as a therapy tool he believes deeply in. Having been paralyzed for four years at the age of 3, he said he honed is skills during that time and also developed a soft spot for those with physical disabilities, which have for years been the focus of his art therapy volunteerism. He likewise believes that "the armed services is the most important job in the country," and because his condition prevented him from serving, he said helping wounded veterans through art therapy at the VA hospital in La Jolla is his way of giving back.
"I believe that everyone in this country should do their part somehow," he said. "It's my payback, and art really does heal the body and soul."
For more information about Harris's weekly classes, contact the Solana Beach Library at (858) 755-1404.
---