Solana Beach's successful carbon offset program only part of Del Mar organization's global conservation efforts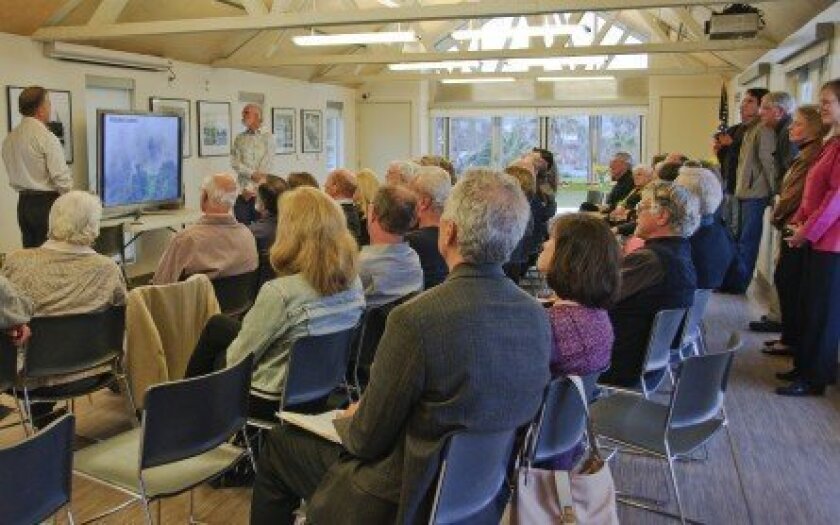 By Claire Harlin
There's a unique tropical forest along the Peruvian border called the Cazaderos in southwest Ecuador that's home to numerous species found only in that ecosystem, including the highest concentration of endemic bird species in South America. It's rainy for half the year and dry for the rest, making it the perfect climate to produce corn — a crop that's boomed over the past decade since the U.S. government has been offering subsidies to increase its production for use in biofuels. That's also part of the reason such forests have been greatly reduced, and the 19,317-acre Cazaderos, which is of major biodiversity importance and has luckily remained unharmed, is at the top of the world's conservation list.
But the Solana Beach community, in conjunction with a small grassroots conservation group started 15 years ago by longtime local resident Ivan Gayler, has played a major role in preserving the Cazaderos while offsetting its own carbon footprint. Since 2009, residents of Solana Beach alone have raised more than $24,000 to save about 500 acres of the rare deciduous forest. That equates to about 48,000 tons of carbon, considering the average person is estimated to use about 11 tons a year and there's an estimated 100 tons provided per acre of forest, said Solana Beach City Councilmember Lesa Heebner.
Heebner came up with the idea behind the carbon offset program after a moving speech by Gayler about his organization, the Del Mar-based Nature and Culture International (NCI). NCI has helped save more than 9 million acres of rainforest since Gayler, also known in the community for developing the Del Mar Plaza, founded the organization in 1997.
"After hearing Ivan speak the first time, I was moved. Most people who were there were in tears," said Heebner. "It just hit me that Solana Beach would be a great sister city. I wondered if we could buy acreage the size of our city."
After approaching Gayler with the idea right after his speech and then presenting the idea to the City Council, the city gave the carbon offset initiative two thumbs up and a campaign followed.
While the city has successfully offset its estimated carbon footprint, it wants to keep raising money as a symbol that people continue to use more and more carbon, year after year, as rainforest continues to disintegrate. And Gayler said he thinks the city's efforts thus far are nothing compared to what they could be.
"It shows how much impact a community can have," he said. "But that was not even a huge campaign … If we went door to door in Solana Beach we could conserve many times what we've already done. If we could get all the high school kids involved, we'd be shocked at how much we can conserve … It's just a joy for this to happen so close to home."
Gayler, who has lived locally for 55 years, has employed conservation methods that set NCI apart from many much larger conservation groups and have astonished major players in the environmental realm for years. NCI board member Charles Smith, for example, used to do reforestation work with the E.O. Wilson Biodiversity Foundation and when he met Gayler and learned of NCI's efforts in 2007, he said he and Edward Wilson, who is often called the "father of sociobiology," were "flabbergasted at how effective Ivan was being with NCI."
With a staff of only five in its Del Mar office but dozens more in its 11 offices throughout South America, NCI employs South American conservationists who know the ins and outs of buying land and using political influence to create reserves in place such as Peru, Columbia and Ecuador. That's what sets NCI apart from many other U.S. conservation groups.
"Our conservationists are leaders in their communities," said Smith. "They can make deals and put in large reserves through political influence with no monetary cost … It would be impossible if you sent down Americans to do that. It's their area and it's they who have to preserve it."
Smith grew up in Rancho Santa Fe and has been inspired to conserve land ever since seeing bulldozers take down the chaparral ecosystem he lived among during his childhood. Feeling powerless in that situation, he longed to conserve land and that was made possible when he sold his business, the first-ever online stock photo database, to Bill Gates in 1998 and began putting his dollars and efforts where he felt they counted.
"Conservation is one of the great tasks of the 20th century," said Smith. "We have problems in education, healthcare and poverty, and not that those aren't important problems, but the problem of conservation has an end date on it. NCI will not be able to do what it does in 20 years … Conservation is not a problem that's been around for hundreds of years, and we are running out of time."
For more information on the Solana Beach carbon offset project, visit www.solanabeachappeal.org and for more information on NCI, visit www.natureandculture.org.
---