Solana Highlands School Running Club thriving thanks to efforts of parent Sheri Kono
By Karen Billing
During Tuesdays at lunch at Solana Highlands School you will find children running around the playground as part of their very active Running Club. Some run in playful packs with friends, some on a ferocious sprint, some take a leisurely stroll but all are moving and choosing exercise over any other activity on the playground.
The proud and enthusiastic leader overseeing the club is parent Sheri Kono, easily spotted by the giant yellow flower pinned to her cap.
"The students are so excited to come out and run laps together, doing something that typically you would think of as hard and kids wouldn't choose to do," Kono said. "Parents commented to me that their kids don't even want to walk to school and yet they're excited about running 20 minutes at lunch."
The fit Kono started exercising regularly in the last couple years and running played a big part in her routine. She hesitates to call herself a runner, but she logs 10-mile runs on the weekends and competes in several local races — she's training for a half marathon in February.
She wanted to get involved in the running club after seeing how excited Solana Highlands kids were receiving their running awards at the monthly all-school assemblies.
Since she's signed on as the running club leader, she's made several changes, including adding kindergartners (who run for just 15 minutes), added monthly sprint days where kids go all-out as fast as they can for 30 second intervals, and implemented a new barcode scanning system as a method of tracking laps, replacing the old hole-punch system.
All of the children's results are posted by the end of the day on a password-protected school site.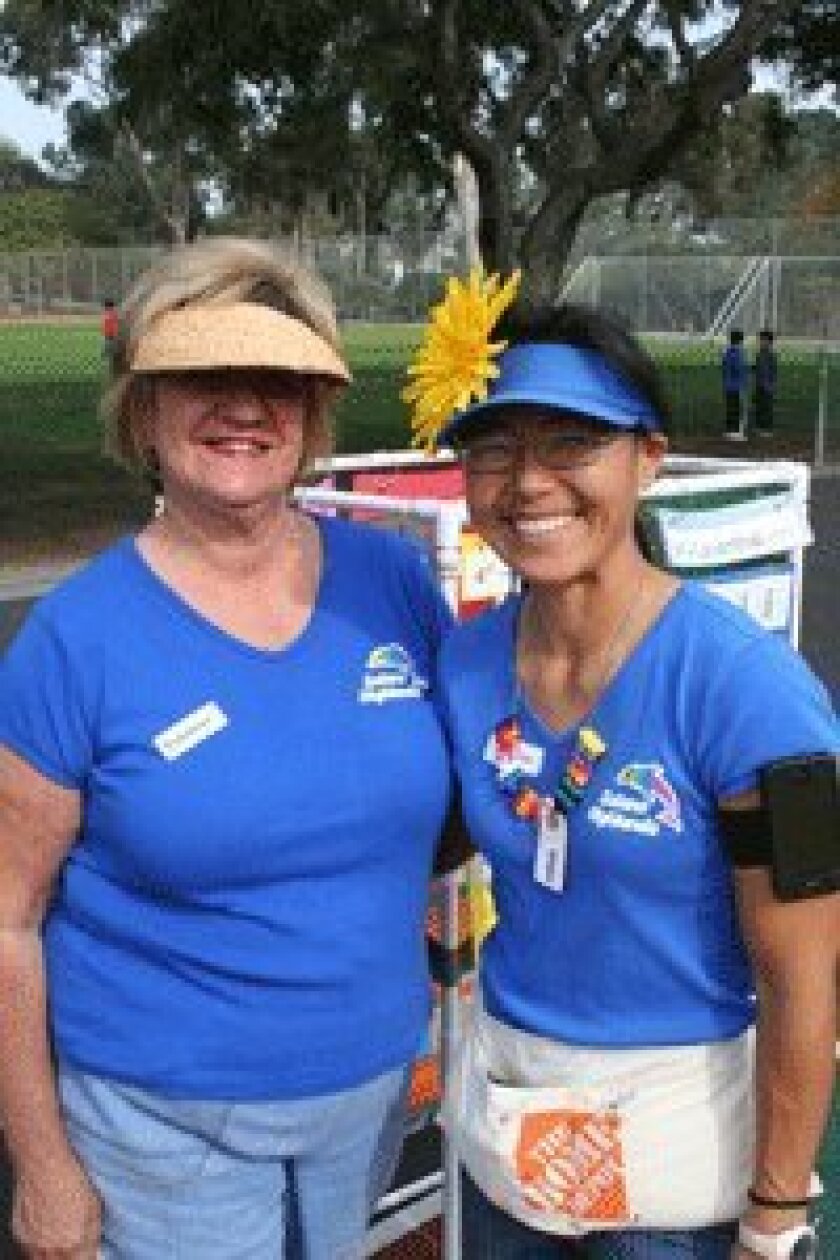 Students earn "toe tokens" — charms for their necklace with every five laps. Kono said they had to make the award structure harder this year to be able to afford all the awards as the kids just keep running harder to earn them.
Last year they gave out t-shirts for students who had racked up 100 laps and a total of 24 students earned a shirt. This year, Kono estimates over 150 students will get to 100 laps.
The program runs on PTA funding, as well as generous support from local businesses such as Jimbo's, Golden Spoon and Souplantation.
Kono is trying to organize more running activities outside of school—last year some Solana Highlands students competed in the Junior Carlsbad races, running events from a 25-yard dash up to a mile for different age groups, 2 through 12.
She has also started a Mom's Run Club that meets at the school after morning drop-off about two to three times a week.
"Support from parents really makes a difference too," said Kono, who said about 12 to 15 parents working in multiple shifts help make Tuesdays go. "It's pretty volunteer intensive. That's one of the best things about this year and one of the reasons why the club has been so successful. This couldn't happen without all the volunteers."
Parent Mitzy Taggart was overflowing with compliments about the running club. Her son Aidan still has his necklace from last year even though he has graduated to middle school and her son Roen "looks forward to Tuesdays" because he loves it so much.
Her children got so into running that, over the summer, her family had their own running club with mom and children going to the school to run laps around the playground.
"It's extending for a lot of people beyond the school, which is really exciting and what I love most about being part of it," Kono said.
Kono loves seeing the children's progress. She told one story of a girl whose mother takes her on weekend hikes and how she struggled with stamina until she started doing the running club.
She remembers another time when a kid was close to making one of his running goals and he was shocked when the parents all told him he was just one lap away. Kono said the boy asked them in disbelief "I can do it?", ran that last lap and his doubt changed to an assertive "I did it!"
Those type of success stories inspire Kono and got her hooked on the Running Club.
"If they can learn while they're young that exercise is fun and rewarding, that's something they can carry on with them for the rest of their lives," Kono said. "Those first couple of miles are hard for everyone. If they learn to go past that first couple of miles, even when it's hard, they're learning they can do hard things."
---