Solana Ranch Park opens at Carmel Valley's Pacific Highlands Ranch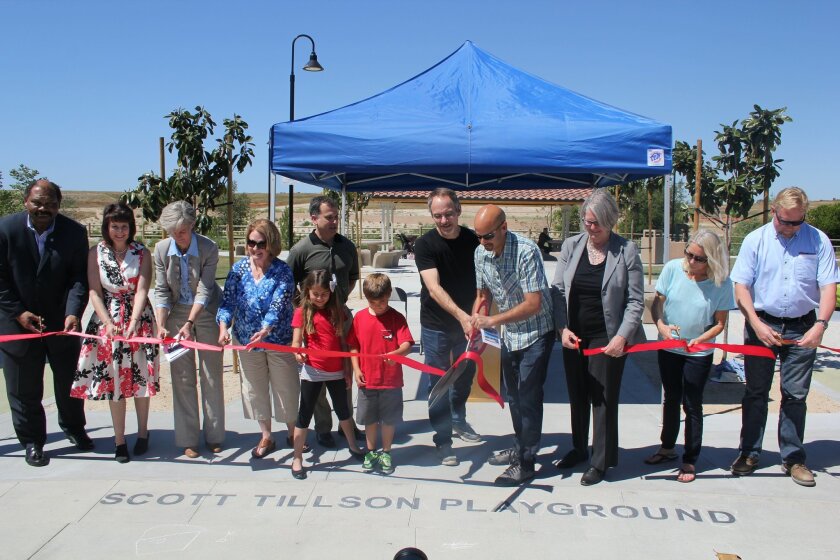 Pacific Highlands Ranch celebrated the grand opening of Solana Ranch Park on March 27, another step forward as it develops into the sustainable community it was intended to be.
"This is a gorgeous park and I'm really happy to have it here," said Manjeet Ranu, a former Carmel Valley Community Planning Board who was committed for years to getting the park built and served on the park design committee. "It's been exciting to come down here for play dates and to see how it brings the community together."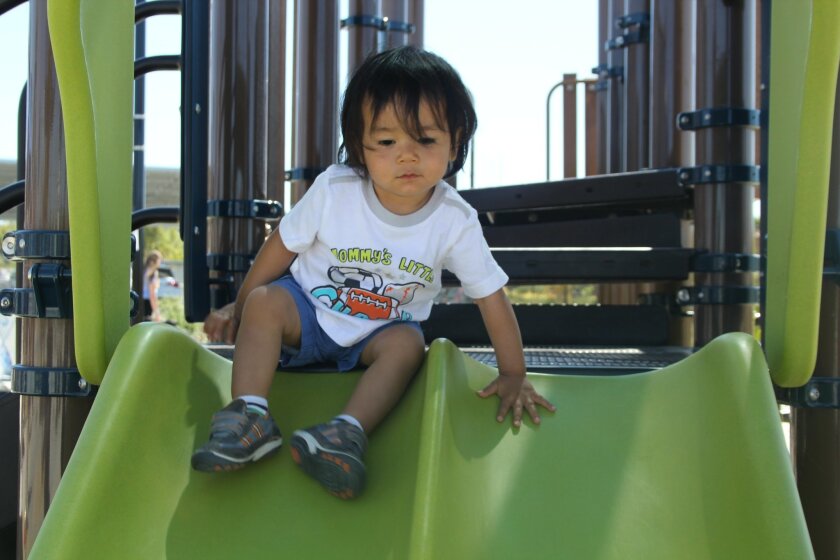 The park, at the end of Pacific Highlands Ranch Parkway, is edged by Gonzales Canyon and Solana Ranch Elementary School; sharing a parking lot with the school allowed for there to be more park, less parking.
Ranu thanked San Diego Council President Sherri Lightner for her leadership in getting the park done. From the day she took office, Lightner said she heard from Pacific Highlands Ranch residents about wanting to grow their community, and she was able to expedite the land acquisition in 2010.
"This would not have happened without the will of the community," Lightner said. "Solana Ranch Park is near and dear to my heart. It's an example of collaboration and community planning done right."
Lightner praised the work of the planning board, city project team, the parks and recreation and planning department staffs and Pardee Homes.
"The developer was able to work with the community," she said, repeating the statement for emphasis. "And I'm very glad they did."
Beth Fisher of Pardee Homes said she was thrilled to be there to see the park opened as they had envisioned and said she looks forward to the community's future amenities, such as the Village, the library and another park.
"It's wonderful to see new amenities like this going up in San Diego," said Herman Parker, city parks and recreation director. "The park has an array of different recreational opportunities that will be in the community for years to come. Our parks are really where we create memories ... They're the backbone of a community and create a sense of place."
The five-acre park, designed by a committee of residents, features a tree-lined promenade, multi-use play field, picnic tables, a comfort station, grassy amphitheater space, a half basketball court and a walking loop of about a quarter mile. The tot lot play area for children, with slides, merry-go-round and swings, is named the Scott Tillson Playground, in honor of the dedicated community volunteer and member of the Carmel Valley Community Planning Board who passed away in 2011.
Tillson was very involved in the passage of Prop C, a successful citywide ballot measure that untied Pacific Highlands Ranch's development from the completion of the Interstate 5/Highway 56 connectors.
"He was really instrumental in making this park happen," said Ranu, calling Tillson a friend whom he learned a lot from on the planning board. "Having a playground in his memory makes it really special for me."
Tillson's widow, Pat, and some of his family members were present to help celebrate the park's opening.
---