Stay informed with eBlasts from the City of Solana Beach
By Diane Y. Welch
In its efforts to "Go Green" — in part by saving paper — the City of Solana Beach no longer publishes a hard copy of its quarterly newsletter, "Shorelines." Instead the informative magazine-style publication is available in an electronic pdf version that is emailed out to community residents. Not everyone is aware that this service is offered by the City and many are left uninformed, however, signing up is only a click away.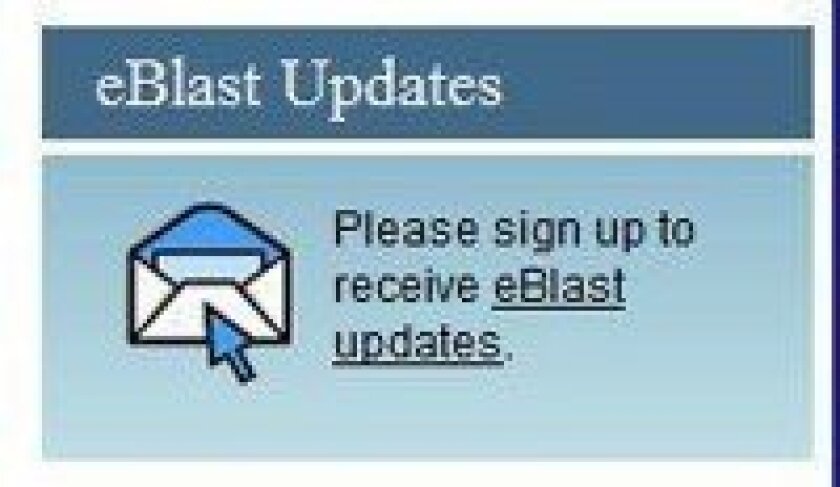 "There is no need for a password and it is simple to sign up," said a City spokesperson. To become a subscriber, and just in time for the winter edition of "Shorelines," visit the city website at
Click on the eBlast Updates box, located at the top of the right hand column of the home page, then enter your email address, she said.
"Shorelines" contains action highlights from city council meetings; updates from the Community Development Department; events organized by the Public Arts Advisory Commission, like the recent Arts Alive in the Coastal Rail Trail event; City Hall Art Gallery exhibits; environmental news like recycling opportunities; updates from the San Elijo Lagoon Conservancy, the Boys and Girls Club, the North Coast Repertory, the Solana Beach Library, and more.
The back page has an informative community directory that includes phone numbers for city government offices, local schools, libraries and museums, and general, environmental, youth, and senior services. The current "Shorelines" newsletter is also posted on the city's website.
In addition, the eBlast sign-up ensures that subscribers receive notices about special workshops and meetings, community activities, local events, employment opportunities, city business information, important emergency news, and more.
This service is used solely to inform subscribers about Solana Beach news, business and events. The city does not use subscribers' email addresses supplied through the eBlast registration for any other purpose.
For more information, contact webmaster Danny King at dking@cosb.org or Anita Edman, community services coordinator, at aedman@cosb.org
---