Students learn bicycle and pedestrian safety skills at Solana Vista School in Solana Beach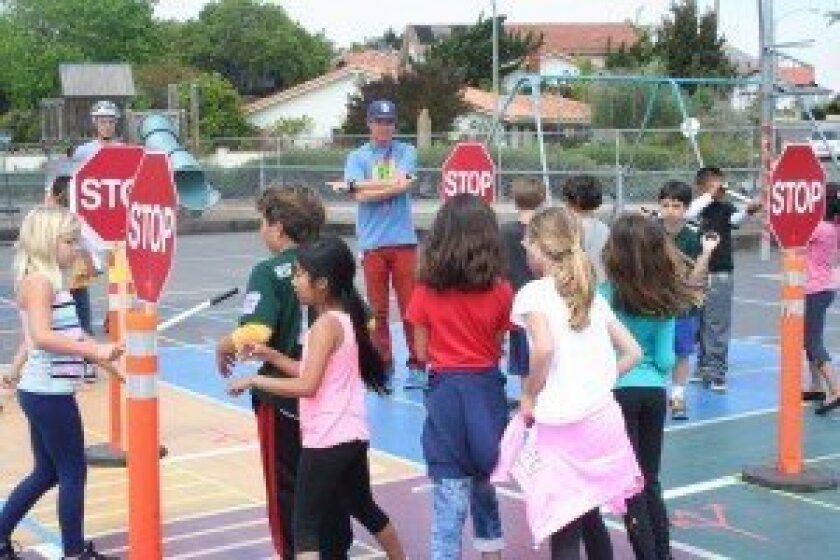 By Kristina Houck
It looked like rush hour on the playground at Solana Vista School April 21-25.
For Earth Week, a section of the pavement was taped off to resemble a four-way intersection, complete with four stop signs. Using PVC pipes made to look like handlebars, students pretended to be cyclists while others were pedestrians.
"It's a fun thing for them, and at the same time, it helps them learn," said physical education teacher Robin Park, who the children call "Coach Park."
"It's one thing to say, 'Look both ways before you cross the street,' but it's another thing to show them why that's important. We want them to make the mistakes here as opposed to out there. That's why it's good to have this."
The bicycle and pedestrian safety skills program was held during physical education classes throughout the week and led by Solana Beach resident Karl Rudnick.
IMG_0093Rudnick is a certified instructor with the League of American Bicyclists, an organization that promotes cycling for fun, fitness and transportation through advocacy and education. He holds Smart Cycling classes in Oceanside, teaching children and adults bicycle safety skills. He is also a founding member of BikeWalkSolana, a local community group that advocates for better and safer bicycling and walking facilities, and promotes cycling and walking in Solana Beach.
In addition to his classes in Oceanside, he has led two Bike Safety Rodeo weekend events for children in Solana Beach. This was the first time he created an on campus program.
"We want to have more in-school education," said Rudnick, who has lived in Solana Beach with his wife, Jill Cooper, since 1989. A retired teacher, Cooper used to teach at Solana Vista School. "This is just a start."
During the program, children rode "simulated bikes" and walked through a safety course, learning to safely watch out for each other and cars — a poster held by Rudnick. Students also learned a song about the importance of looking left, right and left again before crossing the street.
"I learned how to safely cross the road," said 8-year-old Carly. "If you don't safely cross the road, you can get hit."
"I learned that you have to look both ways," Mia, 8, said.
"I learned you have to look left, right and left again," added 7-year-old Erla.
IMG_0078Nearly 520 students in transitional kindergarten through third grade participated in the program throughout the week. During recess, many of the children borrowed the PVC handlebars and played on the pretend intersection using the skills they learned.
"As a teacher, I know you learn by doing," Cooper said. "By walking and imagining that they're walking and cycling on the streets, it's a great way to learn how to be safe on the streets."
For more information about the League of American Bicyclists, visit bikeleague.org.
For more information about BikeWalkSolana, visit bikewalksolana.org.
---