Susan Sbicca hopes to change others' lives through food at new Del Mar 'vitality bar'
By Claire Harlin
When award-winning chef Susan Sbicca left Del Mar's Sbicca American Bistro a little over three years ago, she knew it was time to take a new direction, but she wasn't immediately sure what her next calling would be.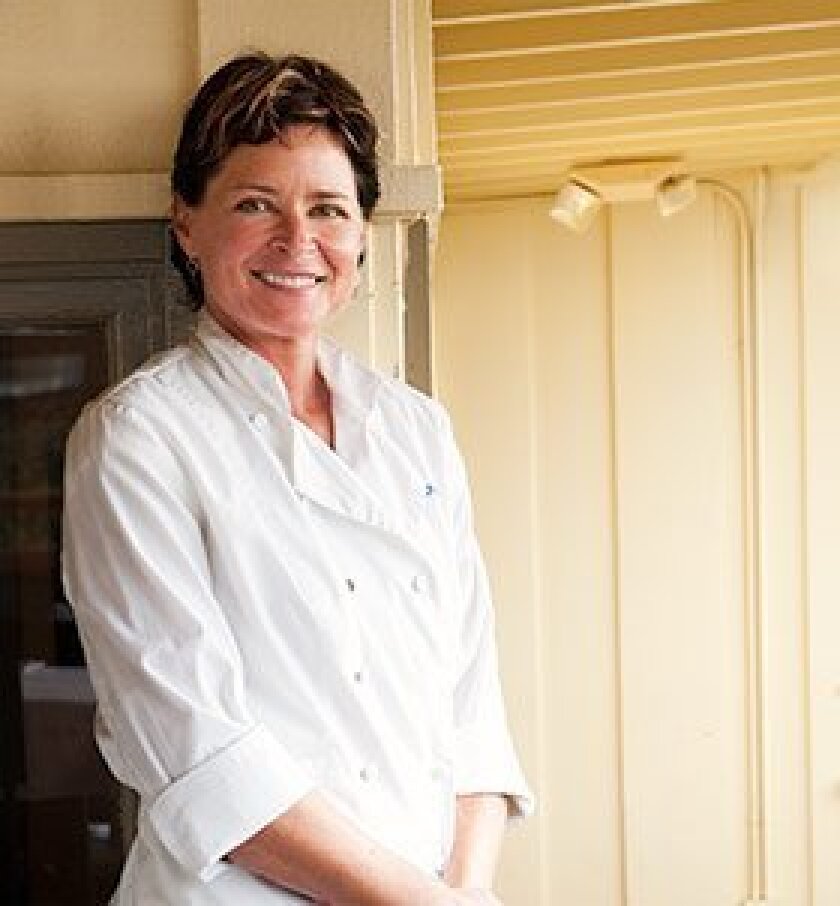 "It was time to move on," said Sbicca, who was named Chef of the Year in 2006 by the San Diego Chapter of the California Restaurant Association. "After 20 years in the business I was getting tired."
Within a couple months, the local resident began working on a Sbicca cookbook, but was stopped in her tracks by a health diagnosis — autoimmune disease — that left her home-ridden and suffering for months.
But for Sbicca, this unfortunate hardship also led to a change of identity and change of career path — a lifelong passion that she feels so blessed to have discovered that she gets choked up talking about it.
After a number of various health plans prescribed by doctors didn't work, Sbicca sought the help of the Optimum Health Institute in Lemon Grove, where she stayed for one week eating a diet of wheatgrass and raw food. She found that her diet was the only thing that could keep her disease in remission. With that finding, she applied her culinary know-how to the somewhat uncharted territory of raw and vegan rood preparation in order to save her own heath — and now she's on a dedicated mission to share what she's learned to help others. That's why Del Mar's new bBar "vitality bar," which was set to open on Dec. 19 at 2683 Via de La Valle, has chosen Sbicca to head up its kitchen and contribute to its extensive menu of raw dishes.
The bBar is like a "wellness hub," its creators say, a new concept that offers cleanses, food plans and education in addition to serving raw vegan food and smoothies to go.
"It's an interesting concept and I've never seen anything like it," said Sbicca. "We'll be working with people to design your own cleanse, and since there is raw food involved in the cleanses, it's easier to stick to than the diets that are just juices."
Despite the health setbacks Sbicca had to overcome, she's been no stranger in the community. Many of her local, longtime foodie fans have been getting a taste of "Millie's concept," her gluten-free, vegan gelatos, which she sells at the Leucadia Farmers Market on Saturday mornings. She has previously sold at the Rancho Santa Fe market as well, and she will also be carrying her unique flavors — such as vanilla blueberry almond; pear cayenne; and chocolate peanut butter — at bBar.
The Millie's concept arose when she began experimenting with healthy sweets in the kitchen, and the final product turned out to be so delicious that she felt compelled to share it. Because the image of her mother, who Sbicca lost four years ago to breast cancer, constantly graced her thoughts as she added different sweet ingredients, she said there was no question about what she would name the gelato brand.
"Every time I added something sweet, I envisioned her. Her name was Millie Butterfield and she had such a sweet tooth," said Sbicca, who, not a sweets-lover herself, has surprisingly enjoyed the shift from savory to sweet cuisine. "My mom didn't cook much but she got into dessert. Her fudge was like no other, and she would have loved being part of making these gelatos."
Having begun her culinary career in the 1980s working in delis in Boston, Sbicca said returning to a the deli-style atmosphere at bBar is somewhat nostalgic — her career has come full circle to interacting with customers at the counter once again.
"A deli out there is so much more than you would ever see here," she said. "But what really drew me to the food industry was the teamwork you saw behind the scenes."
At bBar, Sbicca is part of a team once again, consisting of raw chef Simone Powers, owner and health enthusiast Lisa Odenweller and cleansing expert Adina Niemerow — as well as a number of staff members who will be working at the counter.
In a recent employee meeting with her new team, Sbicca said she became emotional when it was her turn to talk.
"When I talk about it, I realize how passionate I am about it. It's been such a journey and I hope I can be an example," said Sbicca of her goal to changes others' lives through food just like her life has been changed.
And when it comes to being a leader at a place she sees as a soon-to-be Del Mar institution, she said, "It feels good to be home."
For more information on Millie's or to join the "pint club," visit
For more information on bBar, visit
www.bebeaming.com/bbar-vitality-bar
.
---