Teacher thrilled to be back in Carmel Valley as new Canyon Crest Academy Envision Theatre Coordinator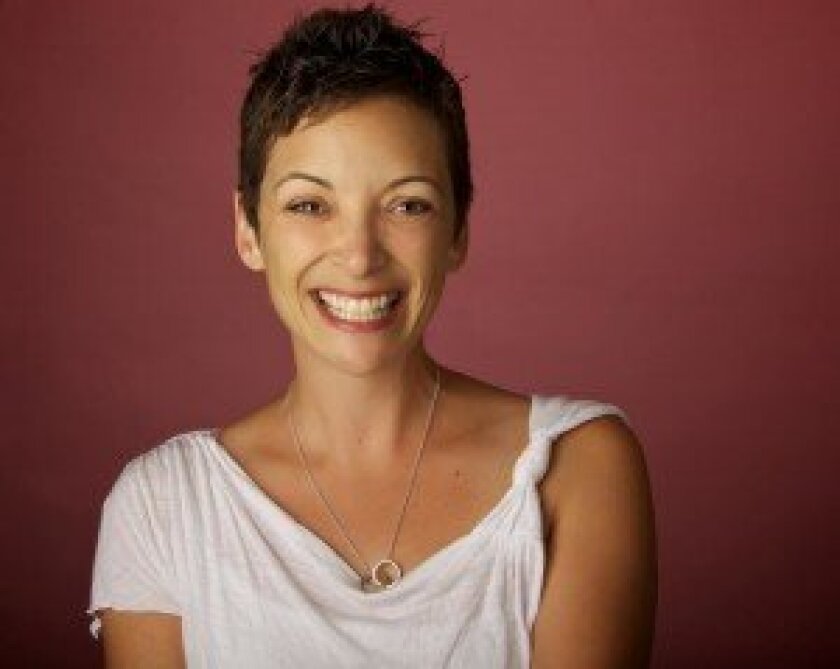 By Kristina Houck
Jeannine Marquie landed her dream teaching job when she began working at Canyon Crest Academy's Envision in 2007. But when schools were hit by the recession and her position went from full time to part time, the actress-turned-teacher had to look elsewhere and eventually relocated to Orange County for work.
Now starting her 18th year as a teacher, Marquie is back in Carmel Valley as the new theater coordinator of Canyon Crest Academy's Envision. Envision offers day classes and after-school programs for cinema, dance, digital and fine art, instrumental music, theater, and vocal music.
"I love San Diego," Marquie said. "When I first started working here, it was a dream job. It was the best ever, so I am beyond thrilled to be coming back."
A Ventura native, Marquie traveled across the country like many young actors after high school. It was her experience in the Big Apple that inspired her to become a teacher.
"I was kind of a big deal in high school," she recalled. "Then I went there, and I was not a big deal anymore. I was ill-prepared to not be a big deal, so I wanted to come back and make sure other kids did not have that experience. I wanted to make sure that my students are prepared for what's going to meet them in the real world of theater, so I was inspired to come back and teach."
Marquie earned a bachelor's in English with a minor in theater arts from Loyola Marymount University and her teaching credential from California Lutheran University. She later completed a master's in education from Lesley University.
After college, Marquie returned to her alma mater to begin her teaching career. She helped build the theater program at Newbury Park High School, starting shortly after the school opened its 400-seat theater.
After five years at Newbury Park, Marquie relocated to San Diego to return to the stage, working with many local theaters, including North Coast Repertory Theatre, San Diego Repertory Theatre, Cygnet Theatre, La Jolla Playhouse, Starlight Theatre and more. She also worked briefly at Taft Middle School and Monroe Clark Middle School before joining Canyon Crest Academy.
After a two-year stint as a theater teacher at Canyon Crest Academy, Marquie worked at Chabad Hebrew Academy, Pacific View Charter School and The Preuss School before moving to Orange County, where she worked at San Clemente High School and Irvine Valley College.
"My favorite thing about teaching is watching a student make a discovery about something, where they feel like they've done it on their own and gained something from the experience," Marquie said. "That's something that's completely unique to teenagers — that joy of learning something new. I love the energy that kids bring to the arts."
Now that she's back in San Diego, Marquie said she is excited to have more opportunities to return to the stage.
"It's important for teachers to be active in their field to keep the passion alive, especially in theater," she said. "There are so many new and exciting things happening. I find that I learn a lot, and then I can transfer that knowledge to my students."
But her students are her focus. In fact, she already has the season planned.
With four main productions on her schedule, she will direct two of the productions and guest directors will direct the other two.
"I have a lot of passion and energy for theater," she said. "I'm excited to bring that to the program. I have high expectations, but also a lot of heart. My students can tell that I really care about them and their experiences. I think that's something I'm going to bring to the program."
The season will open Oct. 24 with "Zombie Prom" at the school's Black Box Theater, directed by Marquie. She described the off-Broadway musical as "fun and goofy."
Guest director Jason Maddy will head the fall's second production, "Museum," a satirical study of people viewing a contemporary art exhibit. The play runs Nov. 6-15 at the Canyon Crest Proscenium Theater.
In the spring, Marquie has planned Woody Allen's "Don't Drink the Water" at the Black Box Theater, followed by Andrew Lloyd Webber's "Evita" at the Proscenium Theater.
In addition, students will put on a cabaret show in the fall and hold a "Shakespeare Under the Stars" event in the spring.
"We have a lot of really talented kids who know a lot about the arts," Marquie said. "I promise that whatever we put on at the school will be enjoyable to San Diego audiences at large. People will enjoy our plays and our musicals. Come support them."
For information about Envision at Canyon Crest Academy, visit www.cca-envision.org.
---