Tee it Up for Troops donations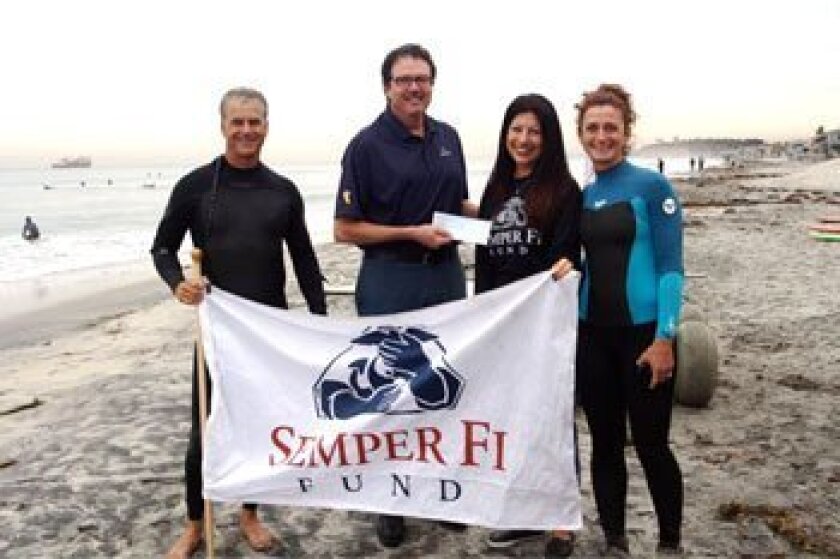 20121115_4610Tee it Up for Troops made a significant donation to the Semper Fi Fund for the benefit of the Navy Medical Surf Clinic that occurs every Thursday morning at Del Mar Beach. Pictured are Del Mar resident and volunteer Bob Burke, Joe Davidson, representing Tee it Up for Troops, Sondria Saylor of the Semper Fi Fund and Betty Michalewicz, exercise physiologist at NMCSD and founder of the surf clinic. The donation will go toward surfboards, wheel chairs, and a new trailer to transport. Not pictured: Volunteer Allen Mitchell.
The Balboa Warrior Athlete Program("BWAI"') is a therapeutic program designed to restore, remediate and rehabilitate injured, ill, or wounded service member's level of function and independence in life activities.
As part of the program, the Surf Therapy program, established in 2008, called the NMCSD Surf Clinic, provides local military traumatic injury victims with an environment and means in which they engage in physical activities they enjoy and which challenge them physically, mentally, and emotionally. The clinic includes vestbular instruction, water safety, swimming, paddling and wave riding improving balance, muscular strength, and aerobic endurance. The program has been a tremendous success and includes those service people's families and veterans as well.
---