The Oberon Quintet to perform at the Carmel Valley Library May 8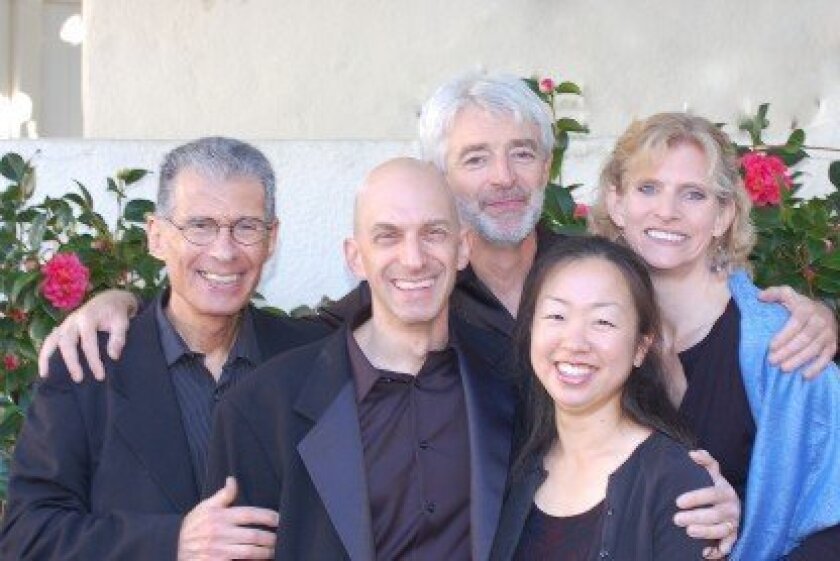 May's free family music program, sponsored by the Friends of the Carmel Valley Library, will be presented on Wednesday, May 8, at 7 p.m. in the library's community room.
It will feature the Oberon Quintet performing "viola" quintets by Mozart and Dvorak that are scored for two violins, two violas, and a cello. Its members are violinists Ronald Goldman and Julie Park, violists Adam Birnbaum and Valerie Norton, and cellist Omar Firestone. Mozart's Quintet in G minor, K. 516, was completed in May 1787, the same month that his father Leopold died. Its mood is dark and melancholic, typical of Mozart's G minor works. In contrast, Dvorak's String Quintet in E-flat major, Op. 97, is upbeat and tuneful, composed during an idyllic summer spent in Spillville, Iowa in 1893. Like the famous American String Quartet, the Quintet captures Dvorak's Bohemian idiom combined with American inspirations. The program will last 45 minutes.
Ronald Goldman is an ophthalmologist with the Eye Institute of California. He has been in several well-established San Diego professional ensembles, including the Gennaro Trio and the Deatherage Piano Quartet. He and his wife Wynnona founded and continue to run the San Diego Chamber Music Workshop, a week-long, summer program for adult music professionals and gifted amateur musicians.
Julie Park is an attorney at Morrison Foerster and defends healthcare companies in product liability cases. She has played in many orchestras, including the Harvard-Radcliffe Orchestra, the Cambridge University Chamber Orchestra, and the La Jolla Symphony. She lives in Carmel Valley with her husband Mike and their two young boys.
Adam Birnbaum is a software engineer. He began studying violin at the age of eight in the Eastman School prep program. He switched to the viola during college where he performed in several university and community orchestras, including the Harvard-Radcliffe Orchestra, the University of Chicago Symphony and opera festival orchestras, the Santa Monica Symphony, the Peninsula Symphony, and the La Jolla Symphony.
Valerie Norton is an emergency room physician. She has been playing the viola since age nine. Her musical training began in Colorado public schools and evolved to private study with members of the Boston Symphony. She has served as associate principal violist of the Boulder Philharmonic. She also played with the Yale Symphony, Vanderbilt Symphony, and the La Jolla Symphony.
Omar Firestone has a Bachelor of Music from San Francisco State University and played with the California Chamber Orchestra and the Berkeley Symphony Orchestra. He is now an active soloist, teacher, and chamber musician in the greater San Diego/Tijuana Metropolitan Area where he is principal cello of the Tijuana-based "Orquesta de Baja California" and a founding member of the Hutchins Consort. He plays a "Luigi Amici" cello made in Rome in 1816.
The library is located at 3919 Townsgate Drive in Carmel Valley. For more information, call (858) 552-1668.
---