The power of pom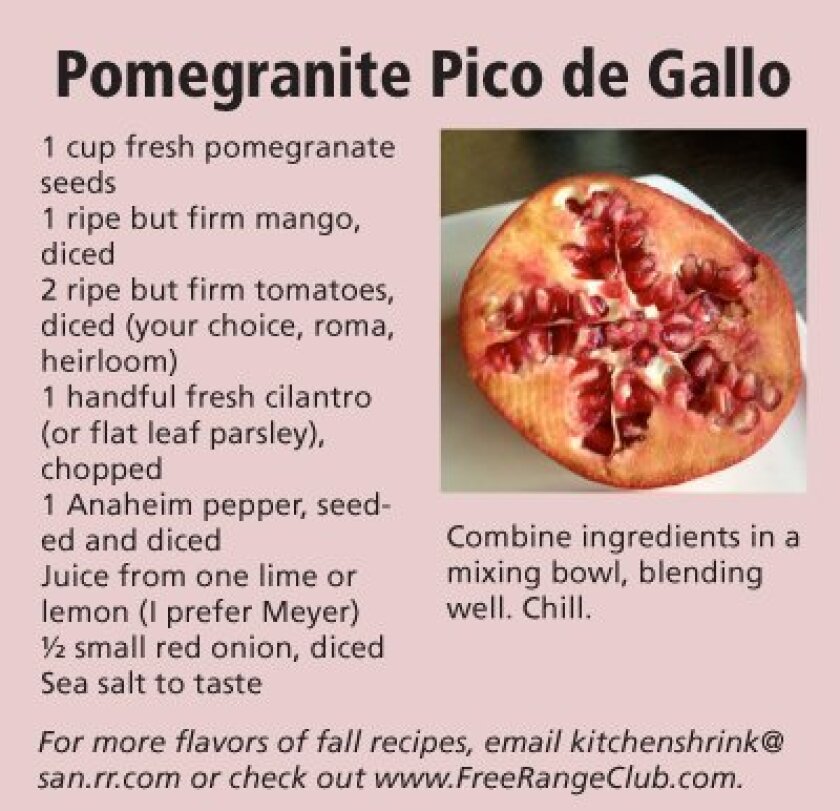 catherine-kaufmanBy Catharine Kaufman
Those gorgeous magenta spheroids, eye candy in the produce aisle, pull you in and beckon to be taken home. Although high maintenance and labor intensive, they are worth every painstaking effort needed to extract the tiny ruby jewels. Sheer gustatory bliss, I promise, you will never meet a pomegranate you didn't love. Here's a primer to help you get the most and best from this seasonal autumn jewel.
In the beginning
The pomegranate is an old soul, making many cameo appearances in the Bible, and revered by ancient societies as a sacred symbol. Some biblical scholars believe that the pomegranate was the true forbidden fruit, not the apple that Eve plucked from the tree of Knowledge. Egyptians filled their royal sarcophagi with pomegranates to bestow eternal life on the dead, while this symbol of fertility was used in many exotic dishes. Spanish settlers imported precious pomegranates to California in the 1760s, providing a perfect Mediterranean clime to flourish. The hundreds of species of the mighty pomegranate that also come in designer shades of yellow, green and white varieties are enjoyed by cultures around the world.
Pom's the Bomb
Low cal, high fiber pomegranates are a powerhouse of heart-healthy, cancer-fighting antioxidants (beating the green tea and red wine competition) that have been found to keep bad cholesterol at bay, putting the skids on sticky blood platelets and inflammatory joints, neutralizing erratic free radicals that cause assorted cellular damage, and have even been found to function as nature's Viagra. Packed with potassium, Vitamin C and fiber this exotic warrior is fall's super fruit, especially before the dreaded flu season. A couple of words of pomegranate warning: like grapefruit, pomegranate can tinker with the functioning of certain medications, so check with your doc before indulging. Also, handle the seeds with care as they can stain clothing and countertops.
The Seedy Side of Pomegranates
There is an art to de-seeding a pomegranate, extracting the 600 or more tangy, juicy seeds from the pithy membranes and pulp. Lop off the crown and toss into your compost pile. Score the rind without cutting through to the seeds. Soak the fruit in a bowl of icy cold-water face down for about 10 minutes. Peel away the rind, and the seeds will become dislodged from the innards and sink to the bottom of the bowl. Remove the pithy parts with a slotted spoon, and strain the remaining seeds with a sieve. Pat dry.
pomJuice it Up!
Drink the refreshing, lip-puckering juice straight up, or put a splash in sparkling water or your favorite smoothie. Sprinkle the glossy garnet seeds in your cocktails, fresh fruit or warm wilted spinach or arugula salads, risottos, pilafs, barley or bulgur casseroles. Whip up a Persian pom walnut stew, a balsamic pomegranate glaze for wild caught salmon or chicken, or dial-up parfaits, sorbets or trifles with the little garnet gems.
Here's my riff on pico de gallo or salsa, a confetti of colors, flavors and nutrient-rich oomph to jazz up grilled fish, shrimp, chicken or burgers, or chow down with warm blue tortilla chips or baguette rounds.
---