The transformation of Lukasz Augustine — Winston School Headmaster's Award recipient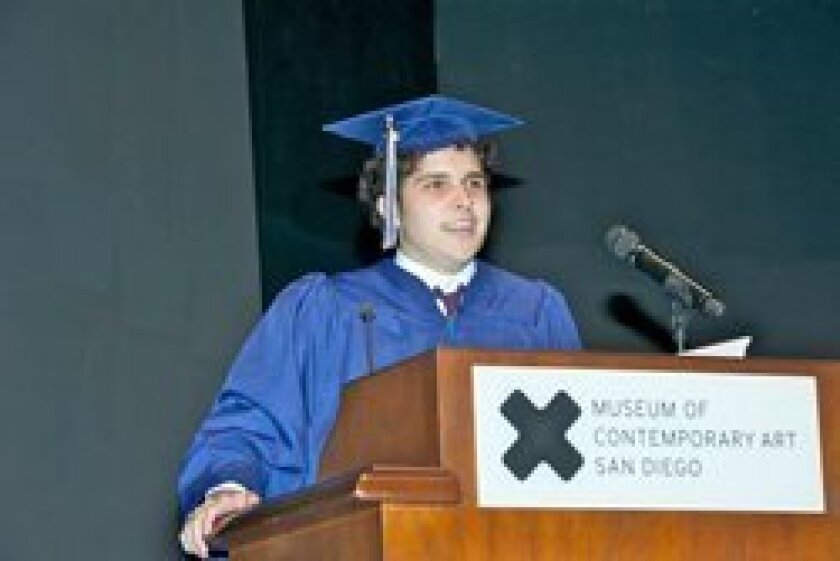 By Karin Olsen
College-bound Winston School graduate, The Headmaster's Award recipient and drama standout Lukasz Augustine expected the worst when he first started attending the school for students with learning differences seven years ago. A self-described shy, and self-conscious 11-year-old, Augustine's low self-esteem was compounded by an auditory processing disorder that made learning difficult.
Feeling like an outcast at his previous schools, he said he was nervous and crying at the very idea of going to Winston as he couldn't imagine how this new school would be different. "I had some friends, but not many and it was hard for me because the way I learned was different. It was difficult for me to get what teachers were saying," he remembers.
The first three or four months at Winston were a revelation. "I started to lighten up at the school and it was a great experience. I felt I could do the work and I get it. Once I got it, it came to me very easily. It felt great to finally get the work that the teachers handed to me."
Once he started doing well in school, Augustine still had one hurdle to overcome – shyness. In spite of or perhaps because of this, he said he felt he needed to move with the drama crowd but was skeptical. "After a couple of weeks I realized it was something I really enjoyed. Drama taught me no matter how foolish you look it's more about being yourself and not about what other people think."
His first role was the police officer in the school's production "And Then There Were None." "I felt really good afterwards. It was different and it also helped me understand how to do a production and learn lines. It was fairly easy, not a cakewalk. I couldn't get enough of it so I kept doing it."
English also became one of Augustine's favorite subjects. A testimony to the power of good teachers, he said "I never really got what the subject was about until I met Mr. K (Jeff Kozlowski) and Mrs. (Mary) Sterling-Torretti." He said he became more interested in literature after reading some of the classics and found the beauty of writing to be eye-opening.
"I like the deep meaning behind some poetry and how poets expressed themselves. Shakespeare was an incredible poet and playwright. He had so much wit within his plays and there's really a deep meaning behind them." Musically inclined with a talent for playing guitar, violin and piano, Augustine has also extended his love for writing to lyrics.
After three years in the Winston School's storied arts programs, Augustine is inspired to study theater or music at Linfield College. "They are both pretty hard majors. I also have to think about what I'm going to do after college so I will have some stability when I get out."
Crowning his seven years at Winston, headmaster Mike Peterson recently awarded Augustine with The Headmaster's Award at the school's graduation ceremony. The award is the highest honor given each year to the upper school student who best exemplifies the values of The Winston School. In his introduction, Peterson began by describing the recipient as "a young person whose keen intellect, creativity and love of learning are obvious to all who know him."
In front of the packed room, Peterson went on to say, "He participates in activities with enthusiasm and a sense of community spirit that is unique among his peers. At Winston he has done everything from star on stage to paint the school buildings. He is helpful to others, always remembering that his own path to success has held unanticipated challenges which he has met by drawing on all his own resources and the willing help of others. He is gentle in spirit, but never timid; impatient about seeing himself succeed but extraordinarily persistent. He is always striving to learn, to grow and to move forward in his life, but never at the expense of his own integrity."
When Peterson announced Augustine's name, the audience cheered but wasn't surprised. Many share Peterson's sentiments about the shy boy who not so long ago enrolled in Winston thinking he "wasn't good at anything."
Looking back on the last seven years, Augustine is melancholy at the prospect of leaving Winston. "The school is great, the teachers are great — everything about the school is great. I'm really going to be upset when I have to leave it's not going to be easy. Winston really has helped me be a better individual and really helped me grow up."
His advice for everyone from students finding their way to seasoned students of life, "Be yourself. Don't be afraid to express yourself, put yourself out there and take a chance."
For more information, visit www.thewinstonschool.com or call 858-259-8155.
---