Three Del Mar sisters reaching out after winning battles with breast cancer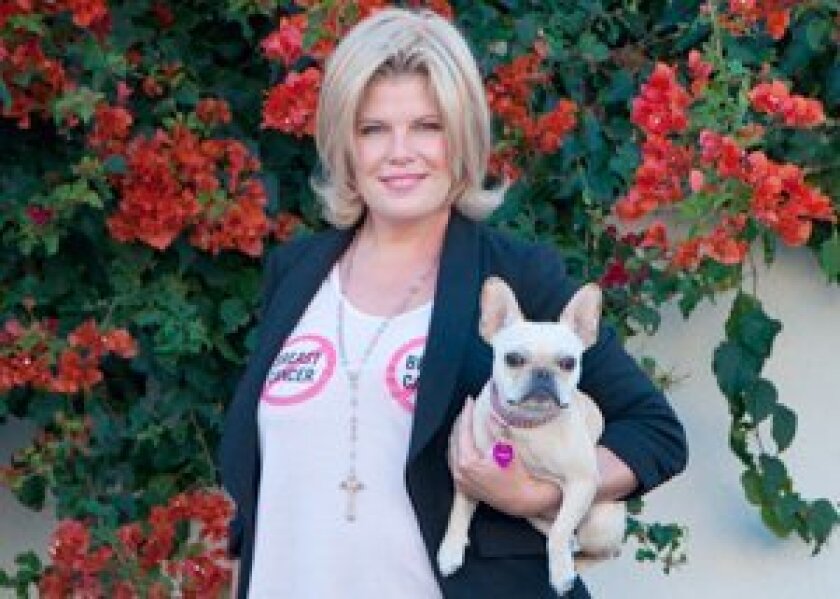 By Claire Harlin
When local resident Angel O'Brien got word two years ago that her sister, Brenda, was diagnosed with cancer, it brought back a lifetime of memories, she said — from as far back as 5 years old, when her mother was battling breast cancer at age 38. Every morning at breakfast, O'Brien recalled, her mom would sit at the table in a pink robe and walk her fingers up the wall, lifting her arm as high as she could and marking a notch on the wall. The notches stayed on the wall, a record of her gradual progress recovering from her mastectomy.
"That was a really hard time," said O'Brien, 46, who has worked as a professional singer since age 15 when she joined the well known local band The Mar Dels. "When I have memories of my mom I think, 'What a strong woman.'"
O'Brien has always believed her mother to be a strong woman, but as of a little more than a year ago, she can truly relate. Only six months after her sister Brenda, 48, was diagnosed, a trip to the endocrinologist for O'Brien turned into her own breast cancer diagnosis.
"I wasn't feeling well and knew I had a lump but thought it was nothing," she said. "They sent me immediately downstairs for a mammogram, and I was alone in a dark room when they told me. I think I said five times, 'Are you telling me I have breast cancer?'"
O'Brien stayed with her oldest sister, Kathleen, in Palm Springs during her treatment, and that four-month period of time was tough. Not only was it 114 degrees in Palm Springs during her chemotherapy, but O'Brien was unable to continue singing during that time and also her dog passed away. After her treatment, O'Brien urged her sister Kathleen, 52, to get a check-up — and along came yet another unfortunate diagnosis.
"She went to the doctor and they told her she had stage three breast cancer," said O'Brien. "But it was hard to spot because it was a different kind. She didn't have a lump or anything; She had calcifications. She had been tired a lot, but the symptoms don't always indicate cancer."
O'Brien and her sisters have the BRCA2 gene, which makes women more susceptible to breast and ovarian cancer by genetic inheritance. The ladies have been reaching out to women through their website, ThreeSistersSurvival.com, to tell their story and encourage women to get tested for the BRCA2 gene and get a preventative mastectomy if they have it. They were even invited to appear on the daytime TV show "The View" to kick off National Breast Cancer Awareness month in October and tell their story. Although the sisters are all survivors who are powering through the recovery and reconstruction stages of their battles, their accounts left the audience moved and hosts Sherri Shepherd and Elisabeth Hasselbeck streaming with tears.
"It was so amazing getting interview by them on the couch, and at one point Kathleen pulled her wig off and she got a standing ovation from the audience, all wearing pink shirts," she said, adding that she got to hang out with Whoopi Goldberg after the show in her dressing room and the actress gave each sister a pair of shoes from her extensive collection.
"She had so many different kinds of Converse and shoes that companies just send her," said O'Brien. "She told us to pick any pair we wanted, and we all happened to wear the same size as Whoopi, a size 10."
Kathleen works as a real estate agent in Palm Springs, and Brenda is a make-up artist for the Lion King Broadway show in New York. With the exception of working as a recording artist in Japan for about six years in the 1990s, O'Brien has stuck to her local roots, living in Del Mar and singing professionally around San Diego.
More recently, though, she's shifted her efforts to local outreach to help others who have or are going through breast cancer treatment. She made breast cancer awareness shirts that she sells in Place 360 and Julie's Beachwear in Del Mar, and she also makes embellished headscarves that she sells, or she donates them to women who face losing their hair due to treatment. She uses all proceeds to help patients, and she's in the process of setting up a foundation called Pink Angel. She's also helping the owner of Julie's Beachwear to decorate a store window with uplifting messages and pink gear for the thousands who will pass through Del Mar on Nov. 16 for the Susan G. Komen three-day walk.
O'Brien said she has received a particularly positive response about the headscarves she has been making. She used to make them for herself when she lost her hair and she was inspired to keep making them after receiving loads of compliments when she wore them.
"When you lose your hair, that's the single weirdest day," she said. "It starts coming off in clumps but there's usually one day when you make the decision to either keep it or shave it off, and it doesn't feel so great."
Having experienced every aspect of having cancer, O'Brien said she knows about the little things that can make people feel better, and helping one's self image during hair loss is one of those things.
O'Brien said after her mom, who ran the public relations firm O'Brien Communications in downtown Del Mar for more than a decade, passed away from appendix cancer at age 65, she never saw herself becoming the soldier she considered her mom to be.
"I remember once having a conversation with a friend and saying, 'I don't know what I would do if it ever happened to me.' I said I didn't think I'd be strong enough," she said. "But then, boom, it happens and you are strong enough. You become your own soldier in your own army and you are responsible for pulling it together and taking each day as it comes."
For more information on the O'Brien sisters, to make a donation or to buy a shirt or headscarf, visit ThreeSistersSurvival.com. O'Brien can also be reached at (760) 423-9652 or by emailing threesisterssurvival@yahoo.com.
---