Torrey Hills planning group backs resolution against One Paseo, defends process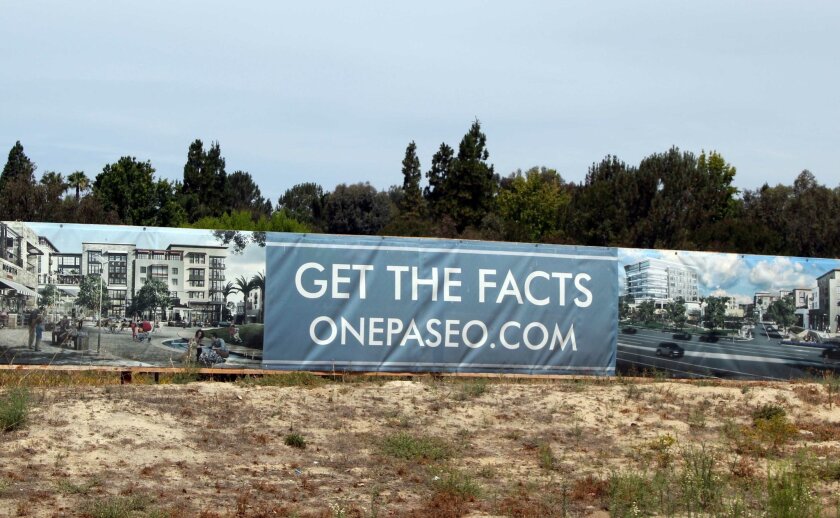 Following other community planning groups from Del Mar Mesa to Ocean Beach, the Torrey Hills Community Planning Board approved a resolution April 21 objecting to the San Diego City Council's recent approval of the One Paseo development in Carmel Valley.
The resolution asserts that the council's action sets a precedent for the entire city's planning process and puts the role of planning boards into question.
Torrey Hills Planning Board Chair Kathryn Burton said the issue is about more than just objecting to the One Paseo development.
"The deeper issue here is the integrity of the planning group process," she said at the April 21 meeting. "The planning process needs to be defended."
The resolution is timely and would be sent to the city immediately, because the deadline for the referendum count and verification process was fast approaching on Friday, April 24.
If the necessary 33,224 signatures are gathered, the City Council will have 10 days to rescind its vote or put the development to a citywide vote.
The resolution encourages City Council to reconsider approval of One Paseo.
Joe LaCava, chair of the San Diego Community Planners Committee, said after One Paseo was approved, he was contacted by numerous chairs of committees who were "frustrated and disappointed" by the City Council's decision and wondered about the future of the planning group process.
"They were asking, 'Why spend so much of our volunteer time if we're just going to be ignored?'" LaCava said. "The extraordinary way of how the One Paseo decision went down called into question the integrity of the community plan and how easily they can be changed."
He said just last week, the University City planning group was asked to consider dramatically increasing its density with more retail and a hotel.
LaCava said that it appears that planning in the city is "going out the window" — it's no longer a thoughtful, holistic approach; instead, it's developers coming in parcel by parcel and deciding what they need for a better bottom line.
He said that the community planning process needs to be salvaged so that all of the hard-working volunteer members feel that their time spent is worthwhile.
---