Torrey Pines High School Falcons soar over El Camino Wildcats, 19-6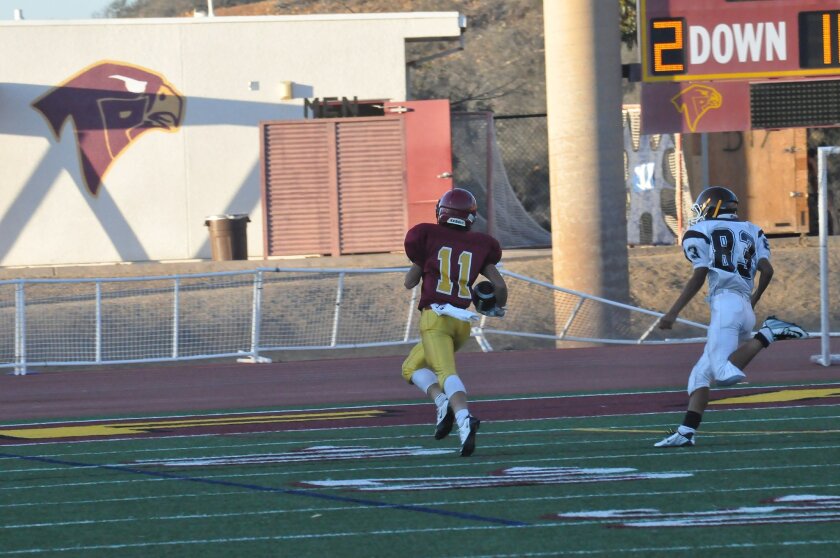 The Torrey Pines Falcons defeated the El Camino Wildcats in freshman football, 19-6, to bring their season record to 8-0.
El Camino's opening drive stalled on sacks by Matthew Goena and Shayne Grant. Torrey Pines, with a 27-yard run by Gaston Schenk and a 13-yard reception by Sully O'Brien, drove to the Wildcat 15 where they missed a field goal try.
El Camino moved the ball well and decided to pass on 4th and 12 at the Falcon 37, where defender Jack Nelson stopped the receiver for no gain and a turnover on downs. But then the Wildcats sacked the quarterback and stripped the ball to set them up for the first score of the game.
El Camino led 6-0 after the extra point was blocked.
On Torrey Pines' next possession, O'Brien ran a reverse 82 yards for a touchdown to tie; the extra point was blocked. The Wildcats attempted another fourth-down conversion, and this time Spencer Grant sacked the quarterback to take back the ball. The Falcons drove downfield with a pass to Zach Friedland and a 26-yard run by O'Brien before they were intercepted on the Wildcat 10-yard line. Going into the fourth quarter, the game was still tied 6-6.
On third and 6, Falcon quarterback Chris Temby connected on a screen pass to Friedland, who got great blocks from Michael Perrone, Gunnar Braun, and others. Friedland broke free to ramble 54 yards for a touchdown. A two-point conversion try failed. El Camino fumbled the ensuing kickoff, which was recovered by Ryan Cesari for the Falcons, and two plays later, Friedland ran around right end for a 23-yard touchdown for the game's final score, 19-6. A final Wildcat comeback attempt was thwarted with an interception by Shayne Grant.
Torrey Pines plays next at Mount Carmel, whose record is 7-1, at 5 p.m. Oct. 30.
---