Torrey Pines Falcons dominate Carlsbad, 26-14
By Walter Bays
The 5-0 Torrey Pines Falcon freshmen visited the 4-1 Carlsbad Lancers and came away with a 26-14 win. It was another game of big plays for the Falcons who, although they trailed 8-6 in first downs, had 278 yards total offense to Carlsbad's 172 yards in unofficial stats.
Falcons Sully O'Brien ran 52 yards for a touchdown, caught a 12-yard pass for a touchdown, and returned a kickoff 74 yards to set up another touchdown. Zach Friedland had touchdown runs of 90 yards and 4 yards; while on defense, he made several tackles in the Lancer backfield and recovered a fumble.
Connor Munoz and Beau Morgans each had an interception, and Morgans also had a pass completion.
The defensive line dominated Carlsbad with backfield penetration responsible for crucial stops on 3rd and 4th down. Especially notable were Michael Perrone, Connor Nichols, Spencer Grant, and Matthew Goena.
Torrey Pines went ahead in the 1st quarter on O'Brien's run only to see the Lancers tie it with an 82 yard kickoff return. A pass from Jackie Plashkes to O'Brien put the Falcons ahead 14-7, and Munoz's interception finished Carlsbad's chances in the half. In the second half, Carlsbad put together a good drive but it ended with Morgans' interception on the Falcon goal line, taking it out to the 10. Torrey Pines, which had enjoyed superior field position, found itself facing a long 90 yards. Friedland took the ball up the middle, and once through the Carlsbad line, it was a footrace, which he won. Torrey Pines 20-7 after the extra point was blocked.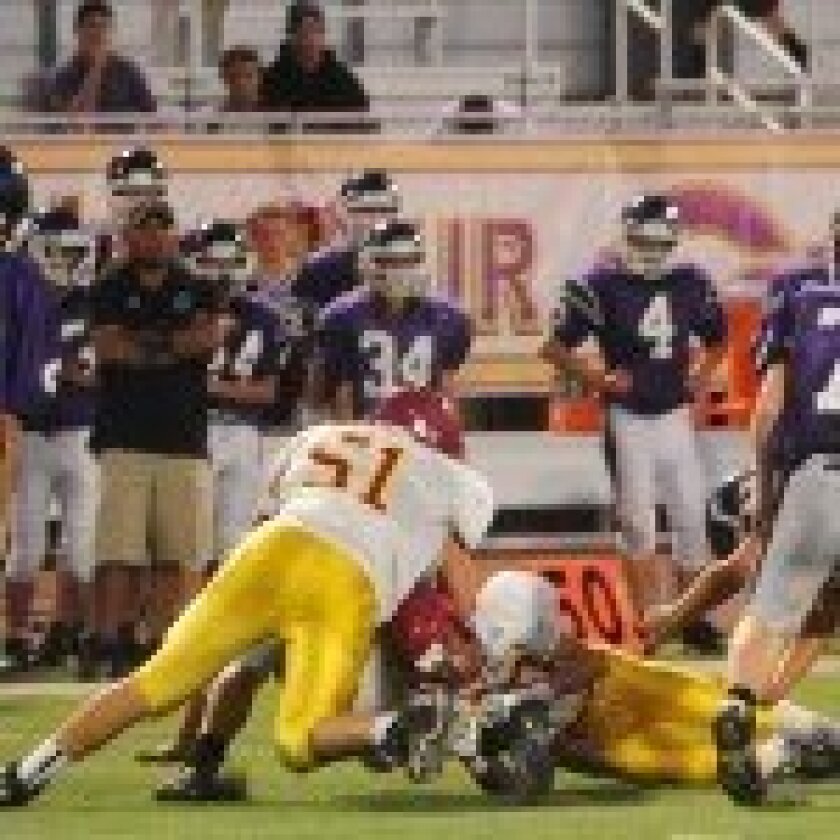 Carlsbad drove from their own 34 to the Falcon 5, aided by a 20-yard run, and by an 8- yard pickup with a reverse on 4th and 7. On 1st and goal, Carlsbad's Joel Lazaro ran it in to make it 20-14. O'Brien's kickoff return set up Torrey Pines at the Carlsbad 9 and two plays later, Friedland made it 26-14 after an unsuccessful two-point conversion.
Torrey Pines had the ball 4th and 3 at the Carlsbad 27 with time running out, but still enough for Carlsbad to make a comeback if they got the ball. The handoff was to Morgans who took a step, jumped up, and threw a strike to Parker Williams for a first down inside the 20 to put the game away.
The Falcons take on Oceanside at home at 5 p.m. Oct. 16.
---