Torrey Pines girls help take gold at Disney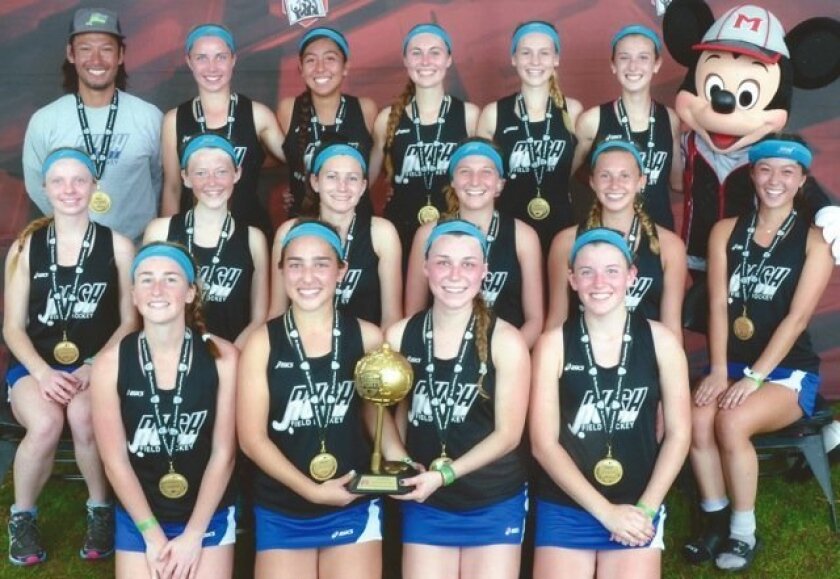 In the best-ever performance by a California field hockey team, three Torrey Pines players helped the San Diego Rush earn a gold medal at the prestigious Disney Showcase tournament in Orlando, Fla.
With Gabi Jimenez at midfield, Shannon Yogerst at forward and Farah Farjood in defense, Rush won all eight of its games in the Under 19 division.
This included victories over national No. 4 Saints (Virginia), No. 12 Windy City (Chicago), No. 13 Carolina All-Stars (North Carolina) and No. 21 Key State (Pennsylvania).
Rush also allowed fewer goals (one) than any of the 96 teams at Disney.
The team went into the tournament ranked No. 31 in the nation. But the victory will probably boost them into the top 20 and possibly even the top 10.
Rush's Under 16 team — with Falcon players Brynn Froehlich and Ryan Poe in the lineup — also had an outstanding tournament. The younger girls won four games against tough East Coast opponents and lost just twice, both times to No. 1-ranked WC Eagles (Pennsylvania).
---