Torrey Pines High School freshmen launch sack attack on Oceanside, win 35-20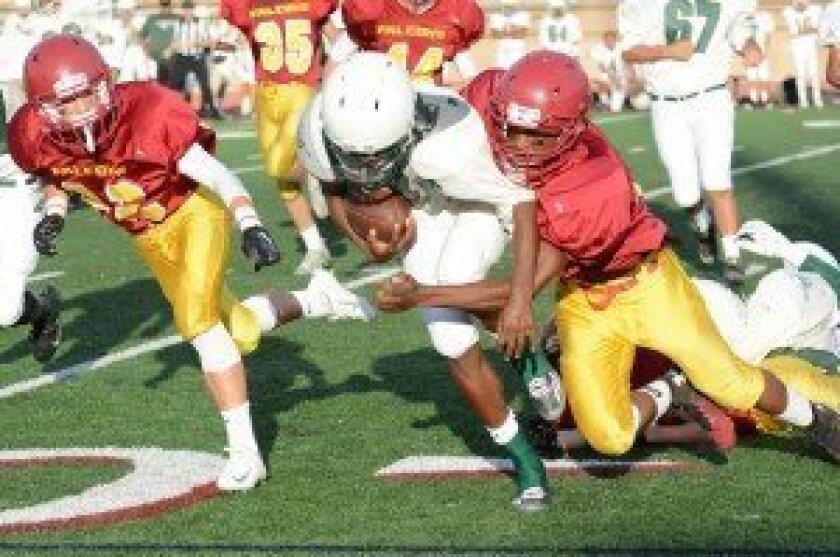 The 5-1 Oceanside Pirates visited Torrey Pines to play the 6-0 Falcons, and Torrey Pines won 35-20.
In the first quarter, Oceanside was held to one first down and 30 yards of offense in unofficial stats. Spencer Grant, Louis Bicket and Ethan Choi each made tackles in the backfield. Beau Morgans and Connor Munoz each deflected passes. Although the Falcons made no first downs, they scored two touchdowns on a 37-yard run by Sully O'Brien and a 53-yard run by Zack Friedland.
The second quarter was a field-position duel in Oceanside territory. Oceanside had 85 yards of offense to Torrey Pines' 50 yards. But after an Oceanside punt from their own 17, the Falcons started at the Pirate 26. After Jack Nelson ran for a first down, the Falcons came back to him with a halfback pass from Beau Morgans for the touchdown.
Torrey Pines kept defensive pressure with sacks by Bickett and Grant. But outstanding scrambling ability by Pirate quarterback Jacob Bernard yielded a 49-yard completion to set up Oceanside's first score. A 57-yard kickoff return by O'Brien put the Falcons on Oceanside's 24, where Chris Temby threw a touchdown pass to O'Brien, 28-6.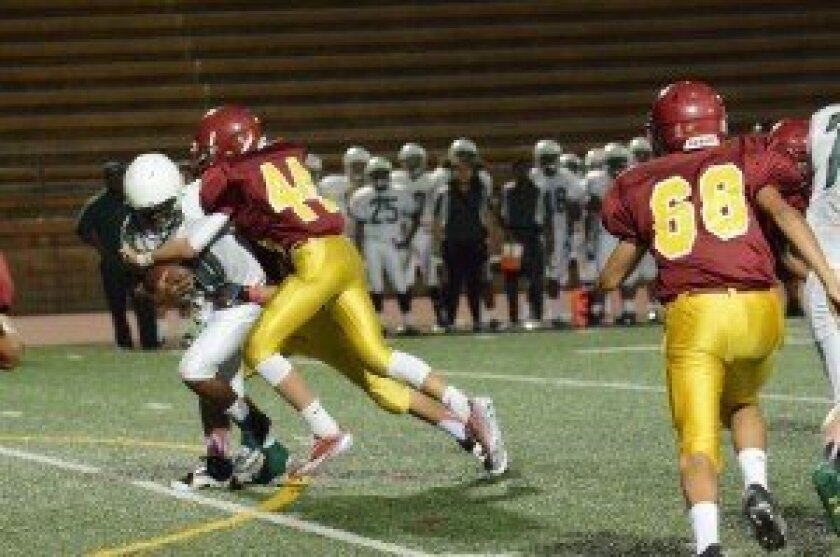 The Falcons drove 57 yards on running by Nelson, O'Brien, and Friedland to make the score 35-6. Oceanside was held to one yard of offense in the third quarter. Sacks by Grant and Michael Perrone put the Pirates into fourth and 37 from their own 11.
The Falcons drove downfield, with Morgans picking up two first downs, including one set up with a fake by Temby, whom everyone, including the Pirates, thought still had the ball.
Oceanside had to play catch-up. Evan Kim sacked Bernard on a fourth-down attempt for a turnover on downs to start Torrey Pines at the Oceanside 47 to open the fourth quarter. Falcon coach Tim Staycer moved down his depth chart, giving many players playing time against a tough Oceanside team that would not surrender.
Quarterback Ethan Deller and running back Ben Simsiman showed poise under fierce Pirate defensive pressure, not making many yards but using up the clock.
Christopher Shimek made two solid tackles, and Cole Mihalinec and DJ Younkin each deflected Pirate passes. Oceanside managed two more touchdowns for a final score of 35-20.
On Oct. 23, Oceanside plays at Carlsbad while Torrey Pines hosts El Camino.
---