Torrey Pines High School Patch workout system a winner for New York Giants/Super Bowl champ Justin Tuck
By Karen Billing
Two-time Super Bowl champion Justin Tuck, defensive end for the New York Giants, has been spending his summer prepping for the season right in Torrey Pines High School's backyard.
For the last three summers, Tuck has been working out on the Patch at TPHS, the challenging workout system developed by Pete Egoscue of Carmel Valley-based Egoscue Inc.
The Patch is a physical training course inspired by those used by the United States Military. The Egoscue Method is a series of stretches and exercises designed to restore full natural function to muscles and joints without drugs or surgery. The Patch course was designed to focus on proper alignment, posture and muscle engagement, as well as cardio, strength, stamina, agility. The course is beneficial for football players as it uses all the different positions the body gets into while on the field.
Tuck has been working out at Torrey Pines five days a week this summer and three of those days are spent on the Patch.
He met founder Pete Egoscue in New York and heard about how the system worked for players like Torrey Pines grad and former NFL player John Lynch, and former NFL player Junior Seau.
"Players that I really respect what they do on the field coaxed me to get out here," Tuck said.
"The years I have done it fully I've had some of my best years," Tuck said, noting that his last year without Patch was one of his most injury-prone.
Not wanting a repeat of that one injury-plagued season, he was committed to set aside the time to work out on the Patch this summer.
Around 40 people showed up for Saturday's 9 a.m. workout, on the heels of an early bird Patch workout group of around 20 people who were just finishing up on the course. All ages were represented— from young children with their parents, high school athletes from Oceanside and Carlsbad High Schools, adults, and pro athletes like Tuck and Lynch.
Tuck is not the type of pro athlete who restricts access to his workouts—he loves having people out to sweat along with him, especially the youngsters.
"The reason I love working out with kids is they never get tired," Tuck said. "That's motivating for me."
The workouts are a way to get back into the mode where you're actually working hard but it's still fun—Tuck said it reminds him of when he was growing up on a farm, following his grandfather around on his workday and having fun doing strenuous work without really realizing it.
Exercises like the crab walk, wheelbarrows, handstands against a wall and giving a 6'5" man a piggy back ride may seem playful, but still working the body hard.
Egoscue built the original Torrey Pines Patch 12 years ago. After it fell into some disrepair, a $25,000 grant from Egoscue Inc. earlier in the year resulted in a new Patch course on campus. Since April, some new obstacles have been added such as the pull-up bars and zigzag parallel beams.
While there is now a mobile Patch system that travels around the country, there are few Patch courses like Torrey Pines'.
A new course was installed at Oceanside High last year courtesy of donations from the Junior Seau Foundation — Seau firmly believed that the Patch system helped elongate his 20-year career.
Egoscue was on hand for Saturday's workout, yelling out encouragement to Tuck as he raced and hopped through the obstacles. He also took rooting interest in Tofi Paopao, an Oceanside High standout quarterback with his sights on playing for USC.
"I think what the Egoscue Method does most for me is body position," Tuck said.
Defensive players, especially, he said, get their bodies beat up all year long and the alignment can get "all out of whack." The Patch workout gets everything back in balance.
Tuck came to San Diego with his family, and his wife and son are enjoying the great weather, hitting up Legoland and SeaWorld, riding the Coaster train and visiting the local library.
Tuck will be in town until July 24—then he'll head back to Albany, New York for training camp. He's hoping everything is aligned for another run at the Lombardi Trophy.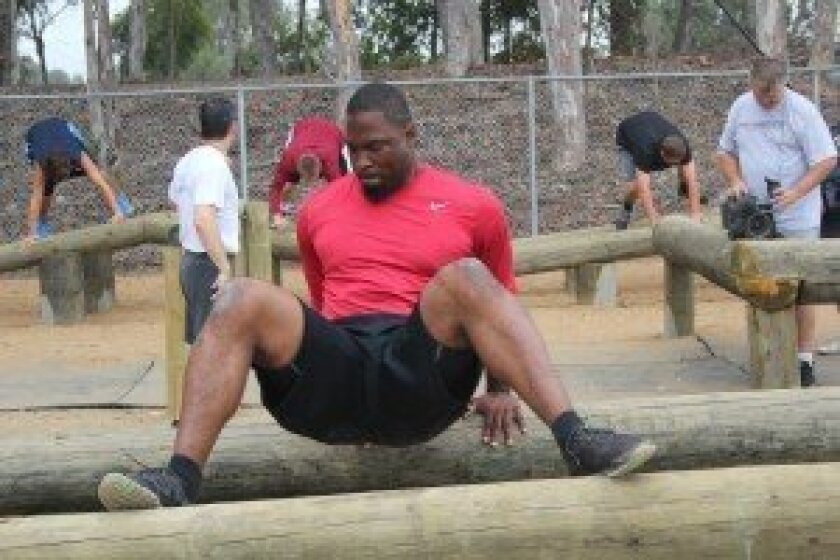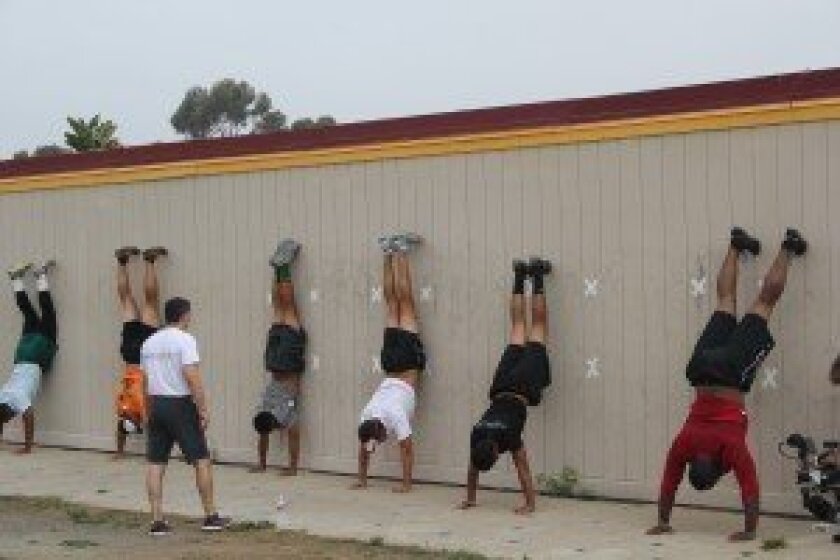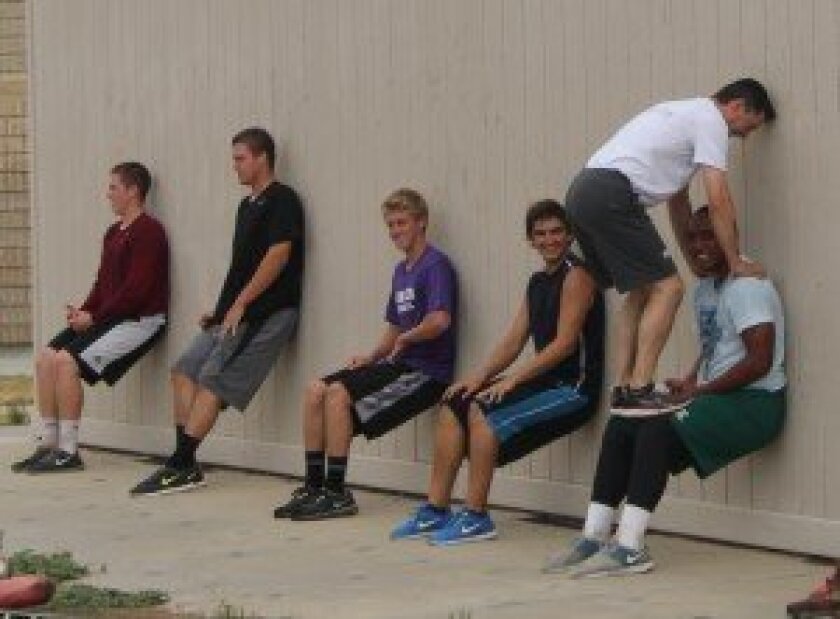 ---