Torrey Pines High School Rugby defeats Patrick Henry in high school boys opener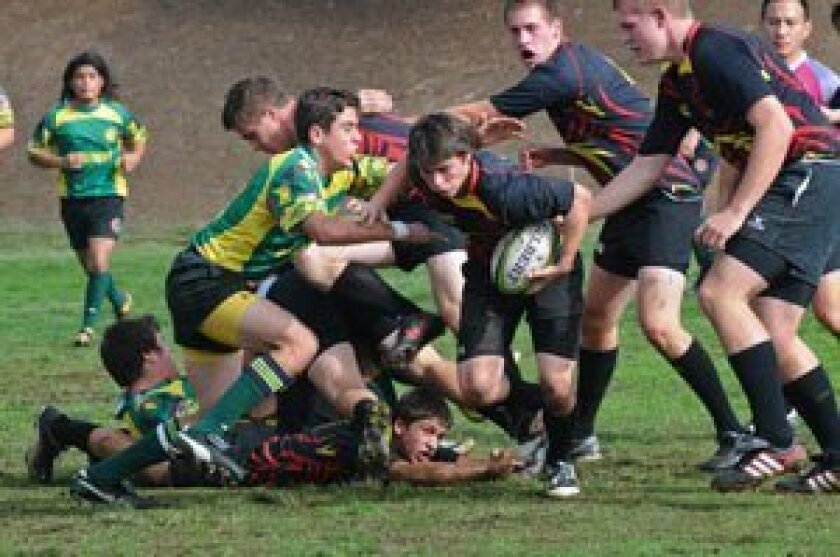 By Tim Pickwell
Last season's Torrey Pines Rugby Varsity was undefeated and almost un-scored upon. Despite losing several key seniors, and with two starters missing, the 2012 Varsity picked up right where they left off, with a 24-0 opening day victory over Patrick Henry. Junior Scrum Half Seth Hill led Torrey Pines with two trys, while Mike Cox and Will Johnson, added scores as well.
"We are nowhere close to where we need to be to match last year's team, but I like the attitude and athleticism of this group," noted Torrey Pines Head Coach Matty Sandoval, a former USD All-American Rugby player.
If the Torrey Pines Offense looked a bit rusty, the Defense was in mid-season form. Patrick Henry never got a whiff of the try-zone, couldn't break any long runs, and every advance over mid-field was snuffed out. Patrick Henry had some fleet backs, but Torrey Pines defenders chased them down before they became a scoring threat multiple times in the second half.
"We are young and inexperienced, which really showed on defense, but I saw a lot of sheer will and that kept them from scoring," continued Coach Sandoval. "It's a challenge to us coaches to harness the energy and desire we saw today, and we could end up a good team."
Both Torrey Pines and Patrick Henry compete in the Southern California Youth Rugby High School League. There are 15 teams in San Diego County (up from 11 last year), and 31 throughout southern California. Recognizing that some programs are more established, the schools have been divided into "Gold" and "Silver" Divisions. Torrey Pines competes with eight schools in the Gold Division south. The "Gold" division includes rivals Cathedral Catholic, St. Augustine, and Fallbrook.
Rugby is not currently a CIF-sanctioned sport. But, with growing awareness, and the recent addition of Rugby Sevens to the 2016 Olympics, supporters of the world's most popular contact sport believe it is only a matter of time until Rugby joins Lacrosse as a new addition to High School sports programs.
Torrey Pines will meet St. Augustine Saturday, Dec. 15, at 9:30 a.m. in a game at "The Little Q"—a secret Rugby pitch hidden in the southwest corner of the Qualcomm Stadium parking complex. Admission is free.
The game of rugby football developed from a version of football played at Rugby School, England, and was originally one of several different versions of football played at English Public Schools during the 19th century. Today, Rugby is one of the most popular sports in the world. The Rugby Championship is the third most watched television sport in the world after World Cup Soccer and the Olympics. The seven-a-side version of the game, known as Rugby Sevens, has been admitted into the Olympic Games from Rio de Janeiro in 2016 onwards. The 15-a-side version of Rugby Union was last played at the Olympic Games in Paris 1924, with the United States defeating France in the final 17-3. There are over 40 clubs with over 2500 youth players in Southern California.
For high school standings, visit www.socalyouthrugby.org. For more on the San Diego Mustangs Program, and the Club Season which starts in January, visit www.sandiegoyouthrugby.org
---