Torrey Pines High School sailing team aims to bring more hands on board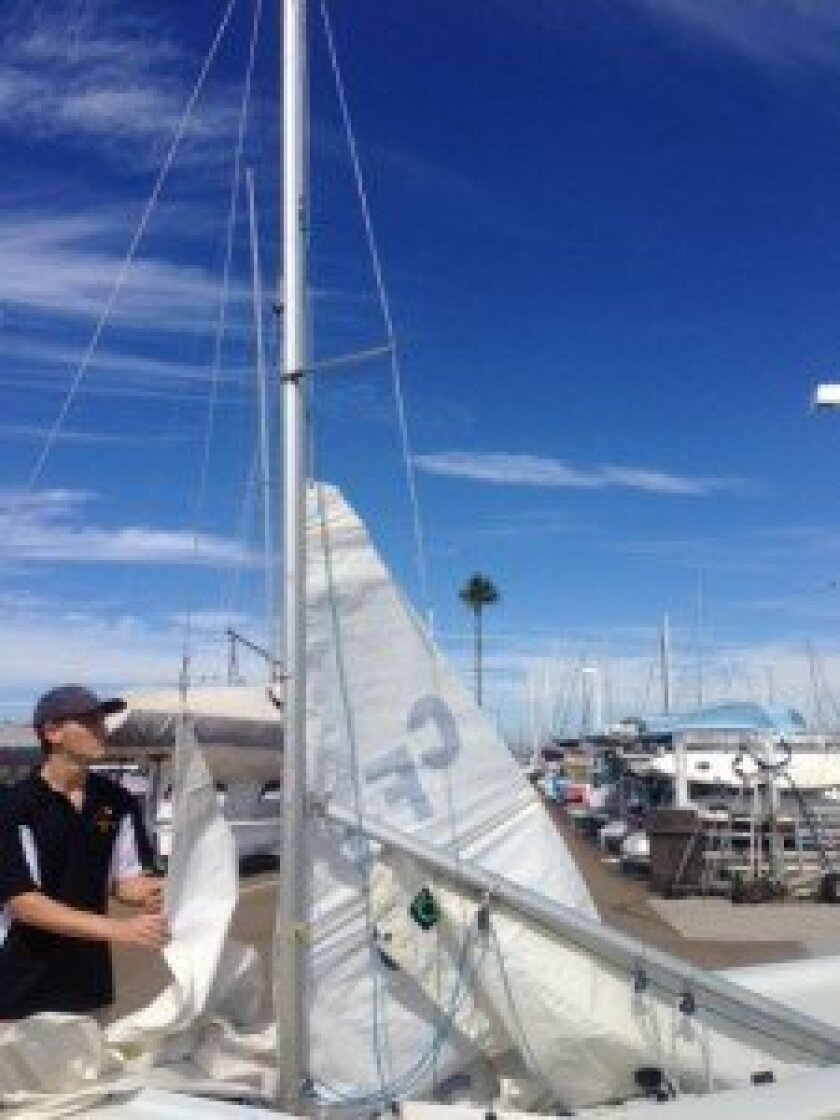 By Marni Kaufman
Beyond its stellar academic record, Torrey Pines High School is also famous for its formidable basketball crew, Rory Mcilroy-inspired golf team, and invincible volleyball league, among others.
However, Torrey Pines also has a club that has navigated its crew through the shoals of an invigorating letter sport on the high seas every Wednesday after school — the sailing team. Torrey Pines Sailing Team has developed into a friendly yet competitive group that allows teammates to stop and smell the salty air and appreciate nature and the magnificent outdoors.
Even on the coldest and calmest of days, the team still manages to enjoy and learn the skills of sailing a CFJ (Club Flying Juniors) sailboat.
After two years on the team, I have observed the strong camaraderie and complementary skills of the two partners on the boat. Team Captain Trey Muschamp has been sailing for six years. He joined the team five years ago while in middle school.
"My position is more along the lines of teaching skippers and crew the assorted skills of sailing," he said. "The president of the team, Robbie Johnson, takes on a more administrative role."
Whether this year will be more competitive rather than recreational, Trey said, "depends on the number of people on the team, and since we are expecting a larger group we will try to lean towards a more advanced racing team, but still keep it fun. I want to ignite the fire in these young sailors so they will come back year after year."
Muschamp also mentioned that sailing is an impressive passion, since it is a combination of all great sports. Not only is it physically demanding, it's mentally challenging, like chess. "You have to continuously out-think your opponent to get ahead."
That plan of action applies for both weekly practices and during the exhilarating regattas (sailing meets). Sept. 13 kicks off the first regatta, called a "friendly," in Newport Beach, while in October the team heads north to Monterey for the Sea Otter regatta where Torrey Pines will compete against statewide schools.
This is just one of the many perks of sailing, over and above the intrinsic beauty of the sport: meeting students from other teams, making lifelong connections, and especially opening your eyes to fun and exciting experiences.
The team is searching for new skippers and crew members. There are no skill, height, weight, gender or age requirements. Everyone with an adventurous spirit and love of the wind and water is welcome. The first practice will be Wednesday, Sept. 3, at the Southwestern Yacht Club in Point Loma with Coach Eric Heim, who will teach dedicated sailors the finer points of tacking and gybing, along with other strategies and techniques.
For more about the Torrey Pines Sailing Club, contact Robbie Johnson at 858-442-8871 or robbiej987@gmail.com.
Marni Kaufman is a senior at Torrey Pines High School, a passionate sailor and skipper on the sailing team.
---