Torrey Pines Jr Midget (D2) Falcons end season with close win over Oceanside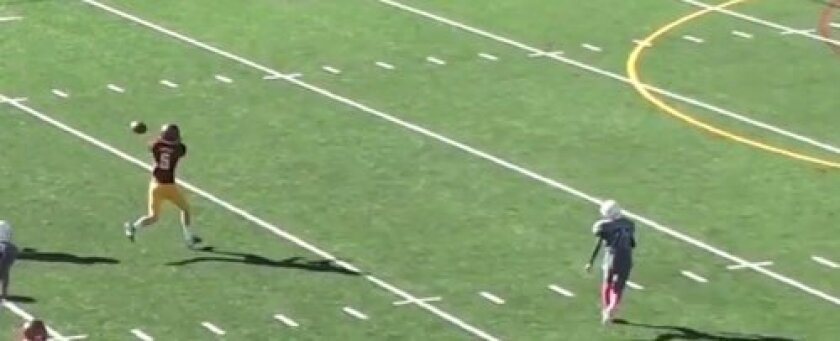 By Bill Butler
Torrey Pines recently fought hard against a team whose line probably outweighed that of the Falcons by an average of 25-35 pounds per man and who had a running back bigger that any Falcon on the team. The weight advantage took its toll early, as the Falcons were unable to mount a scoring threat in the first half--despite two poor Oceanside punts which provided good field position. Late in the first half, Friedland intercepted a Pirate pass deep in Falcon territory and returned the interception to near midfield, but the Falcons had no time to take advantage of the turnover. Nelson also had a fumble recovery for the Falcons.
Trailing 8-0 in the third quarter, Peed directing the offense, TP put together a halfback pass, Plashkes to Ray, that carried to the 1-yard line. TP scored and added a 2-point kick to tie the game.
Early in the fourth quarter, TP started a drive on their own 30-yard line, but the passing game finally got untracked. Whitton hit Gange, who made a double move down the left sideline and an even tougher catch and run to move the ball to the Oceanside 45-yard line. A few plays later, Misak ran straight downfield from his tight end position, gathered in a pass from Whitton, and ran hard to the 10-yard line. Following a 5-yard quarterback sack, Whitton hit Morgans in the end zone for the winning TD. Pike was again good on the 2-point kick. For the record, Pike was successful on every extra point kick and field goal attempt for the entire season; quite a feat.
In the second half, the Falcons were challenged with defending a barrage of Oceanside passes. First, Ray took the ball away from an Oceanside receiver deep in Falcon territory for a third Torrey Pines turnover and ended a Pirate scoring threat. later in the half, after Torrey Pines had gone ahead in the score 16-8, Ray and Morgans jointly intercepted a Pirate pass to effectively end the game.
Four turnovers, a stalwart though undersized defense, and some coaching adjustments in the offensive play calling made for a thrilling Falcon victory on this, the final game of the 2012 football season for the Falcons!
---