Torrey Pines JV defeat Mount Carmel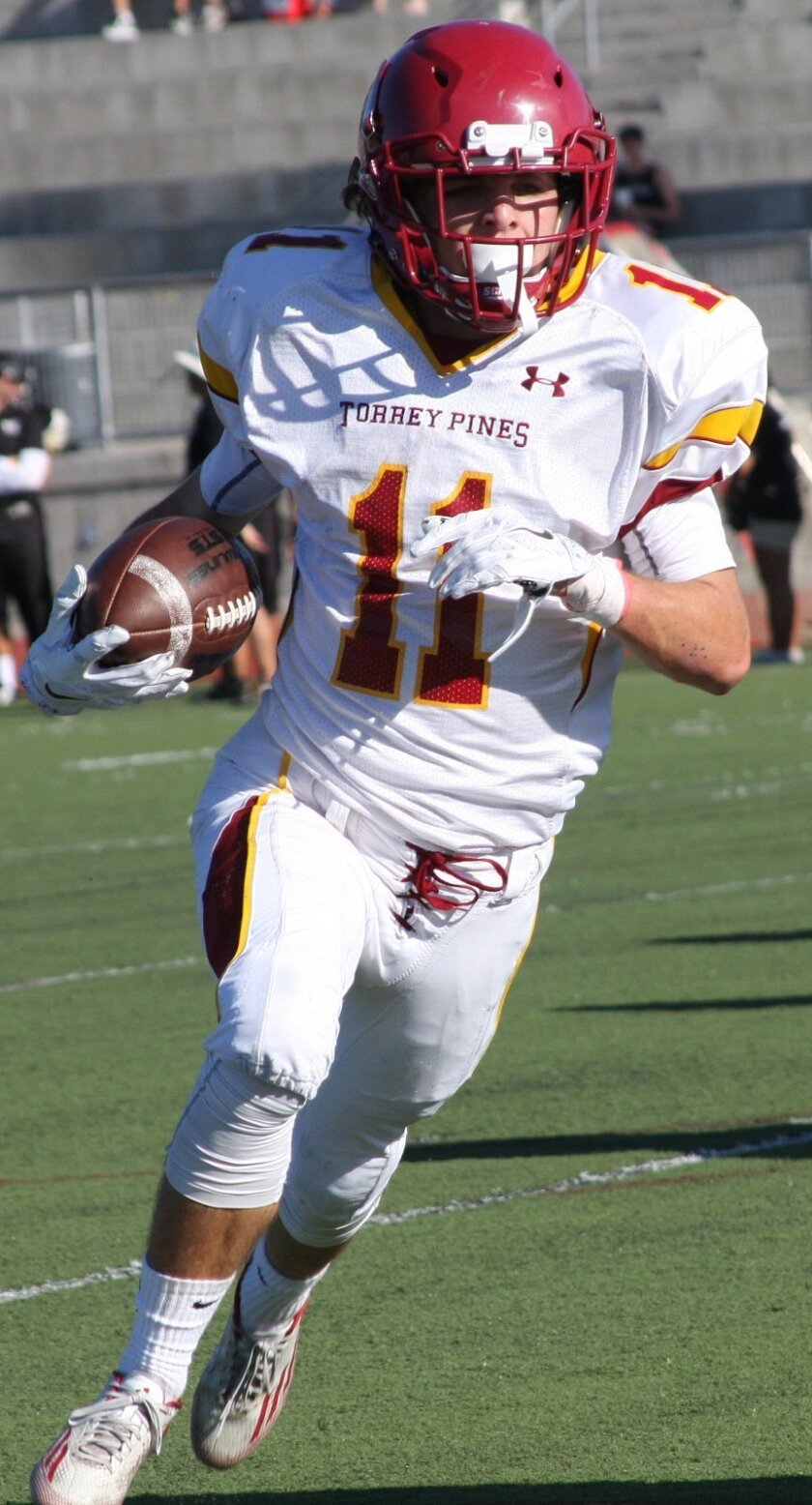 It seems like the Falcon JV like to imitate their big brothers on varsity, winning in the last minute. At Mount Carmel the Falcons' victory came in the final two seconds. The Sundevils got on the board first capping a 55-yard drive with a 14 yard touchdown pass. They went for the 2-point conversion and were brought up short by Jack Nelson. Torrey Pines' first possession ended with an interception on their own 45, but Mount Carmel couldn't complete a pass against the Falcon secondary and Lane Messier sacked the quarterback at midfield. On 4th down the Sundevils faked the punt and the pass was incomplete, giving the ball back to Torrey Pines.
In the 2nd quarter the Falcons drove 60 yards on the unstoppable running combination of Jacob Leone and Ryan Cesari. A 28-yard carry by Cesari took it to the 21 with 2:51 left in the half. Four plays later Cesari got around the corner and into the end zone to tie, and Tanner Wyandt's kick put Torrey Pines ahead 7-6. Late in the 3rd quarter Mount Carmel drove 80 yards to retake the lead, but again the 2 point conversion try failed and it was 12-7.
In the 4th quarter the Sundevils threatened on the Falcon 46 but couldn't find an open receiver and on 3rd down the ball was batted down by Cesari forcing a punt. That gave Torrey Pines one more chance, on their own 8-yard line with 2:56 left in the game. Quarterback Chris Temby completed passes to Cesari and Leone moving to the Sundevil 28. A pass was deflected incomplete in the end zone, and it was 4th down on the 21 with 24 seconds remaining. A field goal wouldn't be enough. All the receivers were covered, and Temby ran for the first down. Leone caught another on the 5 with 9 seconds left. Another pass was incomplete and 2 seconds remained on the clock. Then Temby found Connor Munoz in the end zone, and Torrey Pines won 13-12. This week Torrey Pines hosts La Costa Canyon.
---