TPHS freshman golfer unfazed by elite field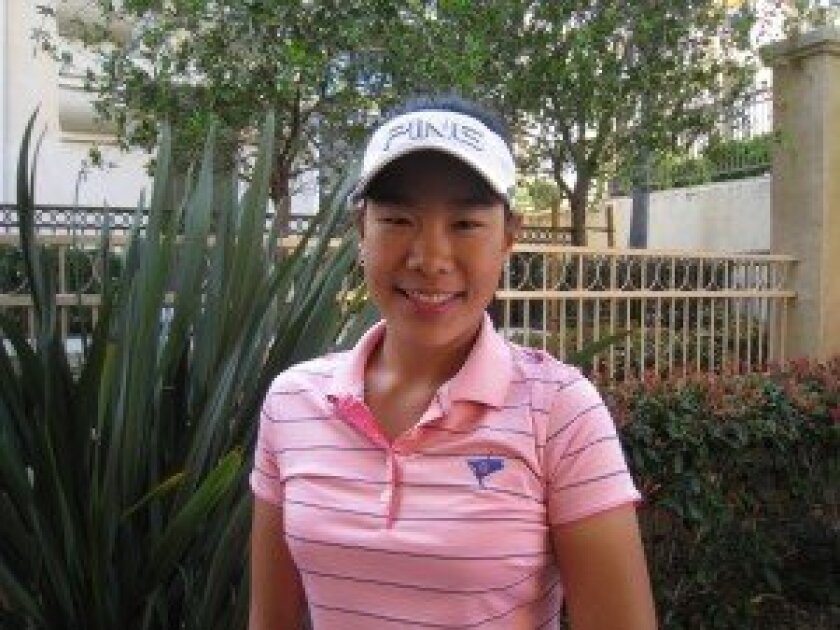 By Gideon Rubin
Going up against the most intensely competitive field she's ever faced in her young golfing career yielded some lessons that Pailin Ruttanasupagid believes will pay dividends down the road.
"I learned that you can't be perfect all the time," the Torrey Pines High freshman said of her experience earlier this month at La Costa competing at a pre-qualifier for the prestigious Kia Classic against an elite amateur field that included some Division I college standouts.
"When you're competing with higher level (players) they're not going to miss as much," she added. "If you miss by a little bit you can still win, but if you miss by a lot then you can't win.
"It just depends on how much you miss by."
These days, she's been pretty much spot on.
Ruttanasupagid, who at 15 was among the youngest to compete at the Kia event, had a surprisingly strong showing by her own admission, placing third out of a field of 35.
She shot a 3-over-par 75 at the March 1 pre-qualifier, finishing three strokes behind second place Nicole Zhang, who's played elite collegiate golf at Division I Notre Dame. Zhang and Casie Cathrea, an Oklahoma State-bound high senior from Livermore (Alameda County) who shot a 70, were the only two amateurs to advance to the qualifying tournament.
"That was my first time (competing against an elite field) so I wasn't expecting so much," she said. "I just tried to have fun.
"I was surprised at how well I did."
Ruttanasupagid has been turning heads since moving to the United States from her native Thailand two years ago. She moved here last month from South Carolina.
She's won four of the six tournaments she's competed in since she's been in San Diego. Her most recent victory was at a USJGA tournament on March 11 at Lake San Marcos. Ruttanasupagid said she hopes to contribute to a Torrey Pines team that's already won two consecutive state titles. She admits she doesn't know much about the program, but she does have a tie to the program. Two years ago she met Falcons standout Jennifer Peng at a tournament in Bangkok.
But Ruttanasupagid said her life isn't defined by golf. She said academics are her top priority, and although she hopes to someday play professionally, right now her goal is to compete at the college level and get an education at a UC school.
"I don't' want to push myself too much now," she said. "Right now I just want to get into college and I'll see if I can get onto the tour after."
At Torrey Pines, she believes she's found a place to pursue her most important ambitions.
She said the school's structure and quality instructors have helped make a tough transition easier.
And the golfing isn't bad either.
"The courses are so much nicer and the weather is so much nicer" than in Thailand, she said. "I feel that I have a better chance to get the best coaching and study here.
---