TPHS frosh football team blanks Poway, 48-0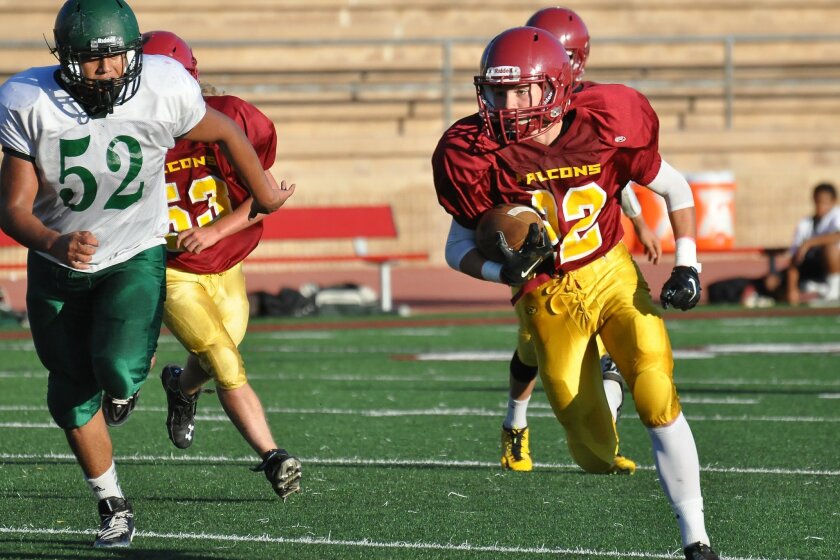 DSC_2010By Walter Bays
The Torrey Pines freshman football team rolled to another win over Poway, 48-0.
This was the 5-0 Falcons' third shutout for the season, in which they have outscored their opponents by a total of 189-35. It was a game of big plays, as people have come to expect from the Falcons.
But the first big play belonged to Poway, a quarterback keeper by Clay Elias for 25 yards and a first down on a drive from the Titans' 35 to Torrey Pines' 25, where a fumbled snap on fourth down led to a turnover on downs. That was to be Poway's best drive of the game.
Torrey Pines' defense was fearsome. Falcon Jack Nelson (15) intercepted a pass. Then under heavy pressure by Louis Bicket (44) and Michael Perrone (51), Elias got rid of the ball —where Parker Williams (84) snatched it and ran it in for a touchdown.
Later, Beau Morgans (22) got an interception, and Cleophis Baker (79) sacked Elias for a turnover on downs. Zach Friedland (42) forced a fumble which Poway recovered, but with long yardage to go. Then Nelson tackled the receiver for no gain, forcing the game's only punt. Other Poway drives ended with two fumbles including one where defender Spencer Grant (90) ripped the ball away and ran back for a touchdown, and an interception by Peter Nelson (31).
Meanwhile, the Falcons' offense showed its power. In the first quarter, Sully O'Brien (11) took a pitch 75 yards for a touchdown, Friedland ran 20 yards for a touchdown, and Jackie Plashkes (4) found the end zone on a quarterback sneak. In the second half, a 26-yard pass to Shayne Grant (85) followed by a 27-yard quarterback keeper by Chris Temby (14) gave the Falcons their sixth touchdown.
A 15-yard reception by Jacob Ryder (17) set up the Falcons for an 11-yard touchdown run by Cole Mihalinec (16).
This is a bye week for Torrey Pines. Next week, they face Carlsbad on the road at 5 p.m.
---