TPHS student-run newspaper, The Falconer, wins Best of Show at National High School Journalism Convention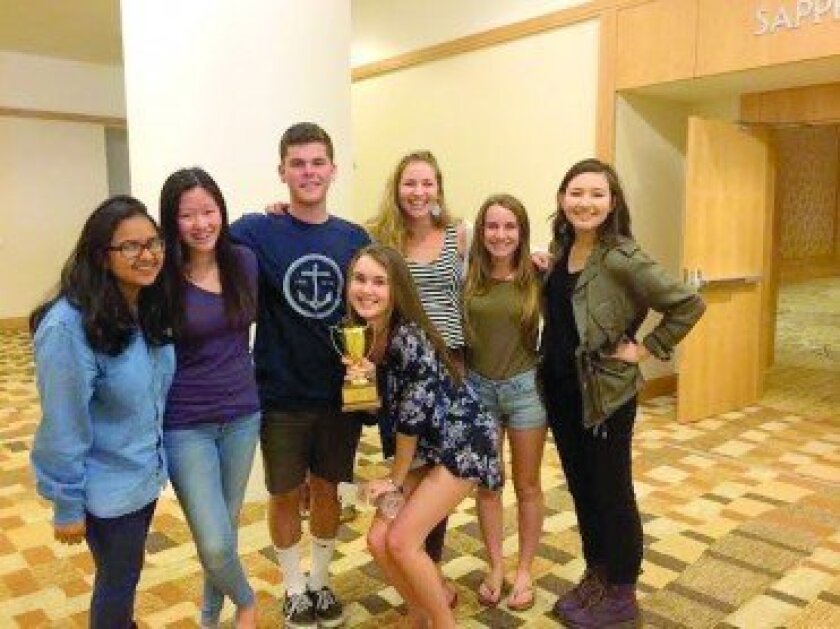 An elated TPHS newspaper staff won "Best of Show" at the National High School Journalism Convention, which was held at the San Diego Hilton Bayfront on April 10-13.
"I cannot describe how immensely proud I am of this staff. So much hard work was put into this issue particularly, while each of you balanced newspaper responsibilities and academic demands," said the Falconer's Editor-in-Chief, Cory Lomberg.
Torrey Pines journalists, or "Falconerds" as they refer to themselves, produce a 32-page paper every month that features a wide range of in-depth stories from sports to local news.
"I am so proud to say that we won Best in Show, but even if we didn't, I would be just as proud of the issue we produced and what this staff achieves on a daily basis," said Lomberg.
Approximately 3,300 student journalists representing 650 high schools attended the conference, which included over 300 breakout sessions, individual writing contests, and the much-anticipated Journalism Education Association (JEA) and National Scholastic Press Association (NSPA) awards ceremonies.
"We go into every national convention hoping for an award, but awards aren't the focus of what we do day in and day out," TPHS journalism and yearbook adviser Mia Boardman-Smith said. "For me, as adviser, my hope is that the kids will be recognized and rewarded for their hard work, dedication to journalistic principles, and strong writing and designing. When we win, I am so happy for them and always so grateful for their commitment to fulfilling their duty to the school and community as fair and diligent reporters of the truth. They deserve this award"
If interested in subscribing to the award-winning TPHS newspaper, The Falconer, email falconer.subscriptions@gmail.com.
---