Traffic concerns near private school lead to confrontation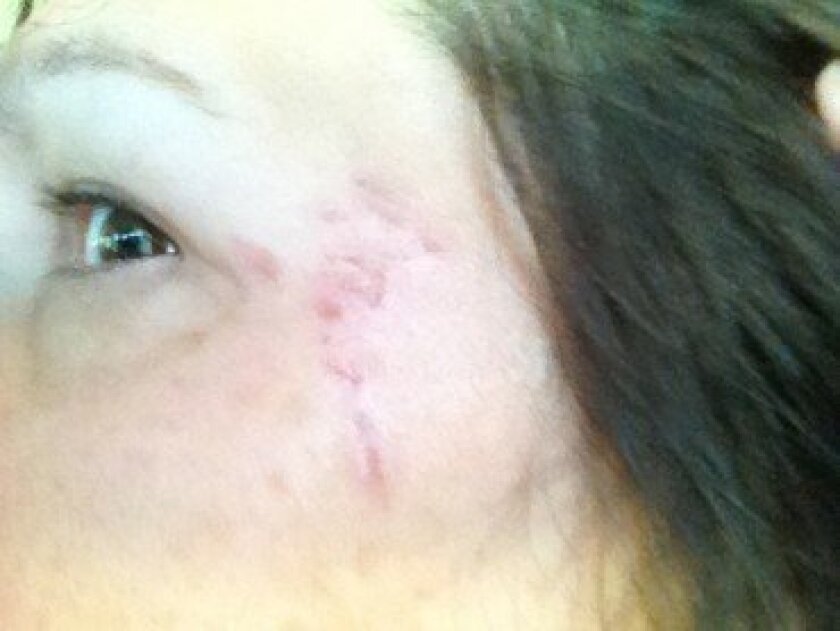 By Joe Tash
A Carmel Valley woman's concerns about traffic safety issues in the neighborhood near Cathedral Catholic High School led to a physical and verbal altercation between the woman and a female motorist.
Trisha Klimisch, who lives down the street from the private high school, said she was out in the neighborhood after school on Thursday, Oct. 23, handing out fliers with traffic safety guidelines, when the incident occurred. The school is located at 5555 Del Mar Heights Road.
Klimisch said she pulled up behind a car that was parked in a "No Parking" zone on Old Carmel Valley Road next to the school, and honked her horn to get the driver's attention.
The female driver then got out of her car and approached Klimisch, demanding that she get out of her car and fight, Klimisch said.
Klimisch rolled down her window and said she merely wanted to give the woman a traffic safety flier. At that point, Klimisch said, the woman reached in the car and grabbed Klimisch's sunglasses, scratching the side of her face.
When Klimisch did get out of her car and attempt to write down the motorist's license plate number, the woman snatched the paper away, got in her car and drove off, Klimisch said.
Klimisch then went to the school, where she said officials called police and a school nurse attended to her scratches.
Police have spoken to both Klimisch and the other driver, a parent who was picking her daughter up at school, said acting Capt. Stephanie Rose of the San Diego Police Department's Northwestern Division office.
"They both said the other was very animated during the incident," and each woman said she felt threatened by the other, Rose said.
However, because of the sunglasses being pulled from Klimisch's face, police will submit the case to the City Attorney's office for evaluation of a possible misdemeanor battery charge against the other driver, Rose said.
Klimisch said she is willing to testify if charges are filed.
"People are like wallflowers; no one wants to get involved," she said. "I will go to court."
The fliers that Klimisch was handing out contained guidelines for student drop-off and pick-ups, which she said came from the school's parent handbook. The guidelines state that Old Carmel Valley Road and Gamay Way are "off limits" for drop-off and pick-up. However, the driver who allegedly accosted Klimisch was parked on Old Carmel Valley Road, and Klimisch provided video of cars making U-turns on Gamay Way, which she said is a daily occurrence after parents pick up their children.
The flier states, "Policies are created to maintain a safe neighborhood and campus in addition to maintaining good neighbor relations, so your cooperation is greatly appreciated."
School principal Michael Deely came out recently to observe the situation. But Klimisch, who has lived near the school for eight years, said little has been done to address the traffic safety problems. "I just don't feel like they take any of this seriously."
Besides parking and stopping in unsafe locations, she said, parents and students from the school often speed and make unsafe turns, she said. "They are coming fast, hard and furious."
Anne Pickard, the school's director of marketing, disagreed with Klimisch's assessment.
"Our top priority is the safety and well-being of students, parents, faculty and the community," she said.
After Klimisch recently wrote a letter to Deely about the traffic issues, she said, the school requested that police come and monitor traffic in the neighborhood next to the school. Officers determined that student and parent drivers were following the law, and not making illegal turns, speeding or parking illegally, Pickard said.
The school encourages parents and students to drive courteously and safely in emails, social media and on its website, said Pickard, and it also offers special programs on safe driving habits. She said for the most part, parents and students follow school guidelines.
"We remind people to drive safely and be good neighbors," she said. "We do everything we can to be proactive and get the message out."
Other neighbors, such as Victoria Shoushtari, a member of the Pacific Highlands Ranch HOA board of directors, share Klimisch's traffic concerns.
The traffic situation around the school each morning and afternoon, said Shoushtari, is "chaotic, unorganized, and dangerous. I want Cathedral Catholic to take responsibility."
Shoushtari said the next step will be to get neighbors to sign a petition, asking the school to address the traffic problems in the neighborhood.
She said the school should either close the gate off Old Carmel Valley Road, so parents have to pick up and drop off their kids from Del Mar Heights, or post a crossing guard at Old Carmel Valley Road to enforce safety rules.
Rose said the area along Old Carmel Valley Road is not clearly marked as a no-parking zone, and that city traffic engineers will evaluate whether markings should be improved, or perhaps parking allowed along the street.
But she cautioned against residents confronting motorists regarding parking or traffic problems, advising them to contact the police instead.
"You don't know who you're confronting or what kind of day they've had," she said.
Klimisch said she feels threatened now, worried the woman will confront her again. The incident also triggered memories from when she was car-jacked at gunpoint when she lived in Boston.
"This brought back a lot of awful, painful memories for me," she said.
---