TVG Pacific Classic Draw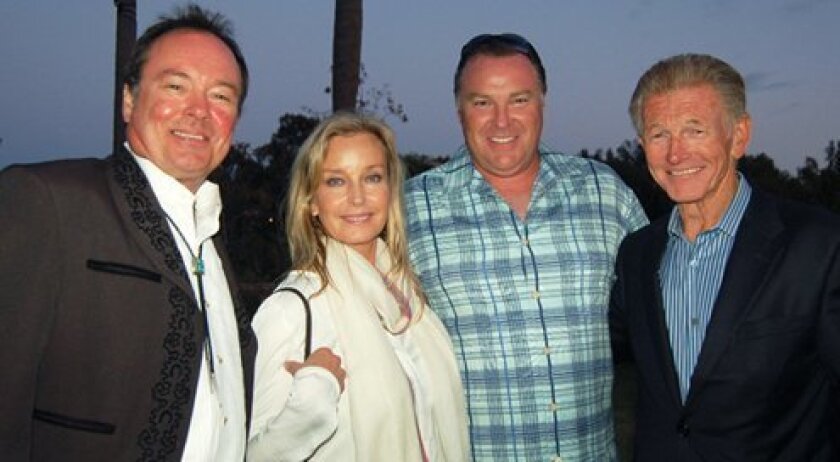 By Leslie Carter
On the Wednesday before the running of the TVG Pacific Classic at the Del Mar Thoroughbred Club the horses in the race are assigned their positions in the starting gate. Starting position is important to how well a horse may do in a race, so the draw is done randomly by pulling pills from a jar, and it is done in front of witnesses.
The Draw for the $1-Million TVG Pacific Classic was held on the evening of Aug. 20 at the Rancho Valencia Resort and Spa, a venue that is becoming traditional for this event.
Del Mar President and CEO Joe Harper set the stage and then handed the additional responsibilities off to track announcer Trevor Denman, and within a few minutes the connections of all 11 thoroughbred knew their post positions for Del Mar's premier event scheduled for Aug. 24.
The remainder of the evening on the Rancho Valencia lawn featured wine and other beverages sipped in small groups of connections of the TVG Pacific Classic contenders.
And by the following Sunday afternoon the season's most significant race in the west featuring older horses, is run on the Polytrack at 1 ¼ miles.
And this year the race was won by unbeaten three-year-old Shared Belief, trained by Hall of Fame inductee Jerry Hollendorfer, and ridden by Hall of Fame jockey Mike Smith. The owners include radio/TV sports commentator Jim Rome of Jungle Racing, Hollendorfer, Jason Litt, Alex Solis II and George Todaro. Shared Belief earned $600,000 for his owners and automatic admission to the $5-million Breeders' Cup Classic this fall at Santa Anita.
Photos by Leslie Carter.
---