Upgrade planned for Del Mar Heights Village shopping center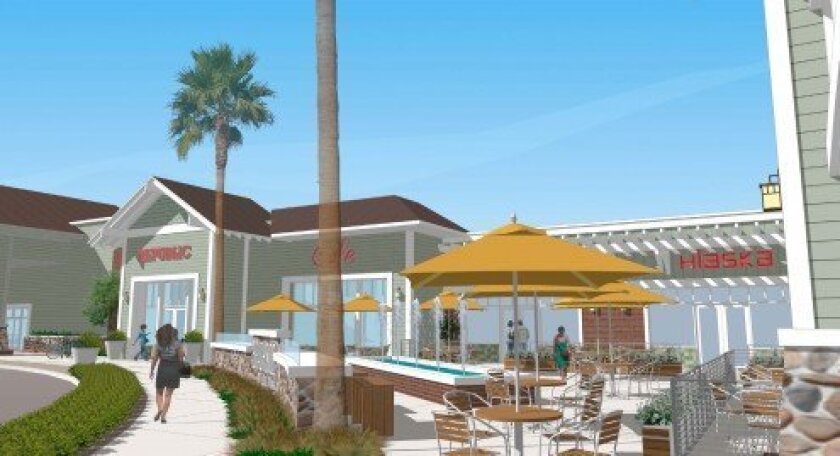 Del Mar Heights Village shopping center is getting a makeover. To kick off the upgrade, new owner and manager Donahue Schriber recently announced the center's new name: Beachside Del Mar. In keeping to its commitment to making Beachside Del Mar a premier neighborhood shopping destination, Donahue Schriber provided preliminary sketches and elevation plans for the upgrades, along with details about the name change, at the recent Torrey Pines Community Planning Board meeting .
Located on Del Mar Heights Road near Mango Drive in Del Mar, the look and feel of Beachside Del Mar is inspired by the community in which it resides. The remodel will include the local tradition of craftsman architecture found in Del Mar and San Diego, as well as the character of nearby beachside resorts. The shopping center is being reimagined to create an attractive and inviting village atmosphere to shop, dine and work. Quality shopping, dining and gathering amenities are planned for Beachside Del Mar without increasing the center's size or layout.
"Donahue Schriber is excited about the upcoming renovations to Beachside Del Mar," said Pat Donahue, chairman and chief executive officer of Donahue Schriber. "We will ensure that this center reflects the unique character and charm of the nearby neighborhoods while offering improved shopping options to residents."
Similar to the company's previous work with Del Mar Highlands Town Center, Donahue Schriber has engaged with the local community to ensure the new choices will be in line with the community's desires and needs. Through market surveys and online research, nearly 500 community members provided feedback about what they would like to see at the shopping center. Plans include new architectural designs and details to freshen the look and feel of Beachside Del Mar. Donahue Schriber is also exploring ways to enhance accessibility to the center, including parking lot upgrades and improvements to the shopping center's pedestrian and vehicular entryways.
The redesign of the buildings will include rich and traditional materials such as lap siding, shingles, brick and stone veneering, as well as ceramic tiles in earth tones. The paint palette that has been selected for the buildings' exteriors is an elegant collection of green and brown hues, accented with white trim, new storefronts and vine covered trellises. The landscape, plazas and sidewalks will reflect the beach community with sand-colored concrete. New open spaces will feature casual, comfortable seating with a tiled water feature, colorful collections of potted plants and benches where community members can gather and relax.
Donahue Schriber remains committed to providing the best shopping experience for its customers at Beachside Del Mar and will continue to work with existing and potential tenants to ensure that the center will feature a variety of quality dining and shopping options that are responsive to the community's wishes. Renovations are planned to begin late spring 2014 and to be completed by November.
For more information about Donahue Schriber, visit https://www.donahueschriber.com.
— Submitted press release
---