Video feature: Del Mar experiences 'Smashmob'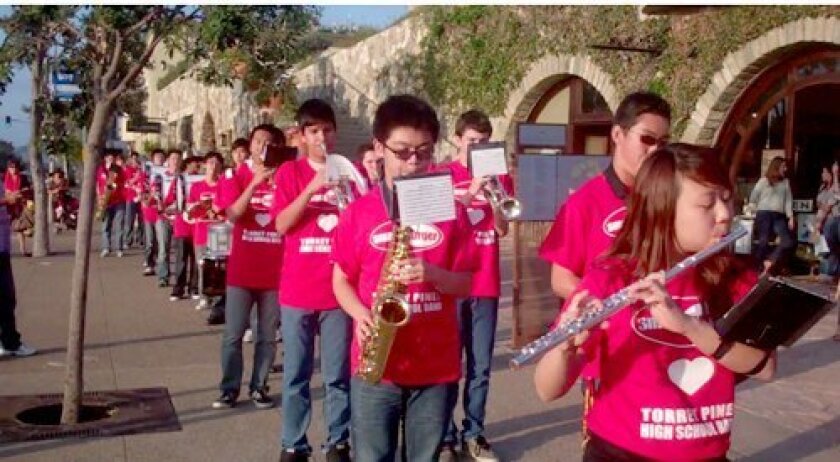 [youtube]https://www.youtube.com/watch?v=VHrp7kRCSzA[/youtube]
By Claire Harlin
editor@delmartimes.net
Those who happened to be in downtown Del Mar on Tuesday, Nov. 1, around 5 p.m., heard and saw something unusual — a surprise performance by the entire Torrey Pines High School marching band, which weaved up and down Camino del Mar, from 15th to Ninth streets, drumming fight songs and traditional tunes.
Local employees spilled out of shops and restaurants onto the sidewalks, pedestrians stopped to take photos or record video and passing drivers waved and cheered. A thrilled and baffled City of Del Mar staff even stood outside City Hall to watch the performance.
What was all the hubbub? None more than a well-recieved publicity stunt planned by the owners of Smashburger, which is partnering with Torrey Pines High by donating $1 from every burger sold in November to the school's band program.
Derived from the concept of a flashmob — a group of people who assemble unexpectedly in a public place to carry out some sort of stunt, protest or act — the folks at Smashburger called Tuesday's performance a "Smashmob."
And from the reaction of the community, the idea seemed to be a "smash."
---