Which Wich ready to spread sandwich love to Solana Beach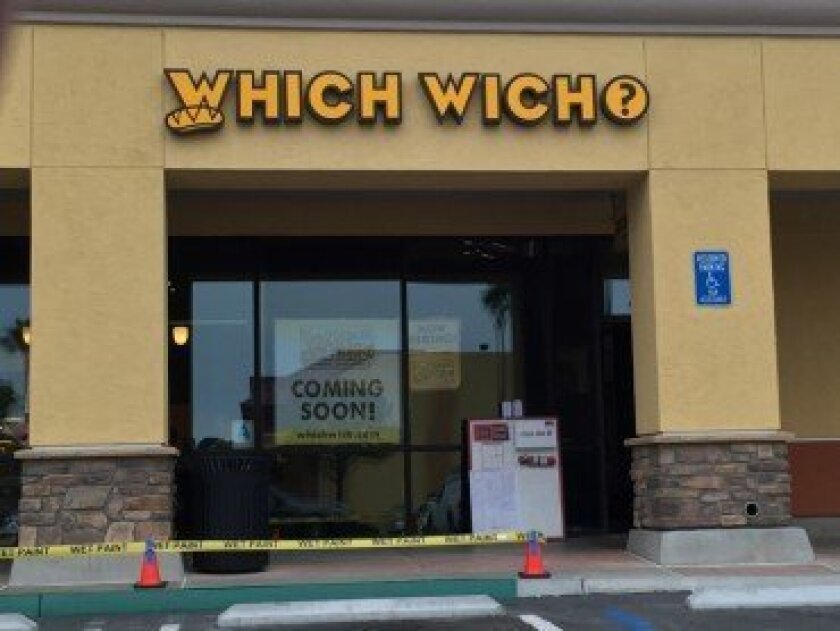 A new sandwich shop is set to open in Solana Beach.
Scheduled to open early November, Which Wich? Superior Sandwiches will replace the former Togo's Sandwiches at 691 Lomas Santa Fe Drive.
"It's exciting to work with the contractors, recruit new staff and meet the neighbors," said owner Tony Kulick. "Solana Beach is a wonderful neighborhood to be in."
An Encinitas resident, Kulick left his 15-year career as the chief financial officer of Sammy's Woodfired Pizza to purchase the Which Wich restaurant at the Carlsbad Forum in 2012. He and his family had been frequent customers of the fast-casual eatery.
"We were big fans," Kulick said. "It had such a broad appeal, and I thought it was time to get out on my own, try something new and take a shot at running my own business."
Kulick opened his second Which Wich in La Jolla in May 2013. The Solana Beach site is his third store.
Based in Dallas, the fast-casual restaurant chain specializes in sandwiches and salads. From the signature "Wicked" loaded with five meats and three cheeses to a variety of vegetarian options, Which Wich offers more than 50 varieties of customizable "wiches."
The shop has a unique ordering system, where guests use red Sharpies to mark up a pre-printed menu on a sandwich bag to customize their made-to-order sandwich. Guests are also welcome to draw on their bags and hang their art on the shop's wall.
"Which Wich is a positive environment with great staff and great music," Kulick said. "It's all about the creativity."
Using his stores to give back to the community, Kulick raises funds for local schools through programs such as Which Wich Wednesday with the Rhoades Foundation, where a percentage of the school's sales go to its foundation.
Through the company's Project PB&J, Kulick has also donated more than 100 sandwiches to the Encinitas-based Community Resource Center, which provides safety, stability and a path to self-sufficiency for families in need and victims of domestic violence.
"There's a need out there," Kulick said. "This is an easy way for me to participate and help the community."
Looking to hire 25 employees, Kulick hosted a job fair Oct. 18 at the new location. If all goes according to schedule, the 1,200-square-foot store will open Nov. 6, he said.
"Come on in and see us, and give it a try," Kulick said. "I'm sure you'll love it."
For more about Which Wich, visit www.whichwich.com.
---