Winners recognized for holiday glow in Del Mar Village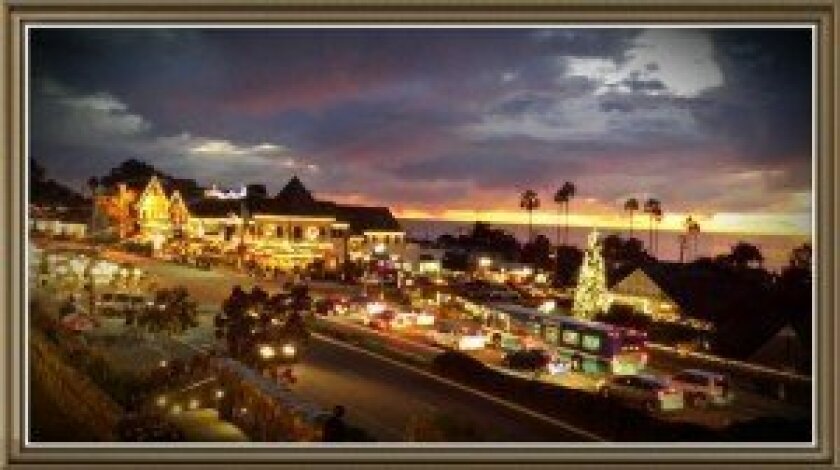 By Karen Powell, Del Mar Village Association Board Member
It takes a village to light up the heart of community, and the dazzling display of lights this past holiday season gave proof to the spirit that shines within the hearts of Del Mar villagers and merchants alike. With encouragement from the Del Mar Village Association, the Main Street corridor was all aglow.
KC Vafiadas, a DMVA board member and the owner of Stratford Square, discovered a 1988 trophy awarded to her building for excellence in downtown holiday decor, and thought it would be fun to resurrect the tradition. The word was spread throughout the community and sparked an explosion of colorful lights, trimmed trees and whimsical decorations. Participation and enthusiasm were at an all-time high and shared by those who were in attendance at the three-consecutive-weekend Holidays in the Heart of the Village and Santa by the Sea events. Carolers strolled and sang while people shopped and dined. The meter man took the weekends off, and despite a little Del Mar drizzle, the Grinch was nowhere to be found.
A group of local elves gathered at dusk in December to evaluate the decor and were very impressed with what they saw
—
so impressed that they found it necessary to give several Honorable Mention awards along with the Best of the Best award. The winners were as follows:
Honorable Mention Restaurant Decor: Del Mar Rendezvous thanks to Daniel Schreiber
Honorable Mention Retail Window Decor: Fair Trade Decor
Honorable Mention Office Building: Briggs Building thanks to DMVA
Honorable Mention Hotel Building: L'Auberge thanks to TBID
Best of the Best Trophy was awarded to the Law Offices of Bing Bush and Tricia Smith.
With Santa safely back at the North Pole, and LEDs, banners and bows back in the box, the Torrey pines and palm trees stand defrocked and waiting for future bedazzlement in 2014. Happy New Year and many thanks to the village!
---