Winston School in Del Mar to celebrate 25 years of opening doors to the future for its students
By Kathy Day
If parents keep singing the praises of the Winston School the way Randi Pisapia does, the tiny Del Mar school will be celebrating milestone anniversaries for years to come.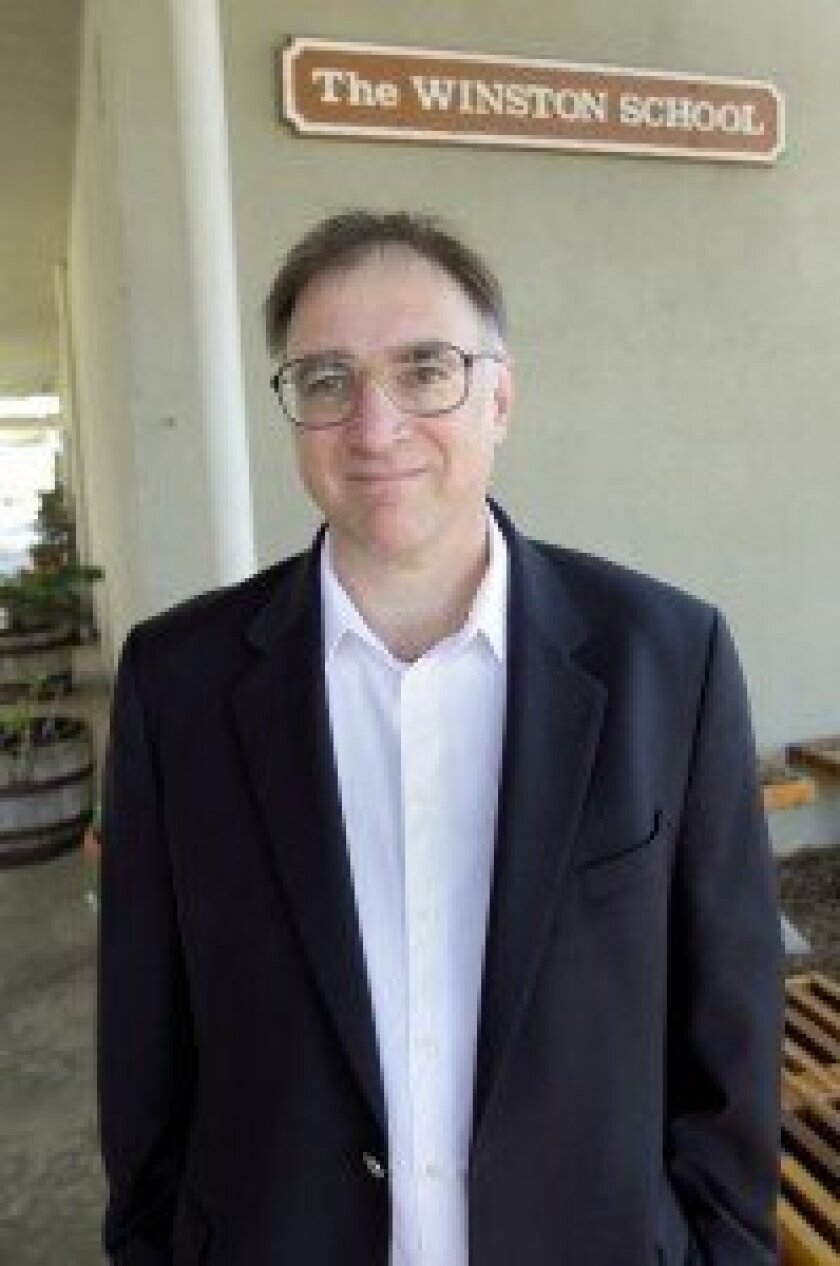 As school officials, parents, students and alumni get ready for the April 20 celebration marking the school's founding 25 years ago, they also are reaching out to let people know what the school means to them.
Located on the former campus of Del Mar Shores School, Winston serves students from fourth to 12th grade, with a mission to provide college prep education in a family-like environment "where students with diverse abilities and challenges come together to focus on success."
Pisapia, a Vista resident whose son started at Winston in the fourth grade and is now in his third year at the Academy of Art University in San Francisco, doesn't hesitate when asked what the school has meant to their family.
"It gave me back my son," she said. "I owe them my life."
Faced with dyslexia and auditory processing issues, Tommy had "shut down," she said. "It was awful. We had to pry his fingers off the door to get him to go to school. He wore a hoodie pulled down over his face and was on anti-anxiety medications."
When Tommy changed schools, Pisapia said she was a little afraid because he was a fourth-grader on a campus where there were high school students.
But within three months, they were able to start taking him off the medication. And even though at first he had to leave home at 6 a.m. to take the bus, he still loved going to school. Soon, though, they decided to ride was too long so they began driving him.
And they're not the only ones who make a long trek to get to the campus on Ninth Street and Stratford Court in Del Mar.
Headmaster Mike Peterson — only the third person to hold that title in the school's history — said they currently have one student who lives in Temecula while others come from Chula Vista and East County.
One of those is senior Zach O'Brien, who began attending Winston as a junior.
A Santee resident, he drives to school. His brother also attended Winston and is now at Humboldt State University – where Zach will join him in the fall.
Zach talks proudly about his school, explaining that he sustained a traumatic brain injury playing football when he was 11 that caused chronic pain and other symptoms.
He made it through seventh and eighth grade but missed his entire freshman year as his parents took him all over the country in an effort to find out what was wrong and tried another private school.
"I had problems with memory and cognitive skills," he said. "I couldn't put thoughts on paper that were in my head … Before, I was good in school."
Two years ago he had surgery, which he said has helped with some of the problems.
Now, he said, he's at a school where there is "a different way of relating to teachers. They know more about you and you know more about them."
Today he's college-bound and plays in the school's band — which will provide part of the entertainment for the anniversary celebration.
One of his classmates, Lauren Jacobson, came to Winston after sixth grade when her family moved from El Segundo to Carlsbad. She has attention deficit disorder and learning issues as well as social anxiety, she said.
At her previous middle school, she added, they moved her to special education classes "with the delinquent kids and didn't give us anything to do."
But at Winston, the small classes and closeness of the student body and staff "and teachers who are willing to stay and help you out" have made a world of difference.
"This is the first place I ever felt like I was smart," she said.
Lauren is on the student council and active in drama and, like Zach, is looking forward to going to college.
When asked to name a teacher who's made a difference for them at Winston, Zach chimed in first: "Miss S-T. She gave me an extra kick when I needed it."
Lauren hesitated at first, saying she couldn't name just one, but then agreed with him.
"She makes an effort to be with us even though she's really busy," she said.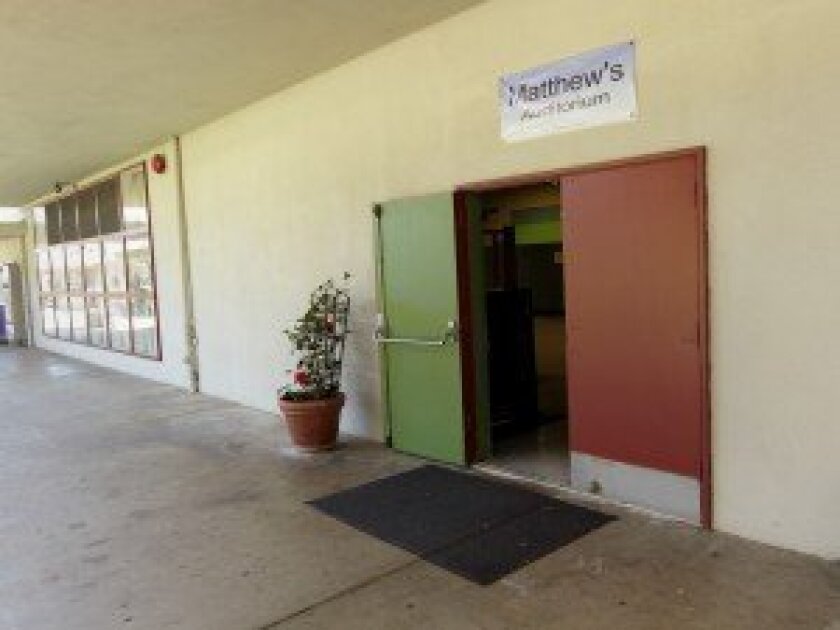 Miss S-T is Mary Sterling-Torretti, who has been teaching at Winston for 24 of its 25 years. Now the assistant headmaster, she teaches English and is the college counselor.
"Sometimes when students [first] come here they feel like things have been closed off to them," she said, "Hopefully possibilities open up [after time spent at Winston]."
When Sterling-Torretti started, there were only high schoolers at the school; today they serve grades four to 12 and have a target student-teacher ratio of 8-1 (in the upper grades, it is sometimes higher to accommodate programs such as mock trials and business simulations). The school offers added arts, music, drama and sports to supplement its curriculum that meets state standards.
Amy Spitler, the director of admissions who also teaches English, started at the school as a receptionist while she was deciding whether to pursue a teaching credential "and fell in love with the program and the students."
"I hear from the kids that they don't feel like they're a problem that needs to be fixed," Spitler said. "We see them as a person first and focus on their unique gifts and strengths."
Peterson, the headmaster, talked about how the school strives for a balance, teaching the students life skills and strategies that they will need beyond school, while also giving them differentiated instruction that plays to their particular abilities.
"We try to help them find something they are good at and like to do," he said. "We don't want school to end too early or become a dead end. We want them to be able to make a living … and find their place in life."
To be admitted, a student must have a diagnosed learning difference – a term they use instead of disability.
"Often there is a cascade of issues," Peterson noted.
Over the past five years, 95 percent of the students have gone on to at least a two-year higher education program – many to four-year programs. Some join the military, he added.
Through the years, there's been one person who has observed the changing program and faces. Mindy Kaplan is the administrative assistant. She's held her job for 25 years and still loves it.
She says she's watched the vision develop and admires the "forward thinkers" who have led the school and the hard-working, dedicated teachers.
After a lengthy struggle and lots of fundraising, the school has a 55-year lease with the City of Del Mar on the Shores site — where Winston has been since 1988 when it was founded by a group of physicians and parents. Now they are getting ready to live up to their commitment to upgrade the campus.
Serious planning is not likely to start for a couple of years, with the project seven to 10 years down the road, Peterson said. Meanwhile, they'll continue to build on a program that each year culminates in a commencement ceremony that Peterson described as "a quasi-religious experience to see where the kids come from and where they've ended up … and where the parents end up from a place of despair and wondering about what would be possible for their children."
Learn more about The Winston School
Fast Facts
What:
Winston School 25th Anniversary Celebration
Who:
Alumni, family, friends, faculty and staff of the Winston School
When:
5 to 9 p.m., April 20, 2013
Where:
Del Mar Fairgrounds Mission Tower
Tickets:
$50 per person, $35 for graduates, $20 children 10 and under
RSVP by April 4 at
www.thewinstonschool.com/25th-anniversary/
More info:
info@thewinstonschool.com or (858) 259-8155
---