Aging wooden bridges over Los Penasquitos Lagoon to be replaced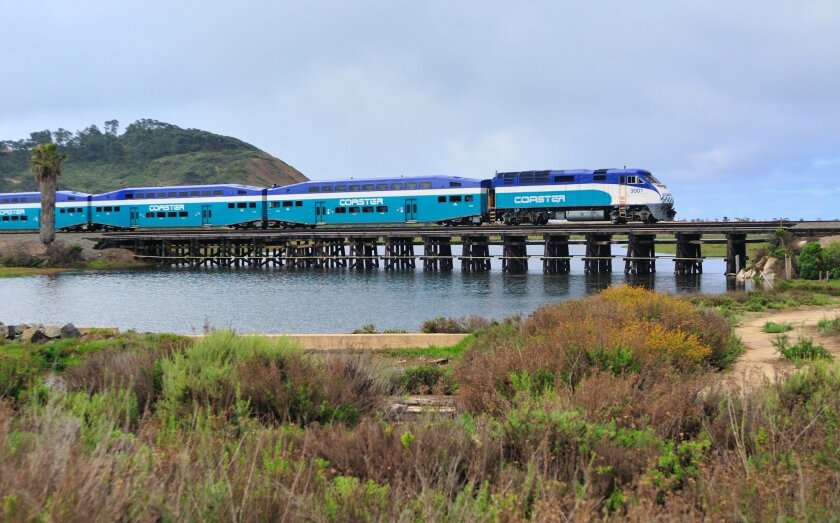 The San Diego Association of Governments will soon begin work on replacing four aging bridges over the Los Penasquitos Lagoon. The $31 million project will replace the timber trestle railway bridges with modern concrete to meet the demands of the Los Angeles-San Diego-San Luis Obispo rail corridor, the second busiest intercity passenger rail line in the United States.
The Carmel Valley Community Planning Board heard an update on the construction, which is expected to begin in December, at the Oct. 23 meeting.
Many of the facilities in the corridor are more than 125 years old, and according to senior engineer Sharon Humphreys, the four bridges were built in the 1920s and '30s. The northernmost of the four bridges is next to the Torrey Pines Preserve, two are accessible only by rail and the southernmost is at the end of Carmel Mountain Road.
While board member Jonathan Tedesco remarked it's a shame to have to lose the charm of the wooden bridges, Humphreys said aesthetic treatment will be given to the northernmost bridge, including stampings of reeds and an egret bird in the concrete of the bridge's endcaps. Stained concrete will also match the color of the sand of Torrey Pines State Beach.
The smaller footprint of the new bridges, achieved by grouping the piles underneath the bridge, will improve water tidal flow and lagoon flushing, which will lead to a healthier lagoon, Humphreys said.
While SANDAG is in the process of double-tracking the rail corridor, Humphreys said that the bridges over the lagoon would never be double-tracked because of the sensitivity and beauty of the environment.
Funding for the project will be provided by North County Transit District, Federal Transit Administration and a $14 million grant from the U.S. Department of Transportation's Transportation Investment Generating Economic Recovery (TIGER) program.
---