Yellow YOLO's crowned DMCV Sharks Soccer Club Boys Division 4 (Under 12) League Champions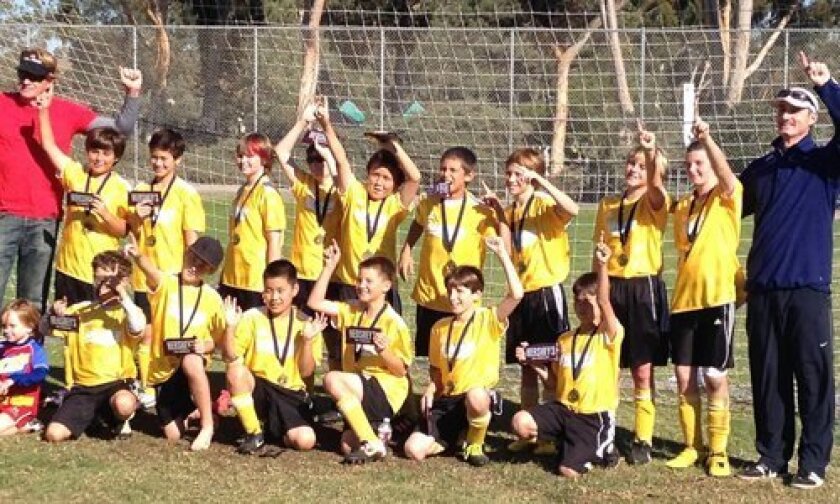 The Yellow YOLO's (You Only Live Once) soccer team was triumphant recently in the Del Mar Carmel Valley Sharks Soccer Club end-of-season league tournament. The YOLO's faced off against the very strong Maroon Hammer-Heads.
The Hammer-Heads struck blood first on a blistering shot from Josh Ziegel hitting the back of the net from deep in the box, and took a 1-0 lead going into halftime. In the second half the YOLO's dug deep, scoring the equalizer on a Ryan Sanborn corner-kick placed perfectly on the head of a darting in Stoney Timmons, and then scored again on a tremendous shot from Mathieu Barthelemy from outside the box. Although the YOLO's took a 2-1 lead, there was still eight minutes left on the game clock and the colossal clash of the titans continued with both teams fighting until the end, with the YOLO's eking out the 2-1 win. It was a great game and a great tournament!
Coach Sanborn commented: "The boys were simply amazing all weekend with everyone playing their best soccer ever. To watch them play as a team, taking on great teams, and never giving up or backing down. Other teams struggled when they got down but our boys did not, they all stepped up. They earned this Championship all on their own by beating the best of the best, and I will certainly cherish their reactions after the last whistle blew…from the cheers and screams, to the shirt waving, the Gatorade shower, and most importantly, all the smiles."
Coach Timmons added: "This is what the season is supposed to be about. Working hard, learning, developing as players, becoming a team, and most importantly having fun."
Congratulations Yellow YOLO's
---