YWCA's 'Walk a Mile' event steps up to counter domestic violence
By Karen Billing
Heather Finlay, the CEO of the YWCA of San Diego County, carries the burden of knowing that 1 in 4 women faces domestic violence in their lives. Thanks to highly publicized issues involving NFL players such as Ray Rice, domestic violence has become a topic of national conversation, and more people are becoming aware just how prevalent abuse is in our society.
"The abuse is intense and without experiencing it, you're hard-pressed to truly imagine what happens and I think this is why the video of Ray Rice punching Janay really shocked a lot of people. It showed what goes on behind closed doors," Finlay said.
"The conversation is very important and the fact that there is a public outcry is important. That we as a country are talking about it is important. We don't want anyone to experience domestic violence and with people talking about it, we really have an opportunity for people to understand what happens in domestic violence relationships and why it does warrant support … helping women who feel trapped, who need to know programs like the YWCA can help."
Every year, more than 5,000 women and families seek help from the YWCA, using widespread services that empower them to transform their lives. Finlay, a Carmel Valley resident, has led the organization for the past five years.
Finlay said much of what the YWCA does is education: helping people understand what domestic violence is. It's really hard for many to understand the cycle of domestic violence and why women stay, Finlay said.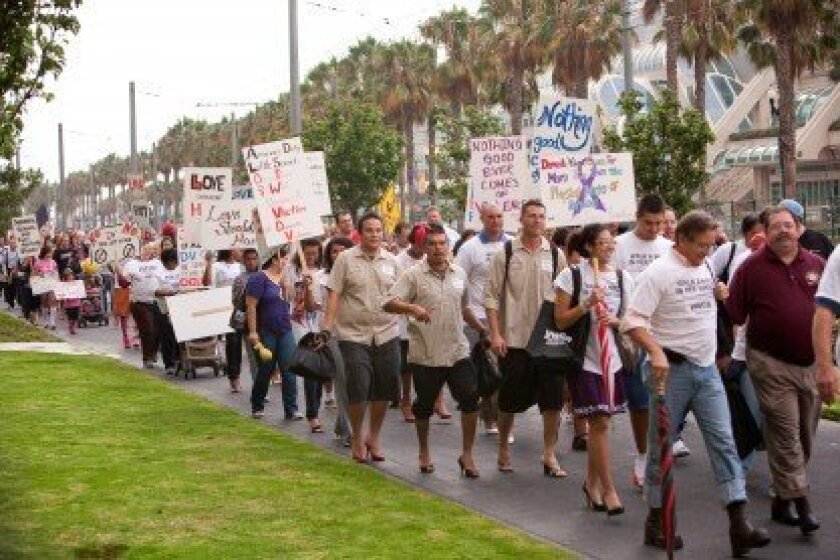 She said some women stay largely out of fear, others because they have no means of financial support for themselves or their children, or because they are being threatened. The situation becomes more difficult, because these relationships started in a place of love and kindness.
"They all feel isolated and alone and don't know where to go for help," Finlay said. "Sadly, they feel a lot of shame and they're afraid to talk; they've been told that it's all their fault. There's a lot of marginalization and controlling that goes along with it."
One way to raise both awareness and funds is the YWCA's upcoming Walk a Mile in Her Shoes event on Thursday, Oct. 9, a lighthearted event on a serious topic, which gets men to don high-heeled shoes and march.
"This is a great opportunity to have this conversation, to get friends and family together to understand that domestic violence is a prevalent issue that affects all of us," Finlay said. "We all know someone who is affected by domestic violence even if we might not know it yet."
At the event, San Diego Police Chief Shelley Zimmerman will be on hand to speak. There will be a best shoe contest for the men, and an after-party at Jolt'n Joes in the Gaslamp. They will have some stilettos available for men to use on event day — for men who do not know their size, the conversion to women's sizes is two sizes up from their size shoe.
Finlay is a real estate developer by trade who worked in Texas, Colorado and Canada before moving to California.
A co-worker invited her to a YWCA luncheon, where she was shocked to learn the staggering numbers of women affected by domestic violence. But she was also amazed at the programs the YWCA offered.
"I just wanted to help," Finlay said.
At first, Finlay became involved as a volunteer, helping build the organization's second Becky's House for victims of domestic violence and their children in 2006. But that soon led to her being on the board, and when the CEO position opened up, she stepped up as a temporary leader. That was five years ago.
"When I was working in development, it was very important to me that women had opportunities to get into the development side of real estate. At the time it was largely men, and I really wanted to help women succeed," Finlay said. "The YWCA was not much of a stretch, because it's about helping women to succeed and understand their full potential."
Finlay said the YWCA reaches women who feel marginalized, controlled and as if they're worthless. The organization seeks to make them feel valued and give them the resources to rebuild their lives.
"It is amazing to meet the women and families that come to us for help and hear them say 'thank you' for saving their lives. That is something that is always amazing to hear — that's something many people don't often hear or don't hear ever," Finlay said.
"It's great to know that you're able to help someone to go out and be the best they can be and live a healthy life and just be here. Some women don't get that in time."
The YWCA has three main programs: Becky's House; Passages, for single homeless women; and the Cortez Hill Family Center for homeless families.
There are three Becky's Houses (in undisclosed locations for safety purposes), one of which is an emergency shelter. The third location just opened in 2013. Women can stay there for 18 to 24 months and are offered case management, trauma counseling, career development, and financial literacy and children's services. A legal team assists with restraining orders, divorce actions and child custody/support.
Becky's Houses have the largest number of emergency shelter and transitional housing beds in the county and serve 500 women and children a year.
Passages is a two-year program for single homeless women that offers many of the same services as Becky's House and focuses on redeveloping women's skills to find employment and permanent homes. The program has 39 rooms and serves 69 women at a time.
At Cortez Hill, the YWCA offers a 120-day program for homeless families to stay together as they work toward breaking the cycle of homelessness and moving to independent living. The family center was established in 2001 with the city of San Diego and can house 45 families at a time, serving about 700 people in the program each year.
When Finlay thinks about the services they provide, her mind always goes to the holiday season, when many of the families are together all at once. Looking around the room, she fully grasps just how many people are affected by domestic violence. It can be painful to process.
"But when you sit down and talk to them, they're so proud of themselves for getting out of a largely traumatic situation," Finlay said. "It's such an honor to meet people who are overcoming so much and persevering and doing what's best for themselves and their children."
People are encouraged to register in advance for the Walk a Mile in Her Shoes event and to set up a fundraising page; visit https://www.ywcasandiego.org/give/fundraising-events/walk-a-mile-in-her-shoes.html. For information on the event or any of YWCA's programs, visit ywcasandiego.org. The YWCA's 24-hour domestic violence hotline is 619- 234-3164.
---