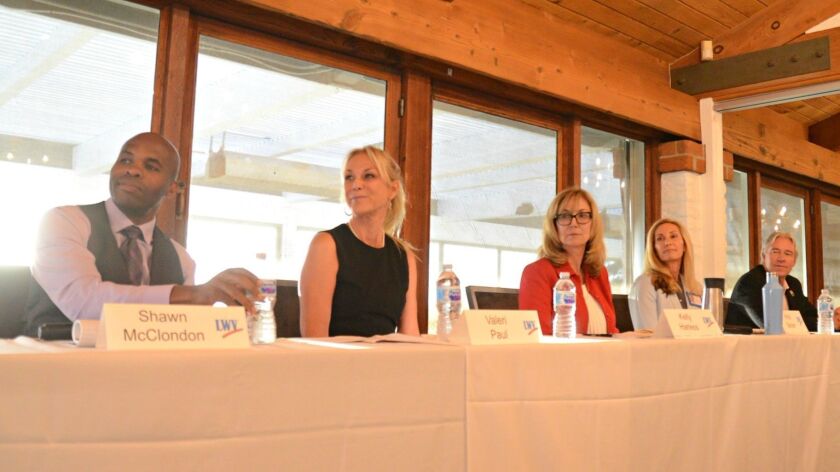 Five candidates for Solana Beach City Council were pressed Sept. 20 with questions regarding affordable housing, future development, short-term rentals and proposed roundabouts.
Kristi Becker, Kelly Harless, Shawn McClondon, Craig Nelson and Valeri Paul each fielded audience questions on the topics at the city's first candidates forum at the Lomas Santa Fe Country Club. The debate was moderated by the League of Women Voters and sponsored by Solana Eastside Community Group (SECG), La Colonia de Eden Gardens Foundation (LCEG), Protect The Beach and Condominium Association of South Sierra (COOSA).
On the heels of heavy debate at recent city council meetings, the candidates were asked their viewpoints on four controversial, proposed roundabouts along a stretch of Lomas Santa Fe Drive. The council is expected to look at eliminating three of the traffic circles at its Sept. 26 meeting.
Each of the candidates on Sept. 20 said they oppose the roundabouts in the city and commend the community's efforts in having their voices heard on the issue.
Nelson, a 15-year resident who has been vocal against the roundabouts, believed the city should keep four lanes on the streets — rather than reducing them down to one — and said a committee should be formed to explore other options for mitigating traffic.
McClondon, a nine-year resident, said while the roundabouts should not be pursued, the city should still look into fixing the sidewalks and potholes along Lomas Santa Fe.
Harless, a 20-year resident, agreed that the area needed to be beautified, adding she is in favor of a proposed pedestrian pathway along the corridor for people such as children, residents and dog walkers.
The candidates also mostly agreed that something needs to be done to mitigate problems as a result of short-term rentals.
Most candidates said the city needs to work on enforcing existing regulations, while Nelson encouraged streamlining the process for applicants and contracting with companies like Airbnb to bring in tax revenue.
Regarding affordable housing, the candidates agreed something needs to be done to help those of low and very-low incomes, especially people who work in the city but cannot afford to live there.
Paul, who lives near Eden Gardens, a community with some low-income tenants, said the city should use current policies to develop a solution to promote diversity.
"What I love about Solana Beach is we have this great community within these parts that have affordable housing," she said.
McClondon, who formerly handled communications for the San Diego City Council, believed that because of the city's coastal location, it would be difficult to place affordable housing in Solana Beach.
"Let's face it. Affordable housing in Solana Beach will never be that affordable," he said.
However, Solana Beach must develop a solution for commuters, which would also positively affect traffic and the environment, McClondon said. He later added it must be a requirement for developers to include affordable housing in their plans and in-lieu fees should be eliminated. Harless, a former parks and recreation commissioner, noted that developers have certain rights for their properties, such as being able to opt-out of affordable housing and paying a fee instead.
"It's not something that we would want to do to force them to opt out because that goes past the balance of the property rights belonging to both parties," she said. "The balance is really important."
Nelson, a finance executive and former city finance commissioner, said Solana Beach must re-examine why developers are opting out of building affordable housing and choosing to pay in-lieu fees.
When discussing land use and future development in Solana Beach, Nelson said he believes streamlining the application process was the best solution to avoid any confusion.
McClondon agreed the process should be streamlined but added the city needs to explore more creative ways to find development that "fits with the city's character."
Nelson later pointed to the Solana Beach Train Station property, which has been proposed for affordable housing, and said the city must work harder to find a solution for that property.
"We can't afford to sit on this for another 10 years and wait for this to happen," he said of the North Coast Transit District-owned site.
Becker considered the proposed Del Mar Resort — which would sit in Del Mar but affect traffic flow and views in Solana Beach — as one of the most important projects the city is currently facing. The current proposal would place 251 hotel rooms, event space and 76 residential units on 16.5 acres at Camino Del Mar and Border Avenue.
"We need to aggressively move on that and stay engaged," she said. "That's going to be a major project that, at this point, I don't want to see rezoned."
Nelson said he believes the city should develop a template for developers of how buildings should look in the city.
Harless, a medical researcher, said the city should focus on projects that minimize impacts on nearby neighborhoods and residents. She said she is not in favor of a template for development.
"The last thing I would want is Solana Beach looking like a cookie- cutter community," she said.
Solana Beach residents will be asked to vote to fill two candidate seats in the Nov. 6 election.
---