Solana Beach farmland slated for luxury homes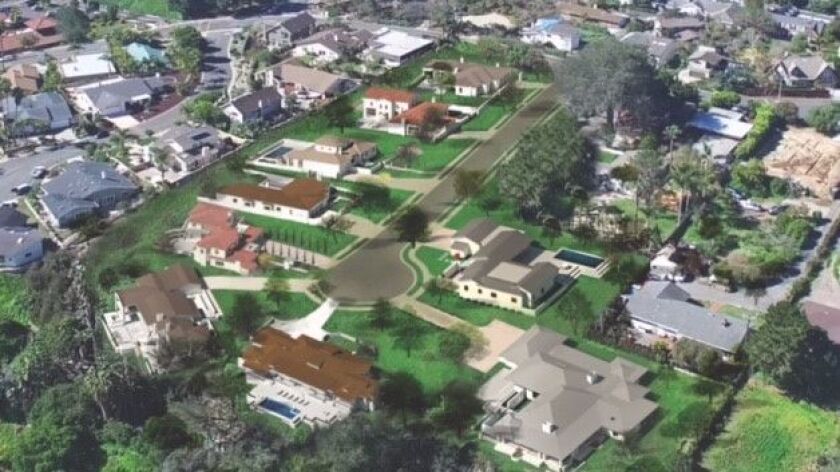 One of the last pieces of agricultural land in Solana Beach is on its way to becoming luxury housing under a proposal that would subdivide the 4-acre plot on South Nardo Avenue into plots for eight single-family homes.
More than a decade in the making, Ocean Ranch Estates is the brainchild of San Diego-based developer Nicholas P. Nicholas. He has split the project into two phases. The first phase seeks to clear the site, subdivide the 4.2 acres into lots ranging from 14,000 to 35,000 square feet and create building pads for eight single-family homes. Phase 1 also includes upgrading the unnamed street on the parcel's northern edge into Bell Ranch Road with curbs, sidewalks, parking and Olive trees.
The second phase would build the eight homes. With separate approval and construction, Nicholas expects it could be more than two years before the first of the homes is ready.
The public comment period remains open until July 31 for the initial environmental study for the proposal, which looked at a wide range of factors, including air and water quality, noise, soil and traffic. On all those factors, the study deemed the project to have the two least-severe impacts. Only for cultural resources did it raise a flag. The city is requiring that Nicholas hire an archeologist and a Native American monitor in case construction crews unearth heretofore unknown artifacts.
A required public meeting has not yet been scheduled.
For more than 50 years, Elda Bell Garner owned and lived on the property. She wrote pilot safety instructions for Convair before turning her attentions fully toward agriculture. She built a grow house on the property and a hothouse for champion orchids.
Nicholas bought the first of the parcels more than a decade ago and worked with Garner on the plans until her death at the end of 2011. It is in her memory that the street is being named.
"She had very specific ideas for what her land would become," Nicholas said. "I feel that I am holding very true to what she would've liked to have seen. She wanted me to be the one to carry it forward."
Nicholas is trying to evoke a rustic sense of early California that blends into mature olive trees along South Nardo.
"The vision is to have this be like the streets of old Solana Beach. I feel a tremendous responsibility to get it right. It's an important location and it needs to be executed correctly," he said. "It's going to be keeping in spirit with the agrarian, quiet, peaceful history of the place. I've worked very hard [to ensure] that the history is remembered in this project."
The project coincides with two efforts that would further transform the neighborhood. Larna Hartnack is looking to expand her property on the north side of the unnamed road into a Napa Valley-style farm ranch. She is also helping lead a campaign to rouse support to underground the neighborhood's utility lines.
"We're really excited about it. We think it's just continued progress in Solana Beach while keeping the old charm," she said. "All of the newer, younger families here are excited to see things looking better and nicer. I just like to see stuff happening, but at the same time without turning Solana Beach into Newport Beach.
Part of what has taken the Ocean Ranch project this long to move forward was resolving the affordable housing component. Under the city's regulations, the land would've needed to be carved into 14 lots in order to make room for affordable housing on site. After talking to the neighbors and hearing feedback, Nicholas scaled the project back to the eight parcels with no on-site affordable units. As such, he will purchase a townhome or condominium somewhere else in Solana Beach, deed-restrict it for 55 years, then hand it over to an affordable housing group to administer. He has to do so before building permits are issued for the fourth of the eight homes.
Comments must be made in writing and received by 5 p.m. on July 31. Comments should be addressed to Corey Andrews, principal planner, 635 South Highway 101, Solana Beach, CA 92075 or via e-mail at candrews@cosb.org.
---
Get the Del Mar Times in your inbox
Top stories from Carmel Valley, Del Mar and Solana Beach every Friday.
You may occasionally receive promotional content from the Del Mar Times.