Skyline School gets ready for remodel
As of June 19, 62-year old Skyline School in Solana Beach will begin a fast 14-month transformation into Solana Beach School District's newest elementary school. The old campus will be demolished in about a month this summer and the district will work on a tight timeline to be ready to welcome students in fall 2018.
At a community information meeting on March 7, Solana Beach School District Superintendent Terry Decker thanked the community for passing Prop JJ with almost 66 percent of the vote in November, providing the funding to build the new Skyline School as well as make improvements and complete modernization work across all of the district's seven schools.
"This end of town really is going to be getting the lion's share of the work," Decker said of Solana Beach, noting the district's second-oldest school, Solana Vista, will be the next major construction project. "Both of these schools, by the time that we're done, will be completely rebuilt from the ground up."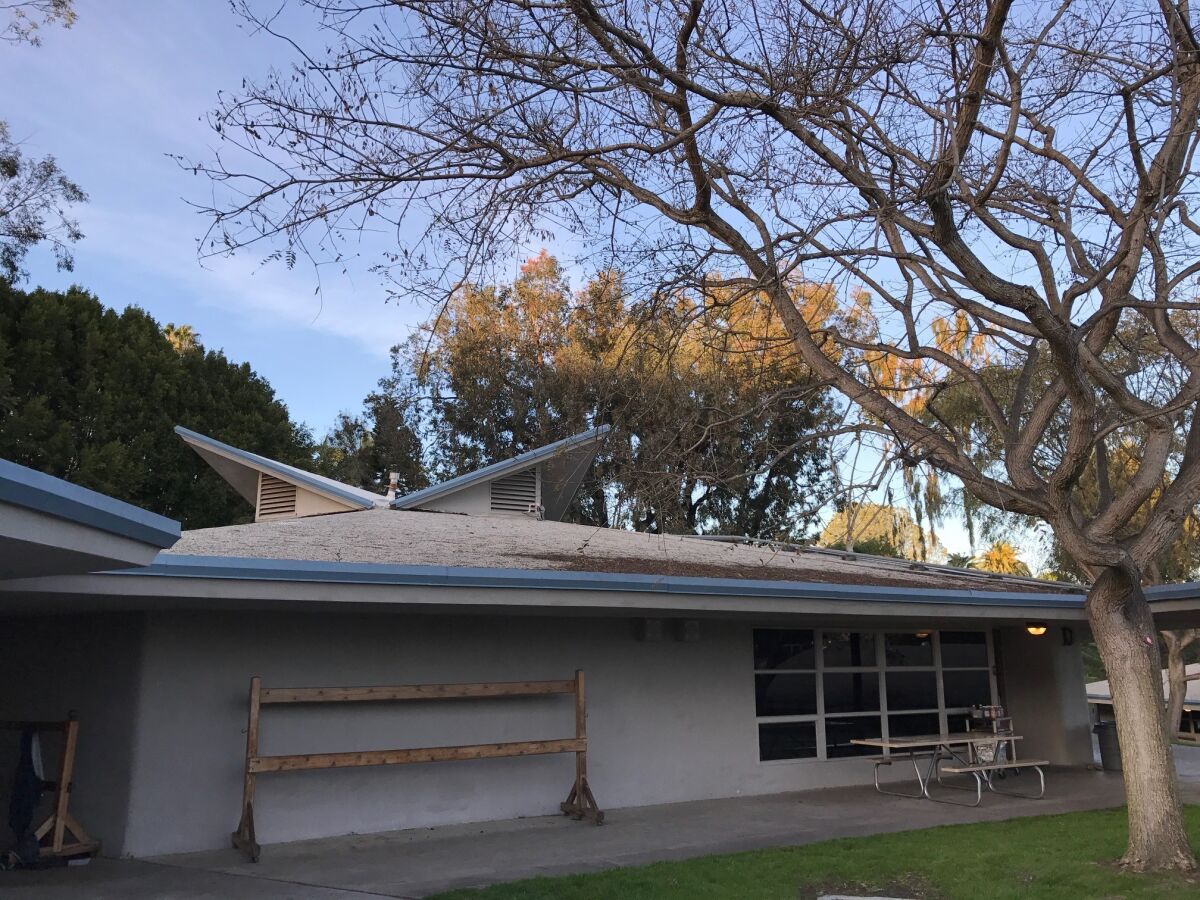 Typically a project like this would be built in phases but because they are able to relocate all children off-site and don't have to build around them, it shortens the construction timeline by about 10 months according to Eric Davy of Davy Architecture. During construction, Skyline students will take advantage of the interim campus across the street at Earl Warren Middle School, the one Earl Warren students had been attending while their new school was built. The new Earl Warren is set to be ready for move-in by May.
Caroline Brown, executive director of capital programs and technology, said the design process for the new Skyline School started over a year ago with a team of community members, teachers, administrators and teachers across the district.
The new 70,0000-square-foot campus will feature a multi-purpose building and kindergarten building accessible right in front of the school and a two-story administration and main classroom building which will have 33 classrooms (the current campus has 31). While the environmental documents state a "worst-case scenario" capacity of 720 students, Brown said they do not anticipate having that many students on campus. Per long-term demographics they expect to have about 550 to 570 students until 2026.
Some residents voiced concern about the height of the two-story building but, as Davy explained, the building is stepped like a split-level home.
"We're not higher than the existing school," Davy said. "If anything we're coming down."
The buildings will be concrete masonry with metal roofs — Davy said the intent with the materials is to make the buildings as durable as possible.
The campus will have an "expansive" new play space with an amphitheater, garden and lunch shelter —the large green playing fields will remain mostly untouched. Solar canopies will be placed over the lunch shelter and over parking lot covers.
The new parking lot will feature a much longer drop-off area of about 500 feet, which will hopefully prevent the back-up of cars on Lomas Santa Fe Drive.
There will be three access points to the school on Lomas Santa Fe, the far east one will be entrance only with right-in and left-in, the middle will be right-out and right-in, and the most western one will be right-out only.
Many residents had concerns about Glencrest Drive, Hill Street and Hill Court behind the school, which see a lot of traffic during school drop-off and pick-up. As there is no left turn out of the school, many people also use the streets as a cut-through way back to Interstate-5.
Neighbors say the streets get congested, driveways are blocked and cars parked on the street have been damaged. Additionally, there are no sidewalks on Glencrest which makes it dangerous for young pedestrians.
"These streets were never geared to handle that much traffic," one resident said. "Not having sidewalks is an accident waiting to happen."
Brown said the project's traffic study focused only on Stevens Avenue and Lomas Santa Fe and did not include Glencrest and Hill, although the City of Solana Beach has reviewed the streets on previous traffic projects.
City of Solana Beach Engineer Mo Sammak said while the school district does not require city approval for its project they worked together on a design that may not eliminate all of the problems but would at least help improve traffic conditions for the surrounding community.
"We made a recommendation to prolong the drop-off distance to ensure that the entire pick-up and drop-off stays on site," Sammak said. "Based on our analysis, this configuration is going to reduce traffic on Dell Street."
Residents had also asked about the possibility of adding a traffic light to allow for a left-out exit for the school. Sammak said city engineers evaluated adding signalization to the east entrance to the school, which would line up with the entrance to the shopping center across the street.
"It didn't work out because it's too close to the existing intersection at Solana Hills Drive," Sammak said."It would have created a much worse headache than not putting it in."
The school's rear stairwell that comes down from Hill Street has been closed for about a year and a half as the district works on a project for the gates to automatically lock for safety purposes. The closure of the gates has exacerbated traffic problems, neighbors say — additionally they liked having the gate open for access; it serves as a useful community' "stair-stepper" for exercise.
Brown said the district hopes to complete the gate project soon — it will have a posted schedule for when the gates will be unlocked on weekends and after-school hours.
Balfour Beatty, who built the district's newest school Solana Ranch in 2014, will be handling construction of Skyline. During the 14-month construction, there will be no parking of construction vehicles on residential streets, in the shopping center or church across the street — all vehicles will park on Solana Hills Drive.
Get the Del Mar Times in your inbox
Top stories from Carmel Valley, Del Mar and Solana Beach every Friday for free.
You may occasionally receive promotional content from the Del Mar Times.