First mayor of Solana Beach leaves lasting legacy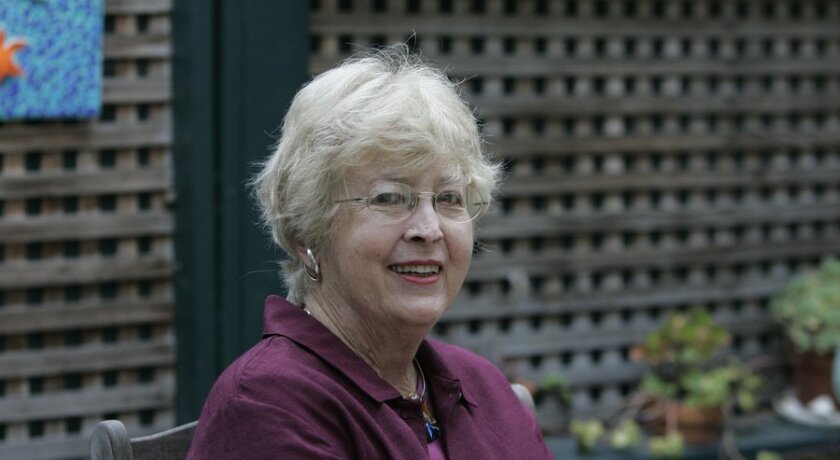 Family, friends and members of the Solana Beach community are reflecting on the legacy that Margaret Schlesinger, the city's first mayor, left behind.
The city's current Mayor David Zito announced Schlesinger's death at the Feb. 10 council meeting, calling her "an immensely valued community member, a caring and gentle person."
"So much of what is core to Solana Beach was wrapped up in the opinions Margaret expressed, in the manner she chose to act, and in the way she related to others," Zito said. "We will now have to move forward without her guiding hand."
Schlesinger, 80, played an important part in the city's incorporation in 1986. She was the top vote-getter elected to the City Council that year, and her fellow council members appointed her as mayor.
"I thank God for giving us Margaret Schlesinger as our inspirational first mayor," said Solana Beach resident Dr. Ed Siegel, who established the weekly Solana Beach Community Singalong.
Siegel credited Schlesinger, his former neighbor, with inspiring him to get involved in local government.
"Early on she asked me to join the Parks and Recreation Commission, of which I later became chairman, before going on to serve in many other civic positions," Siegel said. "After her tenure, she remained an active and consistently rational voice in any potentially divisive issue that came before the city."
Schlesinger was born May 18, 1935, in Tampa, Fla. Her family later moved to Toronto in 1941 and Missouri in 1946, according to her son, Patrick M. Schlesinger.
The daughter of a Southern Baptist minister, Schlesinger went on to study political science at George Washington University. She got her start in politics working for a congressman from Indiana on Capitol Hill.
Schlesinger met her husband, Patrick J. Schlesinger, at a church in Washington, D.C. They couple got married in 1959 and later moved to California in 1963. Schlesinger sharpened her community activism skills in Oakland, Calif., working on campaigns and causes, as well as community outreach programs through the First Baptist Church of Oakland.
The couple later moved to El Cajon in 1972 and then to Solana Beach in 1978.
"I don't think she aspired to hold public office herself," her son said. "As customary with new cities, the top vote-getter is elected mayor. Because she had experience walking precincts, that's really what made the difference."
The people who pushed for Solana Beach's incorporation did so in part because San Diego County approved plans for a hotel on a piece of coastal property previously known as the Gateway property. The 3.44-acre parcel sits along the east side of Coast Highway 101, across from Cardiff State Beach and south of the San Elijo Lagoon.
"She felt like it was very important to have local control over Solana Beach's affairs," her son said.
Now named Harbaugh Seaside Trails, the parcel that had long been pursued by developers is now forever preserved thanks to donations from the community. Schlesinger was on site for the January 2015 naming ceremony.
"I can't believe this is happening," she said at the time. "It is just so wonderful. It's a gift for the community."
Schlesinger also played an important part in getting the Solana Beach public transit center constructed on Cedros Avenue, Patrick M. Schlesinger said, and helped get the railroad tracks lowered below street level in the 1990s.
"She thought it was good for commuters and would help jumpstart that area of Solana Beach commercially," he said.
Schlesinger served on the council until 1994, but remained active in the community and local organizations, including the San Dieguito River Valley Conservancy and the Solana Beach Civic and Historical Society.
"Environmental preservation was always very important to her," her son said. "One of the things she told me was that if you are an environmental activist, you have to win these battles over and over again. If you are a developer, you only have to win them once."
Schlesinger died at home surrounded by family early Feb. 9, only two months after being diagnosed with lung cancer.
She is survived by her husband Patrick J. Schlesinger; son Patrick M. Schlesinger of Kensington, Calif.; daughter Ann H. Garrett of Laguna Nigel; and five grandchildren.
A service will be held at 1 p.m. on March 19 at the Solana Beach Presbyterian Church. The service will be open to the public.
In lieu of flowers, the family requests memorial contributions be made to the San Dieguito River Valley Conservancy.
---
Get the Del Mar Times in your inbox
Top stories from Carmel Valley, Del Mar and Solana Beach every Friday for free.
You may occasionally receive promotional content from the Del Mar Times.