Tenacious SFC goes overtime to get win in opener
For the third consecutive year Santa Fe Christian opened the football season against Olympian. For the third straight time the contest was decided by just three points—but Friday afternoon, for the first time, it was Coach Jon Wallace's host Santa Fe Christian squad emerging on top, 28-25, with senior Jack Bosman's 39-yd. field goal in the first overtime session providing the three-point margin.
In this battle of Eagles (both teams' nickname), Division III Santa Fe Christian, a decided underdog in terms of size and speed, was able to wrest away the decision only after surviving a drama-filled final quarter and extra time. To wit, the lead switched hands twice in the final 8:45, starting with Olympian grabbing its first lead of the game at 22-17. SFC snatched it back six minutes later on a Christian Haymes TD which was followed by Kian Hogan's two-point conversion. A 39-yd. Olympian field goal forced overtime with 32 ticks left in regulation but Wallace's squad ultimately prevailed by stopping its opponent on their first OT possession and using a 10-yd. third down burst by senior fullback Jack Miles to set up Bosman's winning boot.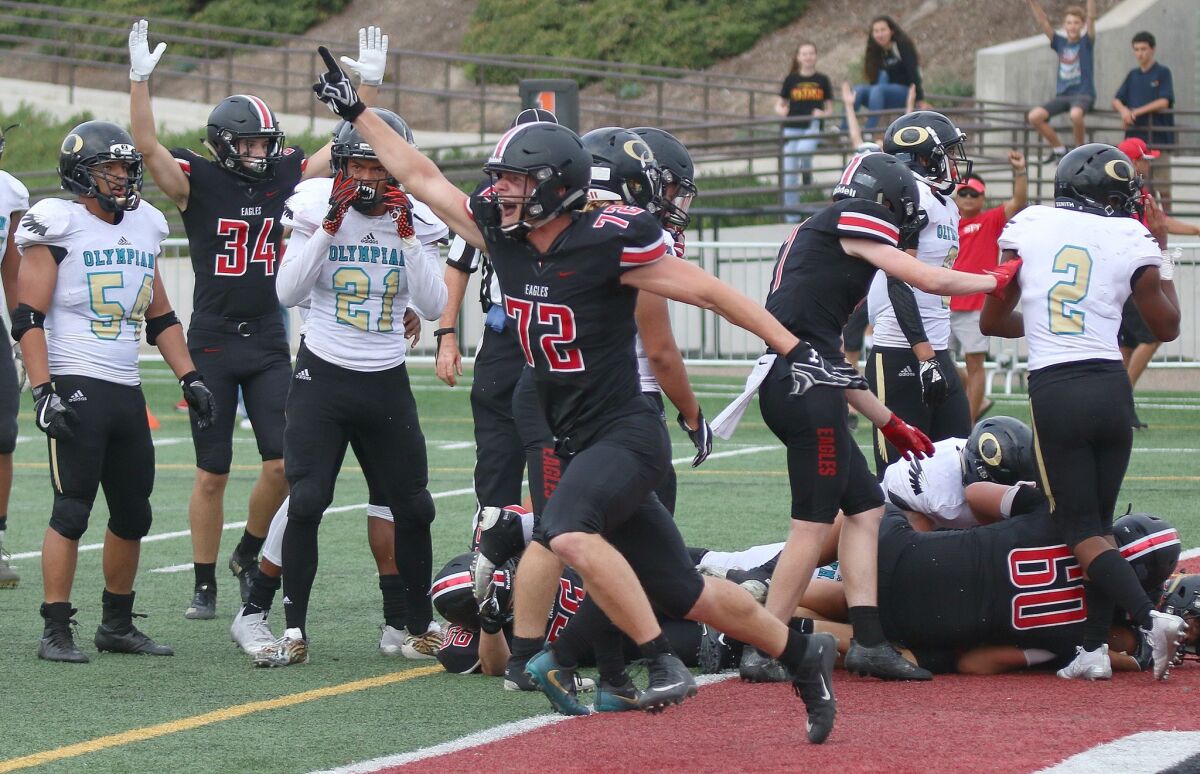 "This series has been something else and is turning into an awesome rivalry," said Wallace after the game. "It's always a hard game and I think it's been great for both programs because both teams have typically moved forward to be pretty successful.
"We've got a group of tough-minded kids who love to compete. They were just really gritty out there today."
In a game that pitted a methodical, but consistent Santa Fe Christian ground game (246 yds. rushing on the day) against the quick strike capability of Olympian, it was ironically a big play by SFC that brought them back late. An explosive 33-yd. dash by Hogan, a junior, with less than three minutes on the clock set up sophomore Haymes' eight-yard TD run.
"We like to punch it up the gut and then get to the edge," says Wallace. "We felt like they were sending guys at Miles so we faked inside, got the ball out to Hogan and their blitzers gave us the exterior. We ran that play about four times with good success and it was certainly timely there."
Hogan, Haymes and 5-10, 155-lb. junior linebacker Jack Hartung were among a cluster of young players who played big roles in Friday's triumph. Another was sophomore Stephen Britton, starting at linebacker, who had an immediate impact on special teams. His 48-yd. punt return put the Eagles in position for a score on their first offensive possession, a one-yd. Miles plunge, that made it 7-0.
"We had a lot of kids playing their first varsity games and they made some huge plays," said Wallace. "Seeing that gives us hope for the future." As expected, two-way veterans like Miles (a team high 71 yds. rushing), lineman Carson Drake, who played all but five snaps and had a team high 10 total tackles, and quarterback Michael Linguodoca supplied experience and the consistency that comes with it.
With Division I St. Augustine looming Friday on the road, Wallace was quick to keep the game one success in perspective. "We're obviously happy with the outcome and pleased with the effort but we played far from a clean game," said Wallace. "Our defensive line has to improve a lot. We've got a young group and injuries limited our depth but we need to focus on getting better in all areas."
---
Get the Del Mar Times in your inbox
Top stories from Carmel Valley, Del Mar and Solana Beach every Friday for free.
You may occasionally receive promotional content from the Del Mar Times.